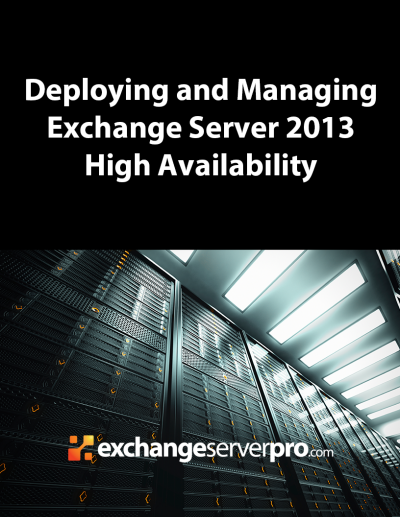 High Availability and Site Resilience De-Mystified
Deploy and manage a solid, reliable, and highly available Exchange Server 2013 environment:
Master the Fundamentals.Learn the key concepts of high availability and site resilience for each server role in the Exchange Server 2013 architecture.
Dive into Details.Learn about advanced Exchange Server 2013 high availability features, and see them in action.
Become an Expert.Get hands on and learn as you go in your own test environment using the included lab guide.
We've written this free guide to help you avoid the mistakes we see so many people make with their Exchange Server deployments.
Paul Cunningham
Microsoft MVP
In the Free 250+ Page eBook, You Will Learn:
Namespace planning, certificate management, and load balancing of Client Access server workloads.
How to build Database Availability Groups to provide high availability for Mailbox servers.
Advanced features such as Autoreseed, lagged database copies, and Datacenter Activation Coordination Mode.
The inner workings of Transport, and how it protects email in transit from data loss.
Managing and monitoring of high availability using the new Managed Availability features of Exchange Server 2013.
High availability for Unified Messaging, Edge Transport, and Hybrid deployments.