Your Step by Step Guide to Migrating from Exchange Server 2003 to 2010

"The best Exchange migration information I've seen... It possibly saved my job!"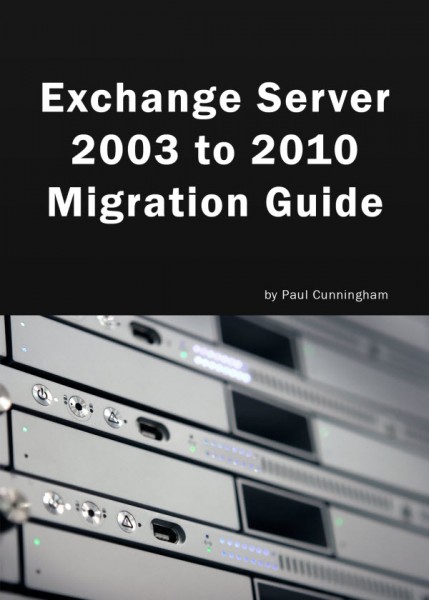 "Since the release of Exchange Server 2010 I've delivered successful migration projects involving thousands of customer mailboxes.

That knowledge and experience has been distilled into the Exchange Server 2003 to 2010 Migration Guide, so that your migration project can be as successful as mine."
- Paul Cunningham, Microsoft MVP
If you're still running Exchange Server 2003 then you're at risk of finding yourself unsupported when disaster strikes. It's time to migrate to Exchange Server 2010.
But while this is not an impossible task, it needs to be performed the right way to ensure a successful outcome.
In this 200+ page, step by step guide, the entire Exchange Migration Project is broken down into key stages to ensure that every step of the process happens in the right order.
You'll get your project moving fast, avoid hours of downtime and data loss, and deliver a smooth migration project that will leave your customers happy.
The Exchange Server 2003 to 2010 Migration Guide will walk you through the entire process, from planning the project all the way to removing the last Exchange 2003 server from your environment.
The Stages of an Exchange Server 2003 to 2010 Migration
Getting Off on the Right Foot: The Planning Stage


Avoid migration headaches by performing the essential planning and preparation tasks.

Rolling Out the New Servers: The Install and Configure Stage


Get up to speed with the Exchange Server 2010 management tools as you configure each new server role.

Making Sure Everything Works: The Testing Stage


Make sure your new servers are working correctly before you start your migrations.

The Big Moment: The Migration Stage


Pull off a smooth migration that will have your happy users raving about you.

Cleaning Up: The Decommission Stage


Cleanly remove the legacy servers so that there are no residual problems left behind in your environment.

Paul Cunningham is an Office Servers and Services MVP, specializing in Exchange Server and Office 365. Paul works as a writer, trainer and speaker from Brisbane, Australia. Throughout his career, Paul has deployed and managed the Exchange Server environments for some of Australia's largest enterprises.
"It possibly saved my job. I had been making very slow progress until I followed your steps. It is the best Exchange migration information I have ever seen. I really appreciate the clear, concise directions."
"Excellent guide. I have used it many times now and followed step by step without any issues. Money well spent!"
"I have found the guide to be extremely useful and the best I have found on the net."
"There is so much to consider in this migration. Other documents, web sites, etc have a lot of noise that can be intimidating to us smaller companies that don't have a dedicated Exchange team. Your guide cuts through the noise and gets right down to the nuts and bolts."
"An excellent accelerator between where most books stop and white papers/case studies begin."
"We all know that each customer environment is different, but if you follow the guide you'll be successful. Thanks again!"
Get Your Migration Guide Today
Instant access digital download, so you can start reading straight away
PDF file format to read on PC or mobile devices
Secure payment, with PayPal and major credit cards accepted
30 day money back guarantee (not that we think you'll need it)
American Express is available when you select PayPal as the payment processor. You do not require a PayPal account if you choose to use your credit card via PayPal.
This product is sold as a digital download. You can choose to pay using PayPal or a Credit Card. Download links are automatically emailed to you when the purchase is completed. If you have any difficulty during the purchase process please contact us for assistance, and we'll gladly help you out.
Interested in purchasing multiple copies for a team or event? Get in touch to discuss a bulk purchase.