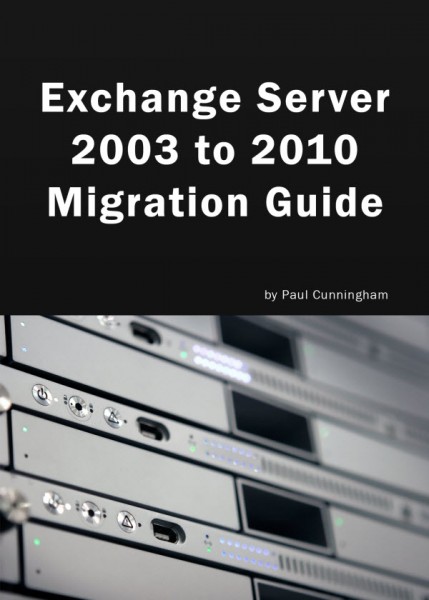 Your Free Step by Step Guide to Migrating from Exchange Server 2003 to 2010
"The best Exchange migration information I've seen… It possibly saved my job!"
A Solid Foundation.Get your project on the right track fast, with detailed planning guidance.
Packed with Details.200+ pages of step by step
instructions walk you through the entire migration process.
Start Today.Instant access to download the eBook and get started right away.
Since the release of Exchange Server 2010 I've delivered successful migration projects involving thousands of customer mailboxes.

That knowledge and experience has been distilled into the Exchange Server 2003 to 2010 Migration Guide, so that your migration project can be as successful as mine.
Paul Cunningham
Microsoft MVP
If you're still running Exchange Server 2003 then you're at risk of finding yourself unsupported when disaster strikes. It's time to migrate to Exchange Server 2010.
But while this is not an impossible task, it needs to be performed the right way to ensure a successful outcome.
In this 200+ page, step by step guide, the entire Exchange Migration Project is broken down into key stages to ensure that every step of the process happens in the right order.
You'll get your project moving fast, avoid hours of downtime and data loss, and deliver a smooth migration project that will leave your customers happy.
The Exchange Server 2003 to 2010 Migration Guide will walk you through the entire process, from planning the project all the way to removing the last Exchange 2003 server from your environment.
The Stages of an Exchange Server 2003 to 2010 Migration
Getting Off on the Right Foot: The Planning Stage
Avoid migration headaches by performing the essential planning and preparation tasks.
Rolling Out the New Servers: The Install and Configure Stage
Get up to speed with the Exchange Server 2010 management tools as you configure each new
server role.
Making Sure Everything Works: The Testing Stage
Make sure your new servers are working correctly before you start your migrations.
The Big Moment: The Migration Stage
Pull off a smooth migration that will have your happy users raving about you.
Cleaning Up: The Decommission Stage
Cleanly remove the legacy servers so that there are no residual problems left behind in your environment.