Your Free Step by Step Guide to Migrating from Exchange Server 2007 to 2010



"There are so many little things you wouldn't think of, but this guide pointed them out."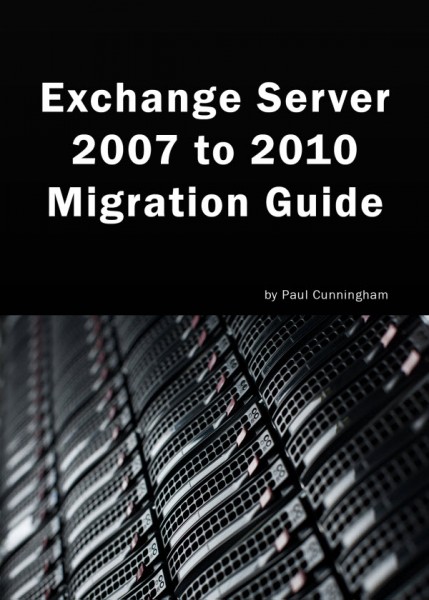 "I've delivered successful Exchange 2010 migration projects involving thousands of mailboxes. And I've been called in to bring customer migration projects back from the brink of disaster as well.

The Exchange Server 2007 to 2010 migration guide brings together my knowledge and experience in Exchange Server migrations so that you can avoid a disaster and enjoy a successful project outcome instead."
- Paul Cunningham, Microsoft MVP
The Exchange Server 2007 to 2010 Migration Guide is the essential step by step guide to a successful migration project, even if you've never upgraded an Exchange environment before.
Built on a foundation of best practices and lessons learned in the real world from migrating thousands of Exchange mailboxes, the Exchange Server 2007 to 2010 Migration Guide will take you step by step through the entire migration process.
You've already got your hands full dealing with the daily workload, let alone having to learn how to upgrade your Exchange Server environment as well.
And hiring an outside consultant can cost thousands of dollars just to show up for the first day.
That's where this guide comes in. You don't need to be an Exchange Server migration expert.
With this guide you will make quick progress, avoid downtime and data loss, and deliver a migration project that will have your happy customers singing your praises.
The Stages of an Exchange Server 2007 to 2010 Migration:
Getting Started on the Right Foot: The Planning Stage


Avoid migration pain by performing the essential planning and preparation tasks.

Building the New Servers: The Install and Configure Stage


Get up to speed with the new Exchange Server 2010 management tools as you configure each new server role.

The Confidence that Everything Works: The Testing Stage


Make sure your new servers are working correctly before you start your migrations.

Going Live: The Migration Stage


Execute a smooth migration that will have your happy users raving about you.

Finishing the Job: The Decommission Stage


Cleanly remove the legacy servers to that there are no residual problems in your environment.

Paul Cunningham is an Office Servers and Services MVP, specializing in Exchange Server and Office 365. Paul works as a writer, trainer and speaker from Brisbane, Australia. Throughout his career, Paul has deployed and managed the Exchange Server environments for some of Australia's largest enterprises.
"I have learned how to assess a current Exchange environment. There are so many little things you would not think of, but this guide pointed them out for me." - Rasheeda
"The guide gave me confidence in migrating my Exchange environment. It has a real case scenario type of feel to it." - Ryan
"The guide helped me streamline the migration process, keeping track of where I was in the project. It also helped me with planning and communicating with management." - Scott Kurki
"I can tell this is a book based on real world experience. It covers the kind of things I get asked time and time again, and see people stuck with on forums." - Steve Goodman, Microsoft MVP

Get Your Free Migration Guide Today