A Complete End to End Migration Guide

Get the step by step guide to a smooth and successful Exchange Server 2013 migration project: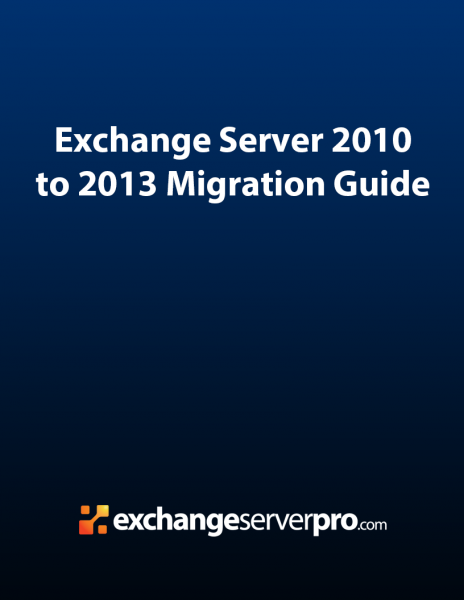 "Every migration project is different in some way. But if you follow the process outlined in this guide you'll have most of your bases covered already, and you'll uncover the rest of the surprises that are unique to your environment before they cause a serious problem."
- Paul Cunningham, Microsoft MVP
"Highly recommended. Concise, and has the relevant information required without having to trawl through reams of documentation." - Jeff
"I read this guide to make sure I was following best practice. I found it to be easy to understand and follow." - Ronald Taylor
"This was my first migration from Exchange 2010 to 2013 so I needed a guide to do it. The migration was seamless. Thank you for the excellent guide, keep up the good work!" - Fritze Fuide
"It gave me a understanding of the upgrade process, and a great overview of the steps necessary for successful migration" - Anton Sokolovski
"The planning and review sections in the beginning were really helpful, as well as the SSL, Autodiscover, and namespace sections." - Geoffrey Pearlman
"Our migration went smoothly. The whole guide was informative and very helpful." - Barry
Get your copy of the Exchange Server 2010 to 2013 Migration Guide today
Instant access digital download, so you can start reading straight away
PDF and EPUB formats, so you can read on PC and mobile devices
Secure payment, with PayPal and major credit cards accepted
30 day money back guarantee (not that we think you'll need it)
American Express is available when you select PayPal as the payment processor. You do not require a PayPal account if you choose to use your credit card via PayPal.
This product is sold as a digital download. You can choose to pay using PayPal or a Credit Card. Download links are automatically emailed to you when the purchase is completed. If you have any difficulty during the purchase process please contact us for assistance, and we'll gladly help you out.