The Essential Guide to Office 365 for IT Pros

Office 365 has more than 100 million active users worldwide across more than 1 million customers. And it keeps on growing!

Don't fall behind on the race to the cloud. Stay up to date in this fast moving, cloud-first world with the most comprehensive, independent guide to Microsoft Office 365.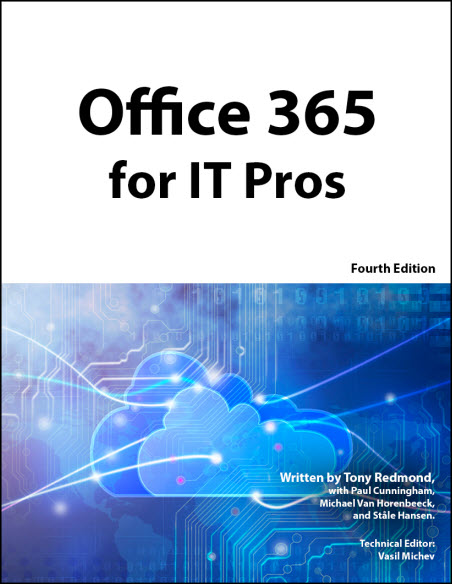 ...or keep reading to learn more.

"You'll find this book by Tony, Michael and Paul clear, informative, fun and enjoyable. You will also get a taste of the passion for the subject matter that has enabled the MVPs to make such a difference."
- Perry Clark, Corporate VP, Exchange Engineering, Microsoft Corporation
Office 365 for IT Pros is the only eBook that is continually updated to match developments within Office 365. Authored by a team of Microsoft MVPs with deep experience in customer environments of all kinds, this book gives you the independent view of Office 365 that you need for the real world.
The growth of Microsoft Office 365 means that IT pros like you can't ignore it any longer. Whether you're a beginner or a seasoned IT professional, this eBook will provide you with the information you need to confidently deploy and manage on Office 365.
Who Should Read This eBook?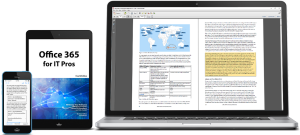 With 26 chapters spanning more than 1000 pages, Office 365 for IT Pros is the perfect eBook for:
Consultants and sysadmins tasked with migrating an organization to Office 365

IT professionals expected to manage or support Office 365 services

Experienced IT professionals who may be tasked with supporting services in Office 365 that they previously did not support on-premises
Help desk staff required to support Office 365 services and clients
IT pros looking for practical, real-world material to complement their training
1000 pages!?! That's a Big Book!
Yes, it is! But don't worry, you don't need to read it all at once. Office 365 for IT Pros is structured so that you can use it any way that suits your immediate needs.
Got an email migration to deliver? Read the migration planning and the detailed guidance for each migration method.
Looking to help your users to more easily collaborate? Go straight to the chapters on Groups, Teams, or Skype for Business Online.
Need to improve your organization's security? Dive into the chapters on information protection and data governance.
Wondering how to do a task using PowerShell? We've got 840 examples included.
Here's the complete list of chapters so you know exactly what you're getting:
Introduction to Office 365
Making the cloud decision
Office 365 basic workloads
Identities and authentication
Managing Office 365
Office 365 Clients
Migrating to Exchange Online
Managing mailboxes
Managing mail-enabled objects
Email addressing
Mail flow
Managing hybrid connections
Hybrid recipients
Office 365 Groups
Managing Office 365 Groups
Office 365 apps
Mobile devices and application management
Office 365 data governance
eDiscovery and content searches
Reporting and auditing
Data loss prevention
Rights management and Azure Information Protection
Delve and Office Graph
Office 365 analytics
Skype for Business
Sponsor content

"Office 365 for IT Pros is exactly the kind of book you would expect from authors of this calibre. Tony, Paul and Michael are industry legends and this is immediately obvious when you start to read each chapter. This should definitely be on the required reading list of any IT administrator who is about to embark on a journey to Office 365."
- Alan Byrne, Founder, Cogmotive

Tony Redmond is an Office Servers and Services MVP and one of the leading voices in the Exchange Server and Office 365 communities. He has over three decades of experience with enterprise email and works with customers around the world to understand, embrace, and maximize the use of email and associated technology.

Paul Cunningham is an Office Servers and Services MVP, specializing in Exchange Server and Office 365. Paul works as a writer, trainer and speaker from Brisbane, Australia. Throughout his career, Paul has deployed and managed the Exchange Server environments for some of Australia's largest enterprises.
Michael "Van Hybrid" Van Horenbeeck is an Office Servers and Services MVP, and a Microsoft Certified Solutions Master from Belgium. Michael works as an independent consultant, speaker and author, and specializes in Office 365, Hybrid deployments, and identity management solutions.

Ståle Hansen is the Founder and Principal Cloud Architect at CloudWay in Norway. He is an Office Servers and Services MVP focusing on Skype for Business and Office 365. His core competence is to explain complex scenarios and make them understandable by combining technical insight and business value. He loves to share his understanding as an international speaker, author and highly rated trainer.

Vasil Michev is an Office Servers and Services MVP, specializing in Office 365. He's currently employed as a Cloud Technical Consultant, and in his free time he can be found helping others in the Office 365 community.
Frequently Asked Questions
Q: How should I use this eBook?
A: Office 365 for IT Pros is written to be useful to you in multiple ways. You can read it cover to cover, and learn a lot about Office 365 along the way. Or you can use it as a reference, dipping into different sections as you encounter deployment and support scenarios on the job.​
Q: What if I think something is missing from the eBook?
A: We welcome all feedback from readers, whether it be a mistake that we made, or a topic that you think should be covered in more detail. You can let us know at [email protected], and thanks to e-publishing we'll be able to release updates to the eBook for customers.​
Q: Are updates to the eBook free?
A: ​Updates and corrections to the current edition are made available to customers free of charge. When a new edition is published that contains significant amounts of new content (such as brand new features in Office 365), we'll offer customers a discount to upgrade to the new edition. You can read more about how we handle eBook updates here.
Q: Is there an Amazon Kindle version of the eBook?​
A: Yes, Office 365 for IT Pros is available on the Amazon Kindle store. Please be aware that customers who buy the Kindle edition do not receive the same frequency of updates and future upgrade offers due to limitations with Amazon's publishing processes.
Q: Is there a print version of the book available?
A: No, we have no plans to offer a print version of the book. Due to the frequent updates to eBook content we have found that it would be impossible to maintain updates for a print version as well. Furthermore, customers who purchase a print copy would not be able to receive the updates that eBook customers get.​
What Other Customers are Saying:
"One of the most useful IT books I've encountered. Has it all but is put together so you can find what you need. Authors really know their stuff too." - Peter Kincaid (via Amazon)
"I've been focused on Office 365 for almost 5 years and this resource has been a tremendous asset in all areas... especially those I have not spent much time in. When a client asks about a certain offering in 365, I always check this book first and then do more research if needed." - Jeremy Johnston (via Amazon)
"This is an incredible resource for Office 365 newbies and experienced admins alike.It's well laid out by topic and it condenses many technet articles and blog posts worth of information and tips into an easy to read format. it is also kept very up to date which is a plus. Can't recommend this book enough." - Nathan Taylor (via Amazon)
"I thought I was good with most things in Office 365, but the amount of little things I have picked up on throughout the book is amazing!" - James Kindon
"A comprehensive, constantly updated Ebook; constantly updated and accurate. The author is responsive and quick to provide feedback/updates. You get practical understanding, good for a beginner or expert, and PowerShell Examples. Really well written, lots of content. And updated almost weekly it seems." - Amazon Customer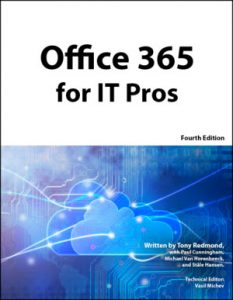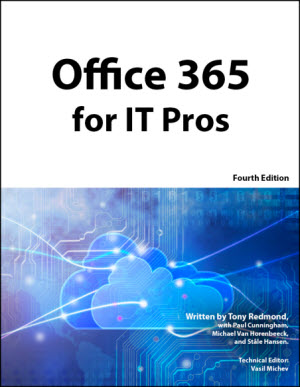 Instant access digital download, so you can start reading straight away
PDF and EPUB formats, so you can read on PC and mobile devices
Secure payment, with PayPal and major credit cards accepted
30 day money back guarantee (not that we think you'll need it)
Premium Package
$49.95 (USD)
Everything included in the Standard package
"Building a Hybrid Exchange Connection" (56 minute) video, by Michael Van Horenbeeck
"The Case for Office 365" (48 minute) audio, with Tony Redmond and Paul Cunningham
"Getting Started with PowerShell for Office 365" (13 page) PDF
Standard Package
$39.95 (USD)
"Office 365 for IT Pros", the 1000+ page eBook in PDF and EPUB formats, suitable for reading on PCs, tablets, and mobile devices.
6 bonus PDFs with extra content and step by step tutorials on the history of Office 365, performing cutover and staged migrations to Exchange Online, the Hybrid Configuration Wizard, Azure AD Connect, and using the Office 365 Import Service.
American Express is only available when you select PayPal as the payment processor. You do not require a PayPal account if you choose to use your credit card via PayPal.
This product is sold as a digital download. You can choose to pay using PayPal or a Credit Card. Download links are automatically emailed to you when the purchase is completed. If you have any difficulty during the purchase process please contact us for assistance, and we'll gladly help you out.
Interested in purchasing 10 or more copies for a team or event? Get in touch to discuss a bulk purchase.