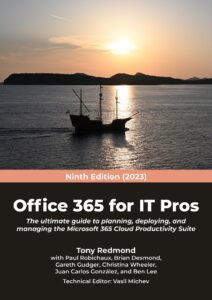 Practical365.com recommends Office 365 for IT Pros. Now in its ninth (2023) edition, Office 365 for IT Pros is written by a group of Microsoft MVPs led by Tony Redmond.
Intensely practical and offering the most up-to-date coverage of its topics, Office 365 for IT Pros (2023 edition) is essential reading if you want to maximize your use of Microsoft's Office 365 cloud service. Office 365 for IT Pros (2023 Edition) is the only book covering the management of Office 365 that is constantly refreshed and updated with new information. Until the next edition is published, your subscription allows you to download updated content to keep pace with developments in Office 365, which means that Office 365 for IT Pros continues as a valuable reference for you long after you first read it.
For more information, see https://office365itpros.com/faq. Full details of changes made to the book are in our change log at https://office365itpros.com/change-log/.
Tracking Developments Inside Office 365
Originally published on July 1, 2022, Office 365 for IT Pros (2023 edition) is updated monthly to make sure that content stays fresh. Over the last few years, Microsoft has made thousands of changes to Office 365. That's a lot of information to track. Subscribers receive monthly updates to ensure that they always have the latest information. The writing team made 300 major chapter updates to the 2022 edition over 11 updates, which proves the volume of change across the Microsoft 365 and Office 365 ecosystem.
Written by a team of highly experienced Microsoft Most Valuable Professionals (MVPs), Office 365 for IT Pros (2023 edition) is a practical, hands-on reference, based on experience gained by working in real-life projects with a range of customers since the introduction of Office 365 in June 2011. Because we keep an eye on what Microsoft does inside Office 365, you don't have to worry about making decisions based on outdated material - we do all the work for you.
The Massive Scale of Office 365
Companies are migrating to Office 365 at increasing speed. Office 365 has more than 345 million monthly active users. Microsoft CEO Satya Nadella calls Exchange Online "the gateway drug to the cloud" because email is usually the first workload to move from on-premises servers into the cloud. But as you'll learn in Office 365 for IT Pros, there are plenty of new and exciting advantages to be gained from using the wide breadth of functionality that exists inside Office 365.
Office 365 for IT Pros (2023 edition) covers essential business productivity features such as Teams, Microsoft 365 Groups, Stream, Planner, Flow, PowerApps, Exchange Online, SharePoint Online, Yammer, and OneDrive for Business. You'll learn about Office 365 data governance, compliance, and eDiscovery, and how to exploit the Office 365 audit log to understand what's really happening inside a tenant. A chapter on Microsoft Information Protection teaches you how to use Office 365 to protect sensitive messages and documents with rights management and encryption.
Two books are included in this package. You'll get PDF and EPUB versions of the main book and the companion volume. The companion volume covers topics like Delve and MyAnalytics that were in the main book (in previous editions) together with other information that we can't fit into the main book but still consider interesting and valuable.
Chapters
Office 365 for IT Pros (2023 edition) includes in-depth instructions (including over 1,000 examples of using PowerShell and the Microsoft Graph) for provisioning, exploiting, and administering the many different services and features that exist within Office 365.
The chapters are:
1. The Microsoft 365 Ecosystem and Office 365: Outlining the role Office 365 plays in the Microsoft 365 ecosystem, how Microsoft's datacenters and networks serve users, and the commercial success of the service.
2. Embracing the Cloud: Discusses the factors surrounding the movement of work to the Microsoft 365 cloud, the issues that might occur, and how you mitigate any potential problems to ensure a successful deployment.
3. Managing Identities: Without an identity, no one can access or use a Microsoft 365 service. This chapter dives into the role of Azure AD, including hybrid directories, and authentication, exploring topics like conditional access policies.
4. Managing Tenants: Covers the basics of managing an Office 365 tenant within Microsoft 365.
5. Managing Users: A deep dive into how user accounts work within an Office 365 tenant and how to manage them over their lifecycle.
6. Managing Exchange Online: Exchange Online is one of two core workloads within Office 365. This chapter covers details of how to manage Exchange Online and the differences between it and its on-premises counterparts.
7. Managing Mailflow: Office 365 processes a huge volume of inbound and outbound email. This chapter covers how to manage mail flow, including malware protection and detection.
8. Managing SharePoint Online: SharePoint Online is the second core workload delivering a document management service to Office 365 apps like Teams, Planner, and Yammer. It also encompasses OneDrive for Business, a part of Office 365 that's seen huge growth recently. This chapter also reviews important components associated with SharePoint, like Search, Syntex, and Viva Topics.
9. Managing Microsoft 365 Tasks: Tasks span anything from personal tasks created with Outlook or To Do to group tasks created in Planner (and maybe even Project). Microsoft 365 treats tasks as a common object type supported by multiple apps, so we dive into the creation and management of tasks in Planner, Outlook, and Teams.
10. Managing Video: Office 365 has long boasted a video portal. Today, Stream is in the middle of a transition from its first implementation (which replaced the original Office 365 video portal) to Stream 2.0 (aka Stream on SharePoint). The earliest sign of Stream 2.0 is how Teams meeting recordings use OneDrive for Business and SharePoint Online to store its MP4 files. All covered here.
11. Managing Groups: Microsoft 365 groups is a core identity and membership service used by apps like Teams, Planner, and Yammer. This chapter reviews how the Groups service works and covers details of other groups used by Office 365, including distribution lists and dynamic groups.
12. Teams Architecture and Structure: Now with more than 270 million monthly active users, Teams is the poster child of Microsoft 365. Teams consumes services drawn from across the Microsoft 365 ecosystem to deliver its mixture of messaging, meetings, voice, video, and app services. This chapter describes the architecture and structure of Teams and the fundamentals of how Teams works.
13. Managing Teams: Nice as it is to have everyone collaborating and connecting in Teams, the app needs to be managed, especially in large deployments. This chapter discusses the essential management tasks needed to keep Teams in good working order.
14. Managing Teams Voice: Many organizations use Teams and the Microsoft Phone system as the foundation for their voice and calling infrastructure. This chapter covers how Teams voice works and how to select, deploy, and manage devices used with Teams.
15. Managing Clients: Looks at the different clients used by Office 365 applications, including Microsoft 365 apps for enterprise, Teams, and mobile clients.
16. Managing Devices with Intune: Microsoft Endpoint Manager and Intune allow organizations to manage devices connected to Office 365. This chapter covers how to approach mobile device management.
17. Managing Compliance: Compliance is a big topic. Office 365 E3 and E5 plans (and various Microsoft 365 licenses) allow tenants to use data governance and classification functionality to manage information created by users. This chapter covers retention policies and labels, and Exchange Online mailbox retention policies.
18. Managing eDiscovery: Once information is under control, it's nice to be able to find data when you need it. This chapter covers how content searches, core eDiscovery, and advanced eDiscovery works.
19. Managing Data Loss Prevention: Information leakage is a terrible thing. Data Loss Prevention (DLP) policies help users inadvertently share confidential or sensitive information when they shouldn't. This chapter explains how DLP works in Exchange Online, SharePoint Online, and Teams, and how to build custom sensitive information types for use within Office 365 compliance features.
20. Managing Information Protection: Since 2016, Microsoft has invested heavily in building out an information management framework to allow Office 365 tenants to protect email and documents with rights-management based encryption. We explain how sensitivity labels and Office 365 message encryption work and how to use labels for container management.
21. Managing Reporting and Auditing: In any reasonably-sized tenant, users generate tens of thousands of actions daily, most of which are captured as events in the Office 365 audit log. This chapter discusses how the audit log works and more importantly, how to retrieve and make sense of the audit events found there to answer questions about who did what and when. Microsoft Cloud App Security for Office 365 is also covered along with lots of recommendations about how to generate reports about user activity.
22. Managing Power Platform: The Power Platform is a great way to automate common user and administrative operations. Although designed to work without anyone needing to write any code, Power Automate needs to be understood. We explain how here.
23. Managing Tenants with PowerShell: Much, but not all, of Microsoft 365 can be managed using PowerShell. This chapter reviews the different PowerShell modules used to manage anything from mailboxes to licenses. It also dives into details of the Microsoft Graph API and how to use Graph API calls in PowerShell scripts to achieve even better automation.
24. Sponsor content: Quest Software sponsors Office 365 for IT Pros. As a major independent software vendor (ISV), Quest has many products designed to help Office 365 administrators. We explain some of those products.
It might take you more than 30 hours to read the 660,000+ words in Office 365 for IT Pros (2023 edition), but those hours will save you so much time in deploying and managing that the effort will be well worthwhile. After all, hiring a consultant to explain any of the topics covered in Office 365 for IT Pros will likely cost you twice what we charge for the book, so subscribing is really a great deal!
-------------------------------------
For more information about Office 365 for IT Pros, visit the Office 365 for IT Pros web site or visit their Facebook page.