In the show this week, Paul and I discuss a cyber attack reported against Azure AD Connect that inflicted a vast amount of damage to a business – and how you can take straightforward steps to guard against it. And what podcast would be complete without mentioning AI?
Microsoft gets industry-focused with new announcements. In more fun news, Microsoft brings Snapchat filters to Microsoft Teams along with animated backgrounds – be the "office joker" and lose the respect of your colleagues today.
Plus – with two new changes to the Graph API and Microsoft Teams Rooms on Android, I ask the question: could these be a chance for Microsoft to be more transparent about power consumption in the service, and is there a possibility you could save money, and be more sustainable by moving to MTR devices on Android that use much less power and might cost an order of magnitude less?
Microsoft Reports New Cyber Attack Using Azure AD Connect
Read Paul Robichaux's article from earlier in the week for the full details; in short though:
A nation-state attack used two approaches – one using an elderly DirSync account and another using logged-on Azure AD GA credentials gained via lateral movement – to cause havoc in a customer's Azure environment. Whilst nation-state attacks might seem unlikely to happen to you, the techniques used weren't out of the ordinary, and there are steps you can take to mitigate against something similar happening to you. As we've said many times on the podcast – your on-premises environment is likely to be your weakest link; and controls in Azure AD are there, ready to enable, that could provide belt-and-braces protection should your on-premises environment become compromised.
Read more in Paul's article on Practical 365
AI-empowered Power Virtual Agents (PVA) & AI Analytics
If your organization's leaders aren't asking IT how AI can benefit their business, then we'd be surprised; there's obviously a lot of buzz around new AI technologies, and if they aren't asking IT – they'll be asking someone else. However, solutions that are actually solving real-world problems or have a direct impact on the bottom line are somewhat thinner on the ground. Microsoft continues their foray into creating industry solutions in Microsoft 365 with two new releases with use cases in Manufacturing, AI Power Virtual Agents and AI Analytics.
We discuss these on the show and explain more about what they can offer; industry-aligned solutions to problems within Microsoft 365 are extremely helpful to see as part of the product – even if, like these new features, will require you to do additional work to formulate the actual valuable solution for the business that can deliver an impact.
Read more on Microsoft's Tech Community
Snapchat Lenses for Microsoft Teams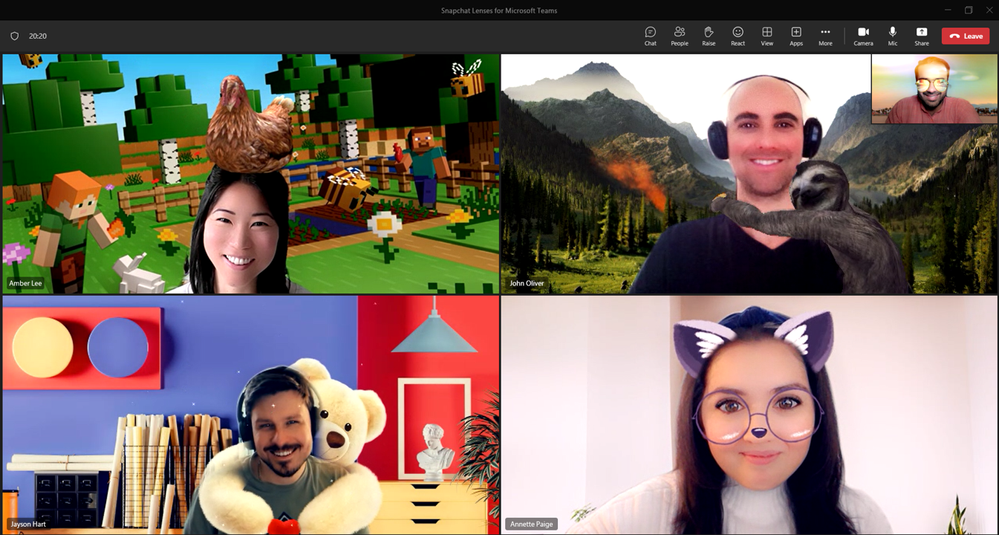 There's a long list of features people want in Microsoft Teams. Somewhere on that list, apparently, was the ability to join a meeting with a chicken sitting on your head whilst your colleague gives a piggyback to a cuddly bear.
If you are a real-life Michael Scott or David Brent, then you'll absolutely love this feature, and will annoy every colleague and client you join a meeting with for at least the next two weeks. For the rest of us, it is a fun addition when used in moderation. We discuss this in more depth in the podcast, along with how to disable it, should you need to.
Snapchat Lenses in Teams on the Microsoft Tech Community
Microsoft Limits Graph API Requests for User Account Data
Tony Redmond picked this up last week and is worthy of a mention on the show – as the Graph API for User Account Data moves from beta to production, Microsoft has quietly changed the page size to a lower value, which has the potential to break code.
It's a fairly small change, but it is somewhat reflective of how Microsoft views developer ISVs building solutions. We ponder why the change was made on the show, and also consider: should Microsoft think about adding energy used (such as watts consumed) to audit logs or as part of request responses so that people can better understand whether the code they write has a high energy (and cost) impact to the service? It could be a great way to help people understand the environmental impact of Graph (and other) service calls that are otherwise opaque to developers, and help folks understand why Microsoft implements these limits or charge for usage.
Read more on Tony Redmond's Office 365 for IT Pros blog
On the Roadmap
In a similar thread to Snapchat Lenses, Microsoft back-fill Zoom competes for features by adding animated backgrounds to Microsoft Teams. Desperate to show off your favorite animated GIF on repeat every 5 seconds in your strategy meeting? You might be able to this May – or at the very least, pick from a built-in selection. We discuss this on the podcast. If it's done right, an animated background can be extremely effective, especially if it's subtle.
And finally on the show, Microsoft Teams Rooms on Android will take an interesting twist this May with two new features related to cameras: the ability to use a USB camera and to use a content camera to capture physical whiteboards.
The USB camera with MTRoA is somewhat of a surprise, as MTRoA devices have remained within the "collaboration bar" category. Could this spell new products on the horizon that provide low-power, low-cost Android devices that could be used as drop-in replacements for elderly MTR on Windows devices that don't meet Windows 11 requirements? We discuss it on the show.