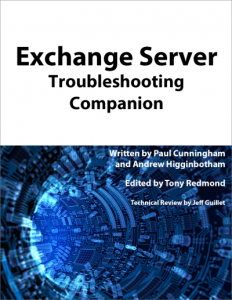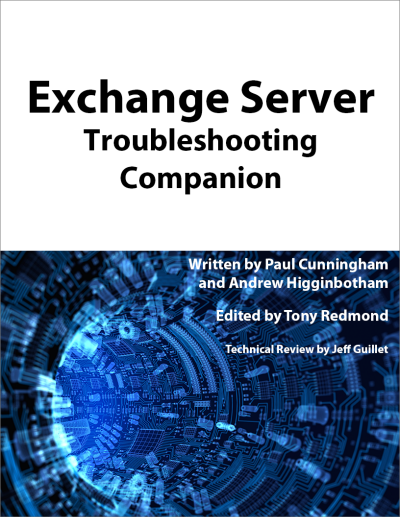 Solve Exchange Server Problems Faster
Keep your customers and end users happy by reducing downtime for your Exchange Servers with the Exchange Server Troubleshooting Companion.
Learn
how Exchange Server features work
Understand
how and why Exchange Server breaks
Know
where to look when problems do occur
Solving Exchange Server problems takes more than a Google search. It needs a combination of product knowledge, and an effective troubleshooting process, to solve the problems of today and avoid the problems of tomorrow.
Paul Cunningham
Microsoft MVP
When trouble strikes, the most valuable person in the room is the one who can confidently tackle the unknown. Being an effective troubleshooter is more important than being a walking encyclopedia of solutions to known issues.
IT professionals today are under increasing pressure to support a wider range of products and services.​ And even though Exchange Server is more resilient and reliable today than in the past, it has also increased in features and complexity in that time.
We all have access to the same resources – Google, Bing, TechNet, and a myriad of blogs and support communities. But ​how do you know whether the information you've found is accurate, up to date, and safe for you to apply to your problem?
And what do you do when nobody has seen or heard of your problem before? Or when you don't know the questions to ask to get answers from the community?
Rather than try to cover every possible problem and solution you'll need in the field, in the Exchange Server Troubleshooting Companion, we've taken ​a different approach. This eBook will provide you with the information you need to confidently solve any problem that you encounter.
Here's just a few examples:​
​Where to start? Chapter 1 teaches you how to be a troubleshooter, not a "troubleblaster".
Active Directory errors? We've got you covered in chapter 2.
Emails not being received? Chapter 4 will walk you through troubleshooting transport.
Server running slow? Chapter 8 has 29 pages on performance troubleshooting just for you.
Database problems? Chapter 9 will guide you through your recovery options.
In This Free eBook You Will Learn:
How to apply an effective troubleshooting process to solve any problem
How understanding the relationship between Active Directory and Exchange helps you maintain a healthy environment
How Exchange Server architecture has changed, and what that means for troubleshooting
The inner workings of Exchange features such as transport, certificates, database availability groups, and many more features so that you can quickly solve real world problems
How to troubleshoot performance, hybrid, and migration issues
Who Should Read This eBook?
With 12 chapters spanning more than 300 pages, the Exchange Server Troubleshooting Companion is perfect for:
New IT pros expected to manage or support Exchange Server
Experienced IT pros who may be tasked with supporting Exchange Server, though they may not have extensive experience with the product
Help desk staff required to support Exchange servers and clients
IT pros looking for practical, real-world material to complement their training