Solve Exchange Server Problems Faster

Keep your customers and end users happy by reducing downtime for your Exchange Servers with the Exchange Server Troubleshooting Companion.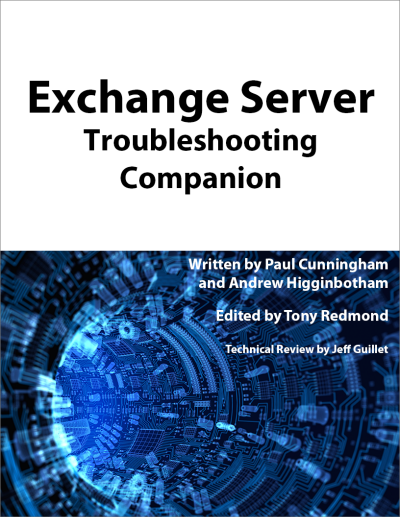 "Solving Exchange Server problems takes more than a Google search. It needs a combination of product knowledge, and an effective troubleshooting process, to solve the problems of today and avoid the problems of tomorrow."
- Paul Cunningham, Microsoft MVP
When trouble strikes, the most valuable person in the room is the one who can confidently tackle the unknown. Being an effective troubleshooter is more important than being a walking encyclopedia of solutions to known issues.
IT professionals today are under increasing pressure to support a wider range of products and services.​ And even though Exchange Server is more resilient and reliable today than in the past, it has also increased in features and complexity in that time.
We all have access to the same resources - Google, Bing, TechNet, and a myriad of blogs and support communities. But ​how do you know whether the information you've found is accurate, up to date, and safe for you to apply to your problem?
And what do you do when nobody has seen or heard of your problem before? Or when you don't know the questions to ask to get answers from the community?
Rather than try to cover every possible problem and solution you'll need in the field, in the Exchange Server Troubleshooting Companion, we've taken ​a different approach. This eBook will provide you with the information you need to confidently solve any problem that you encounter.
Here's just a few examples:​
​Where to start? Chapter 1 teaches you how to be a troubleshooter, not a "troubleblaster".

Active Directory errors? We've got you covered in chapter 2.

Emails not being received? Chapter 4 will walk you through troubleshooting transport.

Server running slow? Chapter 8 has 29 pages on performance troubleshooting just for you.

Database problems? Chapter 9 will guide you through your recovery options.
In This Free eBook You Will Learn:
Who Should Read This eBook?
With 12 chapters spanning more than 300 pages, the Exchange Server Troubleshooting Companion is perfect for:
New IT pros expected to manage or support Exchange Server

Experienced IT pros who may be tasked with supporting Exchange Server, though they may not have extensive experience with the product

Help desk staff required to support Exchange servers and clients

IT pros looking for practical, real-world material to complement their training

Paul Cunningham is an Office Servers and Services MVP, specializing in Exchange Server and Office 365. Paul works as a writer, trainer and speaker from Brisbane, Australia. Throughout his career, Paul has deployed and managed the Exchange Server environments for some of Australia's largest enterprises.
Andrew Higginbotham is a Microsoft Certified Master in Exchange 2010 and a Microsoft Certified Solutions Master in Exchange 2013. He is also an Office Servers and Services MVP. Andrew works for Dell as a principal engineer in the Global Support and Deployment organization.

Tony Redmond is an Office Servers and Services MVP and one of the leading voices in the Exchange Server and Office 365 communities. He has over three decades of experience with enterprise email and works with customers around the world to understand, embrace, and maximize the use of email and associated technology.

Jeff Guillet is an Exchange MCM/MCSM and Office Servers and Services MVP. He is a well-known speaker and is the author and publisher of the www.expta.com blog. Jeff is a Principal Systems Consultant for SPS and has been an author, contributor, or technical editor for more than a dozen technical books and publications.
Frequently Asked Questions
Q: Which version of Exchange Server does the eBook cover?
A: We've written the Exchange Server Troubleshooting Guide with a primary focus on Exchange Server 2013 and above. However, a large portion of the content applies equally to Exchange Server 2010 and 2007. In some cases, you might need to do a little more research to supplement what you learn from the eBook.​
​Q: Will this eBook provide me with the exact solution to my problem?
A: When we wrote the Exchange Server Troubleshooting Companion we didn't set out to write an "encyclopedia" ​of Exchange errors and solutions. Instead, our goal has been to provide you with the product knowledge you need to solve problems on your own by explaining how things work, how they can break, and what to look at when there's a problem. That said, in many of the sections in the eBook we also call out specific examples of problems and error messages that often appear in the real world. We've also included curated lists of the best external reference material for when you need to go even deeper.
Q: How should I use this eBook?
A: The Exchange Server Troubleshooting Companion is written to be useful to you in multiple ways. You can read it cover to cover, and learn a lot about Exchange Server along the way. Or you can use it as a reference, dipping into different sections as you encounter support scenarios on the job.​
Q: Is there an Amazon Kindle version of the eBook?​
A: No.
Q: Can I see a sample of the eBook?
A: It's free. Just download the whole thing!​
Get Your Free Copy of the Exchange Server Troubleshooting Companion Today