SharePoint Syntex is Dead, Long Live Microsoft Syntex
It's not SharePoint Syntex, it's now Microsoft Syntex – and it isn't simply a case of Microsoft replacing the word "SharePoint"; it now includes additional features – including a Microsoft 365 Backup product covering Exchange and SharePoint, it encompasses Microsoft Search, plus lots more. We discover more on the show.
Read more about Microsoft Syntex on the Microsoft Tech Community
Everyone Wants Exchange Server to Die
Groupwise and Domino Laugh from Beyond the Grave
Where did it go oh, so wrong for Microsoft Exchange Server? Whilst Microsoft and security experts make it very clear that you should leave on-premises behind, Microsoft still expects many businesses to carry on running Exchange Hybrid servers for mail relay, and there are still businesses who have no choice but to run on-premises. With very few alternatives – Exchange Server conquered every adversary in its path.
Smart Security Experts Don't Pull Punches & Microsoft Think It Is Better If You Pay Them To Run Email
We talk about the Wired article last week, by respected security writer Andy Greenberg, who interviewed a range of folks including Microsoft and cyber experts. While it was an interesting read, it's a little sad to see that Exchange – if not for which, Microsoft 365 wouldn't be the success it is today, now receives comments like this:
"If Microsoft isn't giving that love to your Exchange server, perhaps Exchange no longer deserves your love, either."

Jake Williams, former National Security Agency hacker, Wired
It's a fair comment, but remember you paid for Microsoft Exchange Server, and might even be receiving client access licensing for it as part of your Microsoft 365 subscription. Maybe Microsoft should give it some more love, both from a security perspective – but also for those customers who can't migrate away from on-premises. We discuss this in the show and draw some conclusions.
As you might expect, Tony Redmond wrote more about this last week – it's worth a read and includes the link to the Wired article.
Outlook Preview Progresses
The PAs are going to hate you
We joke, but whilst we are personally quite excited about the new Outlook – we suspect folks in your business who rely upon the tool and prefer reliability and consistency will be less impressed. In particular, those PAs and other business support folk who you've probably spent lots of time with over the years solving shared calendar-related issues. Microsoft laid out their plans to fully replace Outlook with the "new" Outlook desktop client. No dates yet – but it's time to begin learning about the impact it will have on your organization.
Watch the New Outlook Ignite session on the Microsoft Tech Community
After Productivity Score was renamed, Adoption Score gets more features
Microsoft had a little bad press over Productivity Score and swiftly acted, and renamed it to "Adoption Score" this August.
Now, Microsoft is enabling "IT admins" to broadcast in-app messages to users, so you can tell them to use the tools the way you want. That is… interesting, to say the least, because… as an IT admin, it's not really your job to interrupt someone sending an email by adding a custom pop-up saying "maybe you should use Teams instead." I suppose it beats using NET SEND, right?
However, if combined with business-driven needs to work a different way, and an effective, professionally led adoption program, hints here and there could be good. We discuss this on the show in more detail.
Read more about Adoption Score's new features on the Microsoft Tech Community
Microsoft Won't Let This Metaverse Thing Die
Mark Zuckerverse Zuckerberg's Friend Request Was Accepted
We poke a little fun between friends at Microsoft's blossoming relationship with Meta and note that while Mesh for Teams isn't released as a preview yet, Microsoft did show something less-mockup-looking at Ignite. We think it's real because it looks very, very, very much like AltSpaceVR, which is its "consumer" stablemate.

Not many people like the idea of meetings inside VR though, but Microsoft shows no sign of abating, even as other tech CEOs like Tim Cook pour cold water on the concept.
Across the computing press over the last week, there's been lots of articles suggesting this isn't the best way forward:
The Metaverse is the internet no one wants. Mark Zuckerberg's Metaverse Is Solving No Problems. The descent of Mark Zuckerberg. Apple CEO Tim Cook doesn't like the metaverse—he predicts a different technology will shape the future.
Despite all the negative feedback though – Microsoft and Meta got together to discuss how they'll continue to partner…
An Interview With Meta CEO Mark Zuckerberg and Microsoft CEO Satya Nadella About Partnering in the Metaverse.
Metaverse is the new catch-all for everything: Help A Robot Do Your Job with the Industrial Metaverse
Microsoft defines the Enterprise Metaverse as "communication and collaboration between people in a work environment", which seems like they are stretching the definition just a little. But that's not all. Now there's the Industrial Metaverse. That means that "Humans and AI can work side by side in the real world":

We discuss this on the show because it's an interesting concept, once you think about the applications – and the ethical implications.
The most obvious reason to work this way is to help train deep learning models on the specifics of how you do your job – not the tasks, but the specifics you'd train an apprentice to do over several years: the stuff that's not obvious. Is the industrial metaverse going to make workers' lives better, or could it be turkeys voting for Christmas? On the show, we try to discuss both sides and explain more about the AI/ML aspects too.
Influencers, Watch Out: Microsoft Wants You
"Why can't we get people to make their Instagram Posts in PowerPoint", a Microsoft Exec no-doubt asked. Because that's the end of the journey for Microsoft's new designer app where you're encouraged to "Customize your creation" in Excel or PowerPoint.
If more usage of Microsoft 365 consumer apps is a goal for Microsoft, then they are going about it the right way though. The new Clipchamp app, and the new Microsoft Designer look great – and well worth using. Microsoft Designer brings some of the useful aspects available in tools like Canva and also newer AI-generated art capabilities you'll find on the web, into one place, which then allows you to use pro tools in Office to improve things further. We discuss it on the show.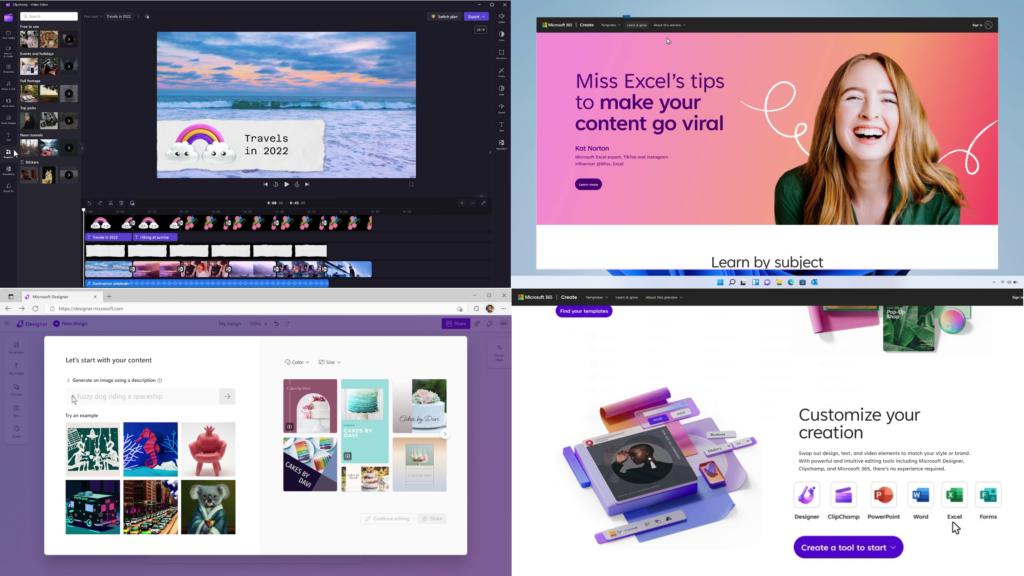 We'd encourage you to try Clipchamp – it looks very good, and we've signed up for the waiting list for Microsoft Designer too. These could be great tools for folks in your social media team to consider.
Join us in two weeks' time for the next show, where Sigi will be joining us to talk more about Microsoft Exchange.
On Demand Migration
Migrate all your workloads and Active Directory with one comprehensive Office 365 tenant-to-tenant migration solution.
Learn More