Exchange Analyzer is a PowerShell tool that scans an Exchange Server 2013 or 2016 organization and reports on compliance with best practices.
The Exchange Analyzer tool scans your Exchange Server 2013/2016 organization and evaluates it against a series of best practices and common configuration issues.
Try Exchange Analyzer in your on-premises Exchange Server 2013 or 2016 environment today.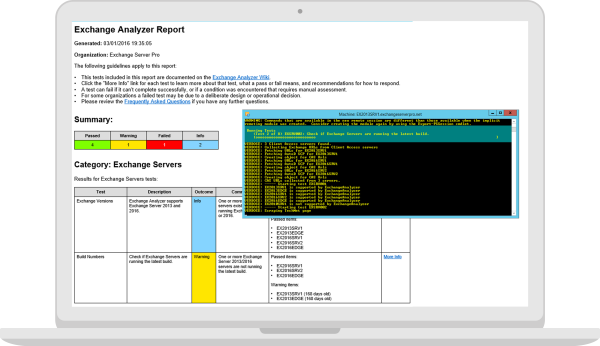 Background and Purpose
Historically, Microsoft has provided tools to scan an Exchange Server organization to check its configuration against known "Best Practices". Exchange 2007 and 2010 included these Best Practice Analyzers (BPA) within the the server software itself, while Exchange 2013's version was shipped externally.
For more information on the previous versions of BPA see the links below:
The Exchange 2013 BPA requires an Office 365 tenant or Azure AD login, and remains in a Beta state. Exchange 2016 was released in early October 2015 and does not yet have a BPA. The Exchange Analyzer tool serves to fill the void by providing an on-premises best practices analyzer that is developed and maintained by the community.
License
Exchange Analyzer is released under the MIT license (MIT). Full text of the license is available here.