Exchange Analyzer is a PowerShell tool that scans an Exchange Server 2013 or 2016 organization and reports on compliance with best practices.
Exchange Analyzer is an open-source community project, and is currently a beta release seeking feedback and results from real world environments. A list of implemented tests is available on the Exchange Analyzer Wiki. A list of proposed tests that are yet to be developed is also available.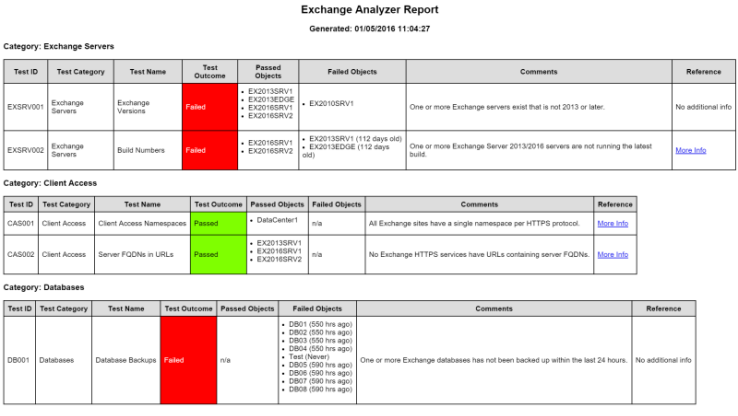 To find out more about the Exchange Analyzer:
Installation Instructions
The Exchange Analyzer is manually installed by copying files to your computer.
Download the latest Zip file
Extract or copy the Zip file contents to a computer running PowerShell 4.0 (Windows Server 2012 R2 or Windows 10). An easy option is to run the script directly on an Exchange server, or a workstation or server that has the Exchange management tools installed.
Copy the folders in the Modules folder to C:WindowsSystem32WindowsPowerShellV1.0Modules
Open a new Exchange Management Shell or PS Remoting session to Exchange
Important Note: If you are updating our copy of the Exchange Analyzer please make sure you copy the updated module in step 3 so that you receive all of the updates and fixes in newer versions.
Running Exchange Analyzer
To run the Exchange Analyzer open an Exchange management shell, or PS Remoting session, navigate to the folder with the script files, and run:
.

\

Run

-

ExchangeAnalyzer

.

ps1
For verbose output run:
.

\

Run

-

ExchangeAnalyzer

.

ps1

-

Verbose
The HTML report is saved to the script folder, and is opened automatically when the script finishes running.
Feedback and Questions
Comments are welcome below. Before submitting feedback or questions please review the Exchange Analyzer FAQ.
You can help with identifying by submitting issues on Github. If you would like to contribute fixes or other code please review the Exchange Analyzer Wiki.
You can also send email to [email protected], and include the HTML report file and -Verbose output from running the script in your environment.
To receive news and updates about Exchange Analyzer by email subscribe to the mailing list.