The Great Debate
TEC 2023 attendees were treated to a head-to-head debate between Greg Taylor and Tony Redmond on the evolution of Microsoft 365 services and the resulting impacts on organizations still using on-premises services. Greg and Tony previously held a similar debate at the Microsoft Ignite 2016 conference, where they focused on Exchange on-premises vs. Exchange Online.
Debate moderator Rich Dean explained that the TEC debate would consist of five rounds, during which the contenders would share their thoughts on a given statement. Rich instructed the audience to use their voting paddles at the end of each round to show support for the person who presented the best argument (figure 1).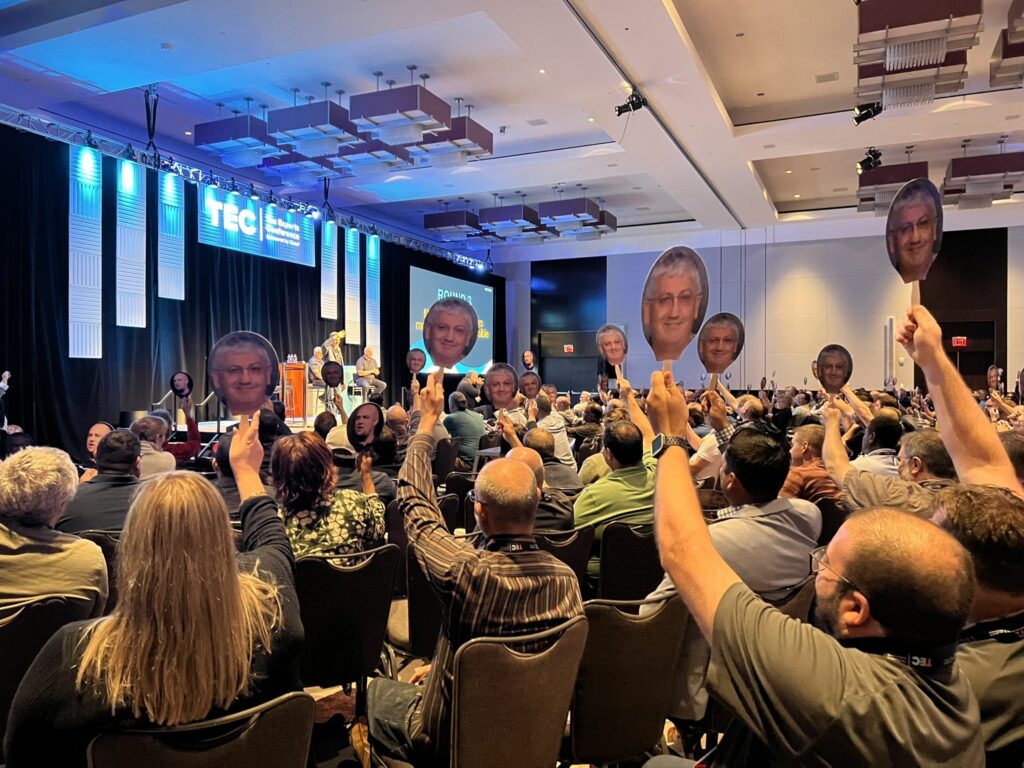 Meet the Contenders
Greg Taylor is Microsoft's Product Manager for Microsoft 365 Core Engineering. He has been at Microsoft for almost 20 years, focuses on Exchange and security, and is an expert technologist.
Tony Redmond is a Microsoft MVP who focuses on Microsoft Office applications and servers. He is the lead author of the Office 365 IT Pros eBook, editing director of Practical365.com, and consultant at Redmond & Associates.
Greg acknowledged that he would have his work cut out for him since Mary Jo Foley had just spoken in depth on why she feels Microsoft is not focusing on customers' needs. With that in mind, let's see how the contenders responded to the five statements and see how the audience voted.
Round 1: "Microsoft is Forcing Customers to Cloud to Make More Money."
Greg's Response: "It's not just simply 'we want to make money from our customers," Greg explained that we live in a capitalist system, and you cannot criticize a company for trying to grow the business and give back to shareholders. Microsoft focuses their investments where they think customers want to go, while still supporting their customers with on-premises services.
Greg compared it to how car manufacturing primarily focuses on electric and hybrid vehicle innovation but still supports gas-powered vehicle development.
Tony's Response: "Yes, absolutely." Microsoft invests heavily in cloud technologies such as Azure and Microsoft 365 and new features always appear in the cloud. Entra ID receives features like MFA and conditional access policies, while on-premises services like Exchange, SharePoint, and Active Directory receive nothing.
Tony described it as "subtle forcing."
Winner of Round 1: Tony Redmond
Round 2: "Microsoft 365 will Always be more Secure than On-Premises."
Greg's Response: "Well, it will." The engineering required to implement a change is vastly different for cloud services compared to on-premises services. When customers report cloud issues, Microsoft can quickly patch the services. Greg mentioned that he spends more time on security than features lately, dealing with constant security risks and zero-day attacks.
Deploying patches for on-premises services requires swift action from both Microsoft and the customer, which can cause delays. When Microsoft finds an issue, they must bundle the response and ship it out to customers, who then must test and deploy the fix in their environments.
Greg stated that Microsoft invests heavily in security for both cloud and on-premises services.
Tony's Response: "Microsoft doesn't spend money on on-premises security." Tony reiterated that Microsoft has invested in cloud technology to encourage clients to move away from on-premises and mentioned that there are security gaps, such as MFA not being available for on-premises Exchange.
Winner of Round 2: Greg Taylor
Round 3: "Microsoft 365 is Always more Reliable and Accessible than On-Premises."
Greg's Response: "Microsoft 365 is more complex, operates in a DevOps model, and can quickly respond to issues in the service." Greg explained that Microsoft 365 has the benefits of scale and the DevOps model, which are difficult to achieve on-premises.
Microsoft does not ignore on-premises services and tries to make it easier to ensure their reliability, but he agreed that it is harder to run servers on-premises due to their nature.
Tony's Response: "I agree that it is more reliable…. for Exchange." Exchange Online has had a lot of investment. However, other services still have plenty of glitches, including dropped calls with Teams calling, disappearing text in Loop, and reliability issues with SharePoint, Teams, and OneDrive.
Tony agreed that SharePoint Online is more accessible and useful as an enterprise document management system due to scale, but questioned why Microsoft hasn't made it easier for customers to make their on-premises services more reliable, including Skype for Business.
Winner of Round 3: Greg Taylor
Round 4: "Microsoft 365 will Always have more Functionality than On-Premises."
Greg's Response: "No words needed." Microsoft is working to build a service that customers want to keep data in. The more of your data that sits in the cloud, the more benefits you get from the collection of products, enhancing features like Copilot.
Previously, when Microsoft would ship features to complex on-premises services like Team mailboxes, they would require specific versions of Exchange and SharePoint. With different teams managing and updating each server and service, it was difficult for customers to get a new capability.
Cloud services are a continuous rolling build and are always running the "current version". All services are intertwined within "Core Engineering", allowing Microsoft to roll out changes to different code bases together.
Tony's Response: "That's true. I won't deny that this statement is true," Tony stated that the grand plan is to build so much functionality into Microsoft 365 that customers will put all their data in it. However, he is concerned that customers will become "trapped" and will not be able to move their data in the future.
Tony mentioned that migrating content tenant-to-tenant with sensitivity labels is very difficult. He also stated that OneDrive has essentially become the new PST – a place to store confidential data in a possibly unsecured place. Microsoft offers solutions like Defender for Endpoint, but that just means more money and continuing the never-ending cycle to keep you in Microsoft 365.
Winner of Round 4: Tony Redmond
Round 5: "Microsoft 365 Gives less Control over your Data than On-Premises."
Greg's Response: "Let's first define control. It's your data. Having a little less full access to your data isn't necessarily a bad thing." Greg explained that concepts like RBAC and delegation of administration are not designed to give you less control or ownership but are designed to protect you from rogue attacks and accidental deletion. Microsoft provides these controls to prevent you from performing disruptive activities.
Greg noted that Microsoft would rather protect your data in-place in the cloud than require you to export the data out and import it back in. Microsoft is the custodian of your data, and it is a matter of trusting that your data is safe in their data centers.
Tony's Response: *Evil laugh*… Tony reminded us that Microsoft betrayed their promise of trust when they delivered unwanted ads about tech conferences directly to end users in SharePoint – a "gratuitous misuse of data."
Tony also mentioned that there are limitations in backup and restore capabilities for M365 services, which can impact customers who require offsite backups. Many services do not have backup and restore APIs, including Planner and Loop. Other services are so complex that you cannot easily restore them back to a full state; for example, Teams uses 57 services, including Exchange, Entra ID, SharePoint Online, and OneDrive. Tony also noted that the upcoming retirement of EWS will remove existing export and import functionality, providing only partial parity in Graph.
Winner of Round 5: Tony Redmond
Announcing the Debate Winner
Rich asked the attendees to vote one last time, and the overall winner of the debate was…. Tony Redmond!
Rich presented each contender with awards, including a juicy Georgia peach. As Teddy Roosevelt said, "The credit belongs to the man who is actually in the arena," and we are grateful to Greg and Tony for always being willing to enter the arena.
Debate Takeaways
Greg and Tony presented strong arguments and some rounds were closer than others. Both contenders seemed to agree that Microsoft's heavy investment in cloud services is consistent with overall technology trends and the ongoing movement of work from on-premises to the cloud.
Due to the nature of the cloud, Microsoft can easily deploy new features to all services, quickly patch security vulnerabilities, and provide extensive scalability for large data. Customers who can move their services to the cloud will benefit from continuous enhancements through the DevOps model.
However, some customers still require on-premises services due to business requirements or functional limitations. Although these customers retain tighter control of their data, they may only receive a subset of the new features and security enhancements deployed to the cloud.
There is no question that work will continue moving to the cloud, but change can take time for customers who are deeply rooted on-premises. We simply ask Microsoft to continue active development for on-premises services until they can provide full parity in all cloud services.