On the latest update, learn about the highlights and delights in Microsoft Research's New Future of Work report. We look at the detail – and think about what might be missing, and how to take action based on their findings. Other highlights this week: Office update changes might be on the way – we discuss whether that's good or bad; Teams gets new integrations for live events, and Calendly might have a new competitor on the block from Outlook, too.
Microsoft Research: Report on the New Future of Work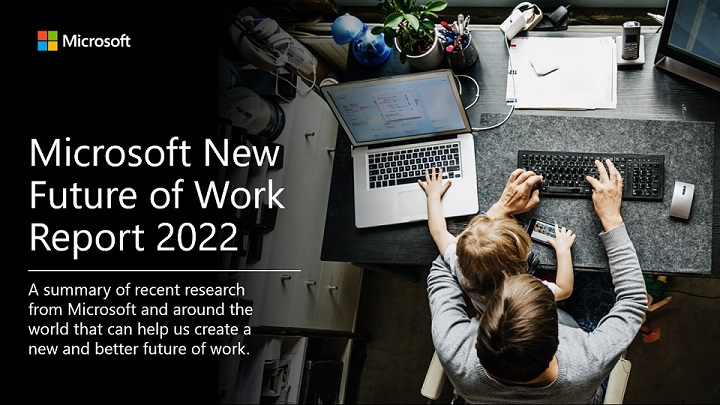 Microsoft have released a long, detailed and research-backed report on the New Future of Work. As you might expect, Microsoft believe for those who can, it will be ideally Hybrid, with office space remaining important, and working remotely useful for focused work. Each finding is supported by deeper research – or in some cases many research papers, and whilst some findings may seem obvious, science has a purpose in proving or disproving an assumption or hypothesis – so it's all useful.
If you don't have time to read it in full (although we recommend you do) then here's our summarised notes:
In the USA – 47% prefer hybrid, 32% fully remote; but in UK – 59% hybrid, 23% fully remote. We discuss why that might be.
"Information Workers" prefer Hybrid "at least for now"; interesting that the term "Information Workers" is still being used – but it's better than "Office Workers"
Employers are not embracing Hybrid to same degree. They don't say why. We discuss.
Microsoft view hybrid work as able to maximise individual productivity – with "focused work"; blend both remote and in-person for estimate gains of ~5%; benefits rely upon some critical mass at the office.
Work-Life Balance moving to "Work Life integration"; vastly more people will prioritize health & wellbeing over work, too. We look by at "work life balance", discuss "flexible work" and also this newer term suggesting your work life should mix in with your home life.
Remote work has upside of higher job satisfaction and less emotional exhaustion; but downsides of guilt, stress about prospects; more people burned out.
Hybrid team leaders need to focus on relationships. Trust is key. Working together as a team, especially globally must be intentional. We discuss this and agree with the findings, and provide some real-life examples where that's caused problems, and how to tackle this using business change methods.
Mixed gender groups have a higher collective intelligence. Chat, async methods of team collaboration improve creativity. Paul and I suggest this is obvious; but also it's worth having the data to support it, because to some people it's not as clear, especially if they've not worked in a mixed-gender team.
Spontaneous chat is hard for distributed teams; but always was…
A study of 10K people shows video meetings cause higher fatigue for women than men; and people with higher public self-consciousness had a more negative attitude toward video meetings. Research suggests for some circumstances should be limited to audio-only, which is interesting to hear.
Microsoft reviewed research and suggested telepresence robots have positive results for team building. We laugh, but also try and give it a chance, Sheldon Cooper/Phil Dunphy style; but personally, we agree it probably increases FOMO (fear of missing out) as you watch the fun happen, in real-time.
Microsoft attempt to define metaverse as: an online world fulfilling real-world desires and activities, aggregating technologies. Research suggests people will use "the metaverse" for 5%-10% of meetings. Worth it?
The value of avatars is primarily based upon helping people overcome professional networking shyness, according to one study citied by Microsoft. We dig into some of the deeper findings in the podcast.
The "speedbump" for AR/VR collaboration is Simulation Sickness, according to results of 55 studies.
AI has to be targeted correctly, value "may" include prompting inclusive and effective meeting behaviours, and summarization of meetings
Comms in organizations are more siloed with remote work. We don't think anyone would disagree, to be honest. And maintaining relationships is harder. Heads nod.
A "loneliness epidemic" was declared in 2017; remote work can be lonely. Microsoft view having fewer "work friends" a a downside. But what if you have more "non work friends", or "friends", as most people call them?
Bad company culture causes people to leave, and is cited as the cause of "the Great Reshuffle". Data shows hybrid work helping reduce employee turnover.
Microsoft use research to state certain misconceptions such as "where to work is a personal decision", "all workers should have the same experience, wherever they are – actually different locations have different strengths", "hybrid is only about flexibility", the "office is only useful for collaboration"
A "workplace recommendation system" can help people find interconnections… Funny t though they don't suggest their own tools in Teams..
Microsoft state research that says – and yes, someone researched this – that different teams using different tool sets (e.g. one team using Teams, one using Slack) means intra-team work suffers..
Microsoft actually use research from building owners to back up that "office space pays for itself with improved productivity"
Globally they think only a minority of jobs can be done remotely on a day-to-day basis.
We point out that sadly, nowhere do they challenge the "CEO and investor in commercial real-estate" view about "getting back to work", though… Perhaps that will be a focus of the next report?
Context on Microsoft's news blog and read the report from Microsoft Research
For some organizations, Microsoft 365 apps will be updated to Monthly Enterprise Channel on all your Office device
Paul notes that MC362760 has been received by some organizations, saying that Microsoft will change the policy for all devices over to Monthly Enterprise Channel rather than semi-annual updates.
Remember – this applies only if you received the Message Center post MC362760. But if you did see the message, should you be concerned about it?
Is there value in bringing IOT telemetry into Microsoft 365?
Whilst it will no doubt be claimed as part of the metaverse we are Practical 365 and not Theoretical 365, so rather than abstract things away to such a degree it no longer makes any sense, we ponder if there's some value in connecting data you have available (or can easily bring in) into Teams & the Power Platform.
Read more from Steve on Practical 365: How to bring IOT deployment into Microsoft Teams and the Power Platform
Microsoft release features for management of ownerless Microsoft 365 Groups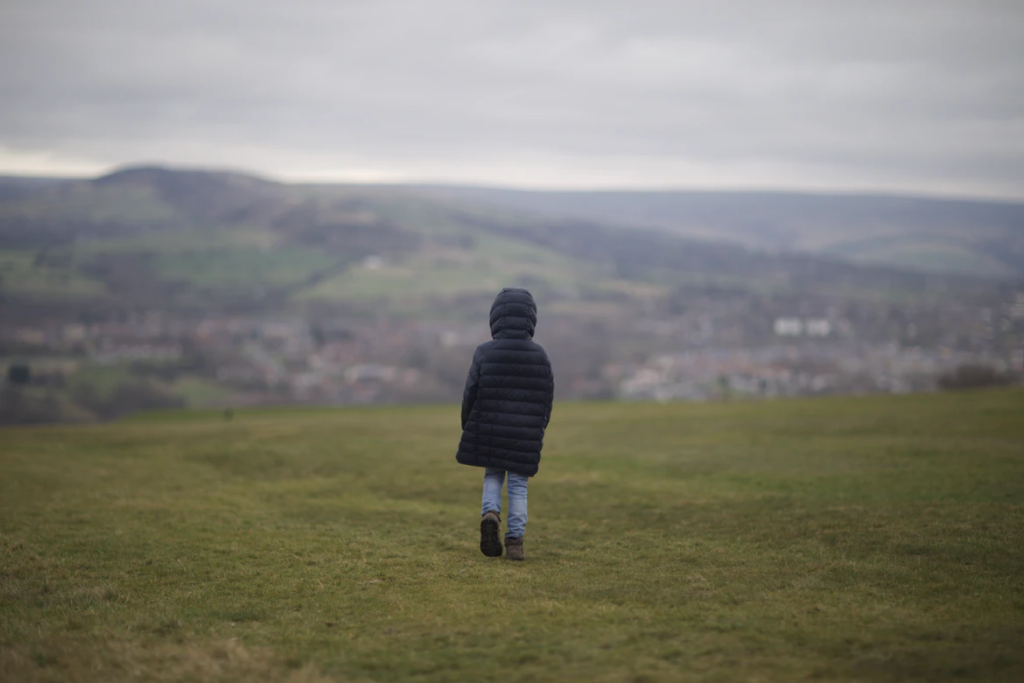 It's what we've always wanted. If parents abandon their Microsoft 365 Groups (or Team) then you can make it so that a member of that Group or Team can adopt it. Configure it in the Microsoft 365 admin center, keeps logs of it in the compliance center, and rest assured Guests won't be invited to be owners.
New professional event and broadcast apps launch Teams integrations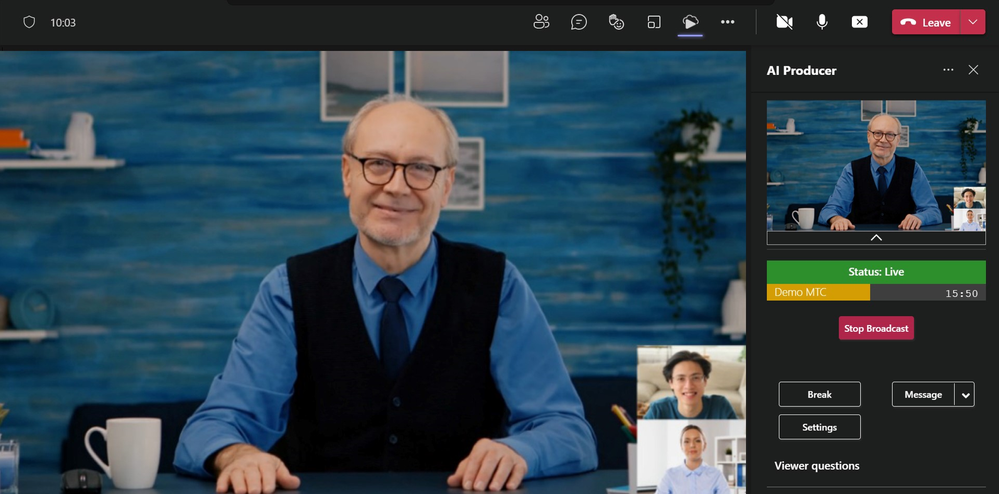 Evertz's BRAVO Studio integrates using Microsoft's Broadcast Development Kit to bring feeds via Secure Reliable Transport (SRT) or Reliable Internet Streaming Transport (RIST) into their product
Avid's over-the-shoulder experience leverages the Teams BDK to bring the video directly from Media Composer at sub-second speeds enabled by SRT and stream high-resolution content into a live Teams call.
LiveArena AI Producer capability. This new capability helps to fully automate the process of composing and broadcasting presentations. Fully integrated with Microsoft Teams.
Read more on the Microsoft Teams Blog
Don't forget the looming switch off of Basic Authentication in Exchange Online
Microsoft once again remind us that Basic Authentication in Exchange Online is going away. You can watch our chat with Microsoft' Greg Taylor on the topic from October last year to get a little more context, and rather than summarise the new post on the Exchange Team Blog, we recommend you give it a read, in full.
Read Microsoft's 150-day warning on the Exchange Team Blog
Microsoft 365 Roadmap Features To Watch
The Microsoft Teams app for "work, school and life" is coming to a Microsoft store near you
The Teams app for work, school and life will soon be available to download from Microsoft store. Great news if you've looked in the store and found "fake" Teams apps, or even Slack show as a promoted alternative. Maybe Microsoft will clean up the fake apps at the same time. Coming this month.
Replace Calendly With This One Simple Trick
Microsoft seem to have a product for every variation of calendar booking; FindTime, Cortana's virtual assistant, Microsoft Bookings, Federated Sharing – the list goes on. And a new Personal Booking page is coming to Outlook & Exchange Online that sounds very much like it will make the use of third-party tools like Calendly redundant. It arrives in June.
Information Barriers "v2" is coming soon
And finally, the not-so-adopted Information Barriers gets a new "v2". It should be of interest to education, who received it recently as part of their subscriptions; and to E5 customers in complex organizations or with a need to stop information flows between departments or teams. This uses a new architecture, in Substrate (read more about Substrate in Office 365 for IT pros) and has more features, like better discovery of people and multi-segment support. Little information is available so far about it, but expect an announcement within the next few weeks, as it goes into preview in June, and is panned for general availability soon after in July 2022.