New Feature: Third-party online meeting providers in Outlook for Android
If you are using GoToMeeting, BlueJeans or Zoom for your meetings, you can add these meeting providers now directly to your Outlook for Android. You need to add this add-in from the Exchange administrator side, to override the default Teams or Skype options, if the add-in is installed by the end user, Teams or Skype will still be the default option. Add-in will roll-out next week, until End of April.
Teams meeting and chat experience improvements
This feature is going to be rolled out at the end of April and it enables you to access meeting options from within a Teams meeting in progress.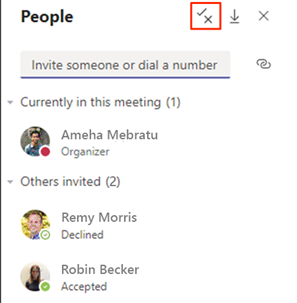 You will also be able to download a participant report in a Teams meeting, which will be rolled out in early May.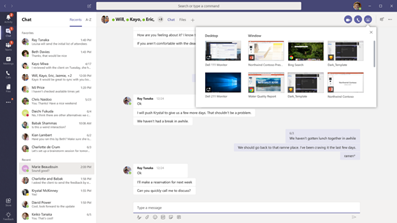 Audio playing on the presenter device will be shared in the live event, we can expect to see this rolled out at the end of April.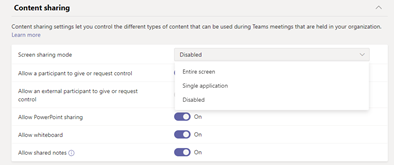 You will also be able to Screen Share from Chat which is also rolling out in early May.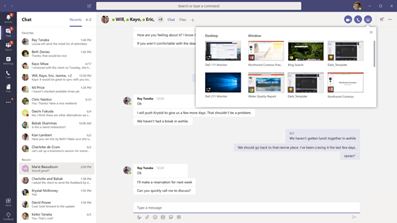 Setting the ScreenSharingMode policy in Teams Admin Center under Meeting Policies: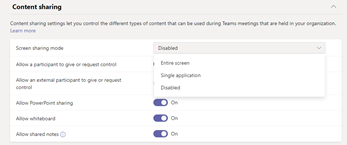 The Yammer app for Microsoft Teams is now available!
Another feature announcement from Ignite made it finally to GA: The Yammer app for the Microsoft Teams client.
Now you can do the following just as you would in Yammer:
Participate in conversations
Join communities
Watch live events
Share announcements
Pin conversations
Mark best answers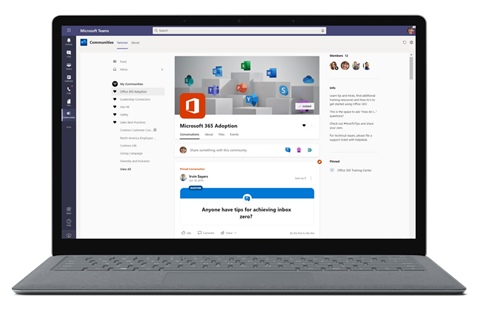 Find out more about the Yammer app for Microsoft teams here.
Updated – New Feature: OneDrive Sync Version History
The roll-out for this feature has been moved from End of April to Mid-May. Users will see a new entry in the context menu in Finder, File Explorer, and OneDrive Activity Feed. Version history will allow users to download previous versions of a file as well restore or delete previous versions.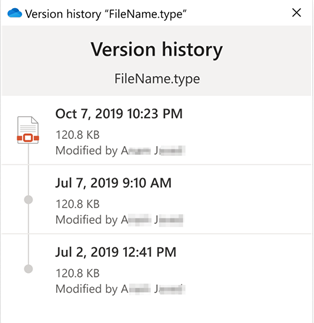 New and updated usage reports in Microsoft 365 Admin Center
What's new in the Microsoft 365 Admin Center:
Report on Microsoft 365 Apps usage
Graph to the Office 365 active users report to show total activity across the services
Updated usage reports: Email activity report to include calendar activities.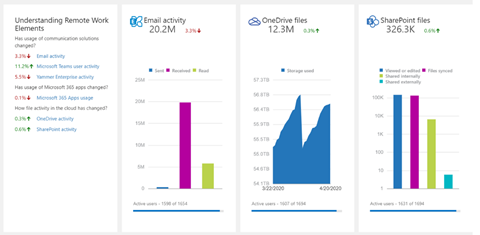 Near real-time token revocation for critical events through Continuous Access Evaluation (CAE)
Access tokens (the token you get when you login) will expire after 15 minutes (even though the token is valid for 24h by default) in the following situations:
User Account is deleted or disabled
Password for a user is changed or reset
MFA is enabled for the user
Admin explicitly revokes all Refresh Tokens for a user
Elevated user risk detected by Azure AD Identity Protection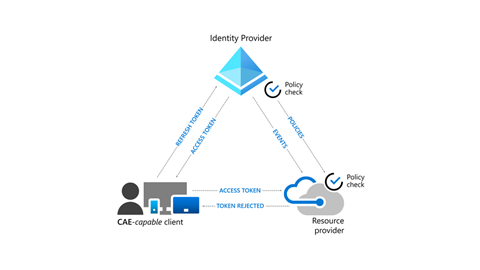 Find out more here.
Microsoft Endpoint Manager simplifies deployment of Microsoft Defender ATP for macOS
There will now be support for simplified deployment and configuration of Microsoft Defender Advanced Threat Protection for macOS. This will assist you with preventing, detecting, investigating and responding to advanced threats using next-generation protection and endpoint detection across multiple platforms.
New on the Roadmap / Message Center News
SharePoint: Extended layout for site footer

The site footer in modern communication sites will now include a new layout option, extended, to show more content in the footer section. The footer control will also have a background color functionality.

Availability date: May 2020
SharePoint lists and libraries – configure header, footer and body of a form

This feature allows users in SharePoint lists and libraries to add a custom header and a footer to the associated form. In addition to this, users can also customize the body text area with sections. Users can click "Configure layout" in the property form

or the details pane to begin configuring the form.

Availability date: Q3 CY2020
SharePoint lists and libraries – Conditional show or hide columns in a form

This feature allows users in lists and libraries to show or hide columns in a list form based on another column's value by specifying a formula; equations that perform conditional checks on values in a SharePoint list or library. Users can click "Edit conditional

formula" in the "Edit columns" list form pane to configure.

Availability date: May CY2020
Improved SharePoint page/news publishing experience

A new pre-publish panel that gives authors an overview of key information about their pages or news posts – including the site name, thumbnail, and any missing required properties – before they confirm publish.

Additional improvements related required properties for pages and pages library take effect.

Availability date: May 2020
Schedule SharePoint pages & news posts

You will be able to schedule a page or news post to be published at a specific date and time in the future.

Availability date: April 2020
Microsoft Teams Group Chat improvements

Sometimes you need to kick off a big project chat with a large group, or organize an ad-hoc discussion with staff at an event, but it is unnecessary to start a new team; perhaps you don't all work together on a regular basis, or maybe you need a communication.

Channel with a large group of people at an event. Group chats will be able to accommodate up to 250 users.

Availability date: May CY2020
Live Presentations in PowerPoint

Live Presentations enables every audience member to view your presentation on their own device, like their laptop, tablet, or phone. Each audience member can turn on live captioning and choose subtitles from more than 60 languages.

They can even navigate between slides, so they don't miss a single, important detail from your presentation. The audience is engaged throughout your presentation by sending reactions in real-time. And after your presentation, the audience can provide specific feedback on the content and delivery of the presentation, which you can use to improve your presentation skills over time.

Availability date: May 2020
Intune Role management coming to Microsoft 365

The Microsoft 365 admin center will soon get Intune role management experiences:

Availability date: April CY2020
Outlook for iOS gets some Intune App Protection

Support for the Microsoft Intune app protection policy that blocks file attachments and switching from personal to work accounts in new emails or calendar events with attachments from unmanaged apps.

Availability date: Q3 CY2020
Steve is a Microsoft MVP for Office Servers and Services. He enjoys getting hands-on, solving some of the more complex problems associated with migrating to the cloud or to newer versions of Exchange Server.