This week, we're bringing you the latest news from Microsoft's Build conference; including the best of many Microsoft 365 copilot announcements, a peek into the underpinnings of Copilot itself via new Azure service, the return of Mesh for Teams and much more. As there's so much to cover, we'll return for part two of Build 2023 where we explore more Power Platform, Security & Compliance announcements.
Unraveling the Underpinnings of Microsoft 365 Copilot: Azure Cognitive Search and Language Services Previewed
Microsoft has announced the preview of two new Azure Cognitive Services, Azure Cognitive Search and Azure Cognitive Service for Language. The former is a vector search system that allows developers to store, index, and search by concept in addition to keywords, while the latter offers new capabilities such as summarization, entity recognition, text classification, and conversational language understanding (CLU).
Microsoft has also released updates to its open-source Semantic Kernel framework, which enables developers to leverage state-of-the-art AI models along with skills, data, and logic to add intelligence to their apps. To demonstrate the power and versatility of the Semantic Kernel SDK, Microsoft has launched the open-source Copilot Chat starter app. This ready-made solution allows developers to add conversational interfaces to their line-of-business apps, leveraging Memories (for injecting business-specific context into AI prompts) and the Planner (enabling the AI to "goal seek").
The preview of these two services may provide IT professionals with an insight into the underpinnings of Microsoft 365 Copilot, as well as a better understanding of its architecture.
Watch Microsoft's keynote session at Build The era of the AI Copilot (microsoft.com)
Edge Gets a New Business-Focused Version, with Microsoft 365 Copilot Integrated into the Sidebar
Microsoft 365 Copilot will bring powerful work-based capabilities to the Edge sidebar, allowing users to ask natural language questions and receive answers based on the context of what they are looking at in the browser.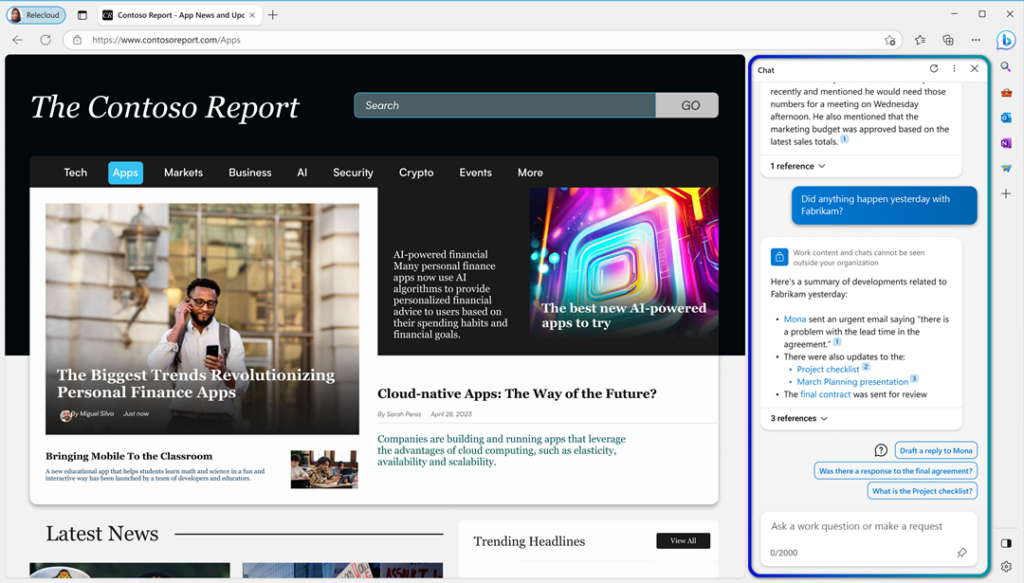 The integration of Microsoft 365 Copilot into Edge is a natural progression, as otherwise, users will probably use Bing ChatGPT features by accident. The feature feels like the next thing beyond Microsoft 365 search being integrated into the browser. Microsoft 365 Copilot in Edge will make it easier for users to get answers to their questions quickly and efficiently while still ensuring data security and privacy.
Edge for Business is designed to enhance user privacy while maintaining enterprise-grade controls set at the organizational level. According to Microsoft, the browser will automatically separate work and personal browsing into dedicated browser windows with their own separate caches and storage locations – which admittedly sounds similar to the current Edge browser today. However, newer capabilities for IT admin controls for Edge through the Microsoft 365 admin center will be very welcoming.
Read Microsoft Edge announcements on the Microsoft Windows blog
Developers will be able to Extend Microsoft 365 Copilot with Plugins and Syntex Services
This new feature will allow developers to integrate their apps and services into Microsoft 365 Copilot with plugins, including ChatGPT and Bing plugins, as well as Microsoft Teams message extensions and Power Platform connectors.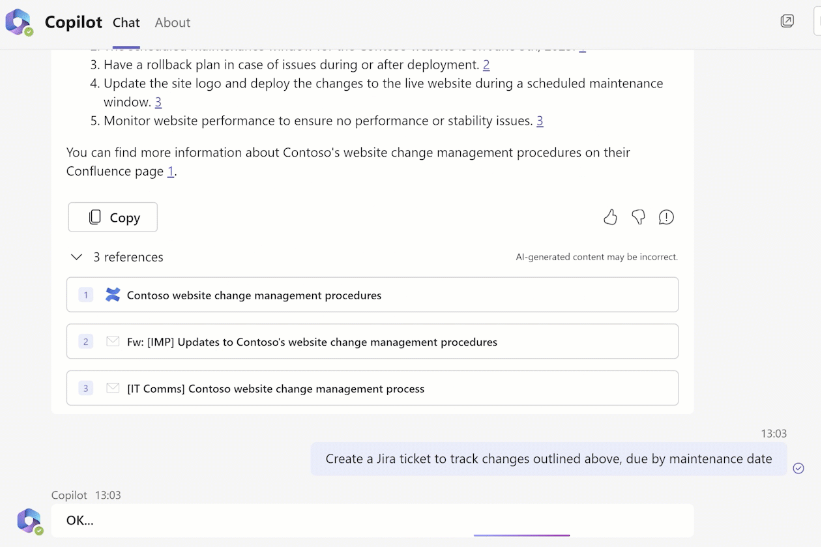 The new plugins will be available through the Microsoft Teams Toolkit for Visual Studio Code and Visual Studio, and more than 50 plugins from partners will be available for customers as part of the early access program. Additionally, the Semantic Index for Copilot in preview will allow developers to bring their data into the Microsoft Graph, which may prove extremely tempting when compared to using services like Azure Cognitive Search instead.
With the Syntex plugin for Copilot, Microsoft promises that folks can get answers to suggested or user-generated questions about the information in files across Microsoft 365, as well as take file-centric actions like content assembly (building documents from precise templates) and classification.
On the show, we talk about how the overlap between these Microsoft 365-focused developer tools versus tools similar in Azure will either make the app development plugin landscape easier for developers to get started with or hold back new apps by keeping those plugins within a Microsoft 365 ecosystem.
Read more about the new Microsoft 365 Copilot plugin architecture here and related Microsoft Syntex copilot plugin capabilities on Microsoft's blog.
Learn about the new capabilities in more detail in the Build 2023 session "Harness the power of AI: Extend Copilot and beyond"
Microsoft Teams Avatars Reaches General Availability, and Mesh-Powered Immersive Spaces will be in Private Preview soon.
Avatars for Microsoft Teams is now generally available, so expect your users to see pop-ups suggesting they try out the feature. It has evolved slightly from the first preview versions. It's clearly a feature some people want, but it still requires an element of puppeteering by the person using it to convey emotion.
We thought Microsoft might have forgotten about Mesh, but it clearly hasn't—the words Metaverse aren't front and center anymore, thankfully. Don't expect it to hit your tenant soon, though – it's going into private preview.
We can't help but feel that Microsoft should have gone straight to public preview with this one, as, like many, we'd assumed it was in some private preview all this time. On the show, Paul expresses his view on Mesh – and I agree. We certainly feel that Microsoft is in a position to use their experience in gaming to deliver a far better experience than the retro AltspaceVR 3D graphics. With the capabilities to leverage technology that underpins Xbox Cloud gaming to stream amazing 3D experiences and owning the engines that underpin Halo and other games, it feels like a missed opportunity.
Read more about Avatars reaching GA, and the Microsoft Mesh announcements on the Microsoft Teams Tech Community Blog
In the next episode, we'll dive into more Build announcements and real-life experience with new previews, and of course all the latest news and relevant Microsoft 365 roadmap updates.
TEC Talk: Making Generative AI Work for Microsoft 365
AI-based Microsoft 365 Copilot is coming. But before you commit, join this TEC Talk to understand the technology behind Copilot and how it generates information from M365 applications.