Note: Updated September 24th from the original post, September 15th after Apple released version 3.15.0 of the Teams app for iOS.\
Apps like Google Maps, Waze, Spotify, WhatsApp and even Zoom already have Apple CarPlay and Android Auto integration that safely enables a hands-free, eyes-free experience using the car's built-in controls combined with voice assistants. It shouldn't be a surprise then that people have been clamoring for Teams support for both Apple and Google's in-car interfaces. Last week, Microsoft finally launched the long-promised Apple CarPlay support.
It's not the first time Microsoft has offered support for using Teams whilst you're driving – a few years ago Microsoft touted Drive Mode for Teams. Drive Mode was designed to provide a cut-down Teams interface on the phone screen that a driver could (in theory) use whilst operating a car. In a sensible fashion, Microsoft reconsidered whether this was wise and quietly removed it – along with almost all references online – to a feature that was, at one point, touted on-stage. You'll find only a few references to Drive Mode, such as fellow MVP Vesa Nopanen's blog post on the topic, a few comments in Tech Community posts where any mention was removed and a UserVoice entry wondering where it went.
Of course, it isn't all love for Teams and Apple CarPlay. Commentary from tech journalists seem to miss the point, suggesting that it's not been possible to join a Teams Meeting from the car before now. However, Road warriors have been joining conference calls from cell phones for decades – OCS, Lync, Skype for Business and Teams have all supported audio conference dial-in numbers and the Skype for Business and Teams apps support using Bluetooth hands-free for VOIP calling into meetings.
Therefore, without CarPlay support it's pointless to start a meeting on the desktop Teams client. Because if you do, you'll then need to transfer the meeting to your phone if driving somewhere mid-meeting, continue talking on the handset and then when you start your car, wait for Bluetooth hands-free to pick up the call. Once you yare safely parked, you can join a new Teams Meeting on your mobile device and continue your journey.
Even so, the idea of having fully integrated CarPlay support for Teams is very compelling in certain use cases – for example, if you do need to join a meeting part way through a journey and there's not an opportune time to pull over and stop the car. In the past, I've had to stop at a service station and wait 15-20 minutes until the meeting time just to ensure I could join; therefore, if I had the ability to ask Teams about my upcoming meetings and ask to have me join the right one – this would be extremely useful functionality. Therefore, when Teams support for Apple CarPlay finally landed, I was more than eager to give it a spin.
The images of Teams in the announcement didn't quite tally up though. In the announcement, Teams is shown joined to a meeting in CarPlay, and the Microsoft 365 Roadmap item states:
Microsoft Teams: Teams now available on CarPlay

When Teams is connected to CarPlay, you can now handsfree call or message one or a group of Teams contacts, as well as join your next meeting.

Microsoft 365 Roadmap – Feature ID: 84391
And on September 24th the latest update for Microsoft Teams states that CarPlay has arrived – with calling and meeting features, but the Microsoft Support article only makes mention of making Teams calls: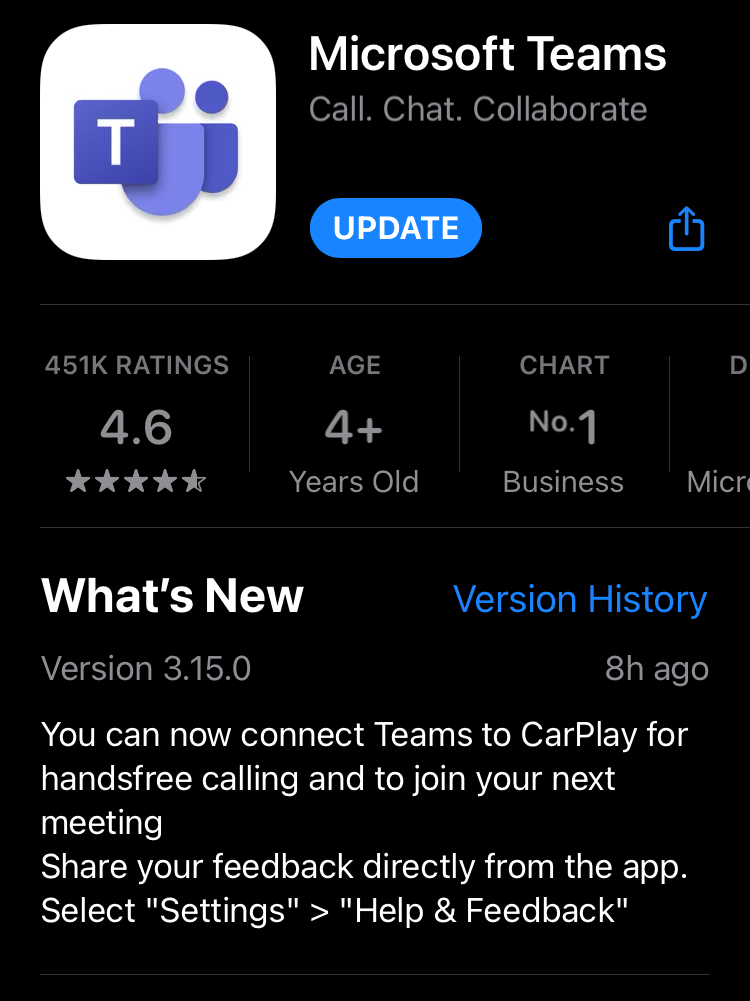 So, which is it? I decided I'd go on a journey of discovery to find out…
In the part one of the video, recorded on the 13th September, I talk a bit more about how I've already been able to use Teams in the car when I need to be in a meeting and whether it delivers on what was announced. Normally, I use Android Auto rather than CarPlay – so, I'm no expert on CarPlay – but you shouldn't need to be to in order to join a meeting or make a call. In part two I try again – first with Siri integrations to Teams enabled to see if that is useful, and then trying suggestions from the comments on the first video over on YouTube.
What does CarPlay for Teams allow you to do
With the latest version of Teams installed on an iPhone SE 2020, CarPlay shows the Teams logo in the list of applications: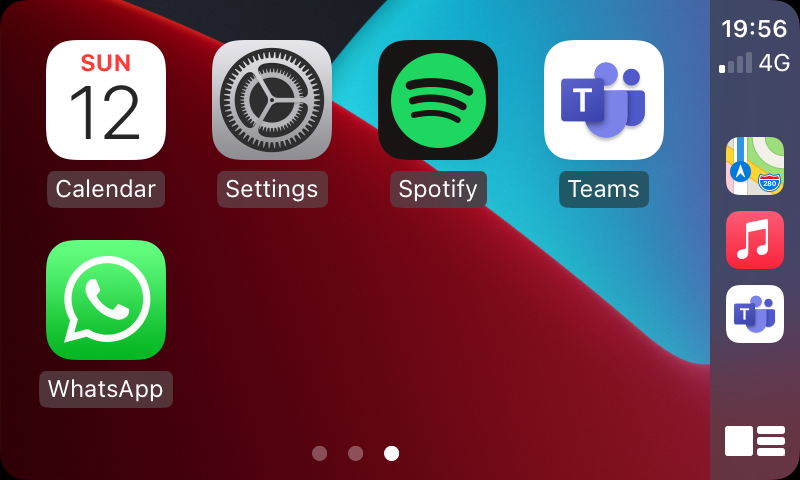 What you might expect upon tapping the Teams app is a Teams-specific homepage similar to the Calendar, Phone and Messages apps showing upcoming meetings, messages, and calls.
At least for now though, you won't see that. Today's experience is functional and absolutely designed for hands-free use, providing a simple Siri prompt with a corresponding voice prompt of "Who do you want me to call?"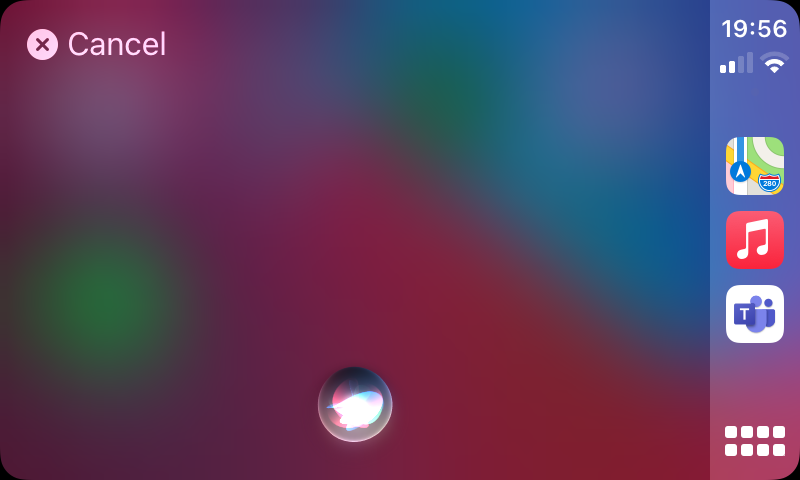 From the Siri prompt you can say phrases like:
"Call Tony Redmond" – A name of a Teams contact and if multiple matches are found it will prompt you for the correct one before initiating a Teams voice call.
"Call Tony Redmond and Paul Robichaux" – Multiple contacts such as "call Tony Redmond and Paul Robichaux", to make a group call.
"Call my next meeting" to join your next meeting. Yep, not any variation of join a meeting – call my next meeting. You cannot ask it to call a specific meeting, just whichever one is next.
Therefore, so long as you know what to say, you can now handsfree call or message one or a group of Teams contacts, as well as join your next meeting. Roadmap item delivered.
What else can you do though? Well – you can, however, get Siri to read Teams messages that come in as notifications. Much like on Android Auto, CarPlay can read out notifications to you from apps. But unlike Android Auto, CarPlay doesn't have the ability to use build-in OS features for replying to messages directly from notifications.
After a reset regarding expectations and what's possible today, the final test was to see whether you can join a Teams Meeting on mobile and receive a better experience than simply using Bluetooth hands-free functionality.
The good news is you can, and you do get a better experience. Not only can you join the next meeting hands-free, the Teams Meeting name is shown on-screen, and you have the ability to mute and unmute or hang-up. Since it's an Apple UI, features like the Keypad and Add Call buttons don't serve a purpose in the Teams meeting – but at least we know which meeting we're in: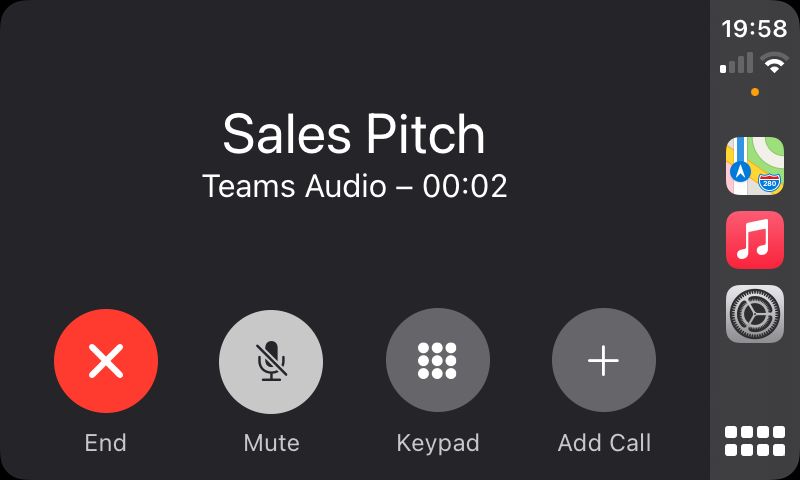 Although it would be ideal to be able to join a specific meeting – it does mean that for some folks, the days of pulling in to a freeway/motorway services and waiting around to join a meeting using the handset could be over.
Over time we can hope for improvement. Teams has Cortana features for using the app hands-free. These are available under Settings that allow you to assign a Siri Shortcut to open Cortana (and then perform voice-based control of the Teams mobile app) and to join a meeting – which, admittedly is redundant in this scenario, but still useful for cars without CarPlay support.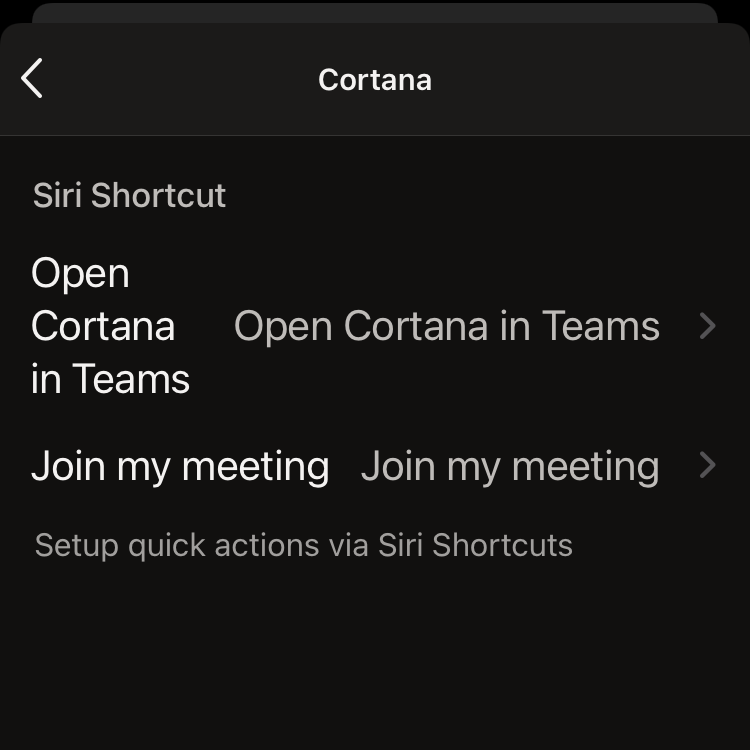 Finally, it would be very good to see more features come to Apple CarPlay. If Spotify can provide a list of songs, and the Calendar app can provide a list of your upcoming meetings – why shouldn't Microsoft provide similar functionality in Teams; being able to read out and then reply to messages in Teams chats and channels will be something some people will be pleased to see.
Sadly, right or wrong – a lot of folks will text and drive today, so providing voice-based access to those features is a safety feature rather than a risk. And if you use the feature successfully a few times, and then find yourself in a situation where "call my next meeting" doesn't let you join the right meeting – some people will be tempted to pick up the phone handset and join from the client – a dangerous, possibly fatal move. So remember, and enjoy the new features safely.