A surprising new aspect to online meetings over the last year is that people want to look far more professional in a meeting than they used to. Rather than the focus being on wearing smart office clothes to a meeting, the focus has been on the overall quality of the presentation. Undoubtedly, you have colleagues who have re-painted their homes, installed bookshelves behind their desk, and invested in lighting, camera, and microphones usually aimed at streamers.
Within that category of professional online meeting presenters, you'll also find people who want to take it a step further – installing green screens in their home office and digitally inserting themselves into presentations using OBS as if they are presenting the weather. No-one can deny it looks impressive, but it requires a lot of expertise, time, and investment. Until now, that is.
The new presentation features in Teams, coming later this month and announced this week at Microsoft Ignite 2021, are all designed to make it easy to look more professional in meetings and build in advanced effects into Teams itself.
Presenter Mode rolls out its first feature, Standout mode, this month
Using the Background Effects feature as a mechanism for creating a virtual green screen, presenter mode gives people the ability to bring themselves into the presentation itself without using a tool like OBS.
Presenter mode provides three options:
Standout mode showing the presenter in front of the content
Reporter mode displays content above the presenter's shoulder
Side-by-side mode with the content and the presenter displayed side-by-side.
Standout mode is the first on the roadmap to arrive and rolls out to Microsoft Teams this March. At Microsoft Ignite 2020 and again at Ignite 2021, we saw mock-ups of these new features shown, but it was only during Jared Spataro's session did we see what appeared to be a real-life demo of Standout mode.

Much like Background Effects and Together Mode, your camera and lighting position have a significant impact on how you'll appear in standout mode. Presenting from a laptop in a darkly-lit room with Standout mode is likely to make those drawbacks more apparent – so expect presenting this way to be most popular with people who've invested in a good webcam and lighting.
PowerPoint Live in Teams finally solves single-screen drawbacks
One of the most common professional faux-pars people make with online meetings relates to presenting PowerPoint with a single screen. You have no doubt experienced someone presenting in Edit Mode, or presents their entire screen only for chat notifications to pop-up.
The best experience for presenting in PowerPoint is when you've got Presenter view – and previously, you either needed to try complex workarounds or have two screens. Even then, when two or more people present, handing over control is challenging.
Teams already included the ability to present PowerPoint files directly in the meeting, much the same way as Skype for Business offered the ability using Office Online. This was unpopular because the presenter cannot see their notes or upcoming slides, and once you begin presenting, you must adhere to the slide order.
Rolling out this month, PowerPoint Live builds on the existing built-in capability in Teams offering Presenter View within the Teams app, allowing the meeting's presenters to see both notes, slides, and jump between slides.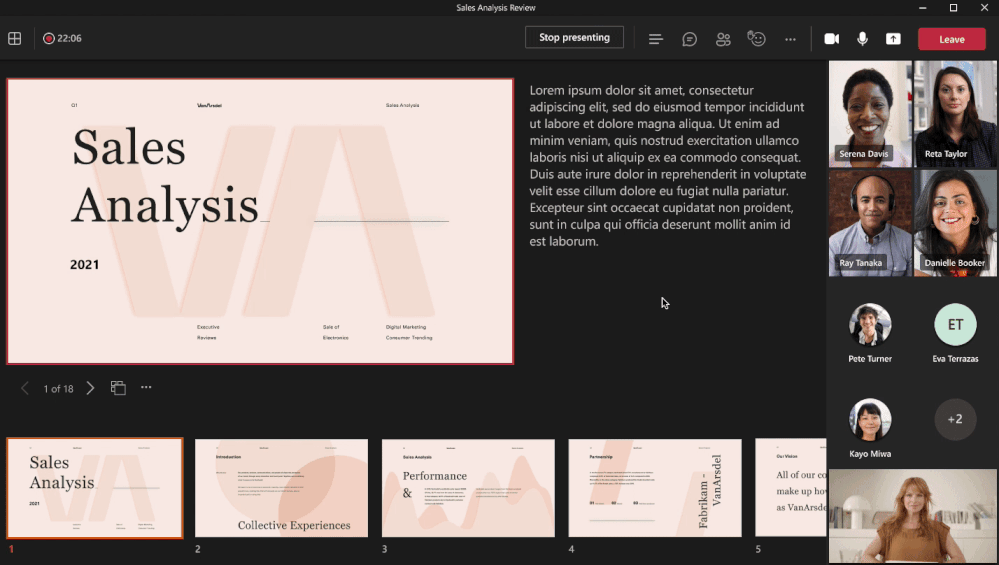 Much like other meeting control features in Teams, getting people to set the right roles within a meeting is essential. If you don't want someone joining your meeting to control the deck, you need to make sure you set them as an attendee. Expect some confusion from people who haven't set their meeting options correctly when someone else takes over presenting the slides by accident.
Webinar capabilities and new meeting views
A previously announced feature, Dynamic View rolls out in March, according to the Microsoft 365 roadmap. Dynamic view auto-adjusts the meeting video layout based on who is talking or presenting. And combining both a new feature and moving the controls for features like Together Mode, the View switcher, scheduled for March, allows both switching those views, and brings the ability to move the video feeds to the top of the meeting window, closer to the camera.

And finally, better webinar capabilities are on the way for Teams. Using Teams Live Events for webinars has left something to be desired. Registration, attendee participation, and analytics have been particularly poor, and Live Events have stagnated in terms of functionality compared to Teams Meetings. Microsoft's Ignite announcements for webinar functionality combine several roadmap items and some already available features.
The first webinar-specific features to arrive are attendee registration, and improved participant report downloads, coming this month. In April a new attendee dashboard arrives, showing a view of whether registered attendees turned up and how long they stayed for.

Other features to support webinars have already arrived or are rolling out. Mega-meetings are an essential component for moving away from Live Events, and will most likely spell their demise. Other features we've seen on the roadmap, such as the ability to disable participants' video on a per-meeting basis – and features such as forcibly muting attendee microphones and disabling chat, are already here. Fully-fledged webinars using Teams meetings look very close to being a reality.