Microsoft Visio is now included for free in Microsoft 365 – via the web
You'll need to draw your own conclusions as to whether this will be popular – but we certainly think it will be – diagramming tool Visio launches for the web and is free as part of Microsoft 365. The rich client versions will still require licensing, but for casual Visio users, this could be a massive win.
On the show we talk about the scenarios this will be useful for, and ponder why Microsoft have chosen to include it for free.
Bringing Visio to Microsoft 365: Diagramming for everyone – Microsoft 365 Blog
Scheduler launches from Preview – with a hefty price tag
We discuss what was the Cortana-based scheduler that now known as Microsoft Scheduler. Paul uses this extensively, and understands what it can and can't do – but isn't sure a price tag of $10 per user will fly for him. We discuss the capabilities of it.
However the pricing is the area that stings – with an Office 365 E3 licence dropping at $20, the implication is that Schedular is worth more than 50% of Office 365 E3 – i.e. more than Teams. However if it was lower-cost – perhaps $1 per user Paul thinks it would fly off the shelves. Steve wonders though if the human interaction part will make some customers hesitate before enabling – how do you explain to your execs that one of Microsoft's suppliers might read those emails?
Scheduler, a new Microsoft 365 service, makes scheduling meetings easier and faster – Microsoft Tech Community
Windows Virtual Desktop is no more…
It is now called Azure Virtual Desktop. That's a lot of documentation, T-Shirts, Stickers, Microsoft Partner websites and more to update – but it's important to know that the product name has changed, and important new features – including Azure AD Join for Windows Azure virtual desktops is nearly here, too..
Azure Virtual Desktop: The flexible cloud VDI platform for the hybrid workplace | Azure Blog and Updates | Microsoft Azure
How do you prepare for Microsoft 365 exams, with Peter Rising – Microsoft MVP and exam prep book author
Peter Rising, author/co-author of two Microsoft 365 exam prep guides, and author at Practical 365
Why should you complete Microsoft exams – what's the benefit?
What are the core exams for Microsoft 365 & where should you start on the track to a qualification like Microsoft 365 Certified Enterprise Administrator Expert?
Is it worth focusing on exams relevant to what you do today, for example Managing Teams or Security Administration?
Apart from a decent exam prep guide, what is your best strategy to prepare?
What is the best way to test your knowledge?
What's most important – hands on experience or knowing the best Microsoft answer?
New and noteworthy in the Message Center this week
Microsoft Teams gets the firmware update for Teams Phones (the corporate desktop phone variety). There's a bunch of new features, like handoff – being able to transfer your meeting audio to your desk phone, a drop-down for in-call options, real-time captions and better contact management.
For Teams phones with video though – we get background replacement – on the show we discuss that this would almost sound space-age a few years ago, and it is still impressive now.
Paul suggests that the position of a desk phone relative to your face might not be optimal though. I test the theory below in my artists impression (i.e. I photoshopped this on), assisted by my helper…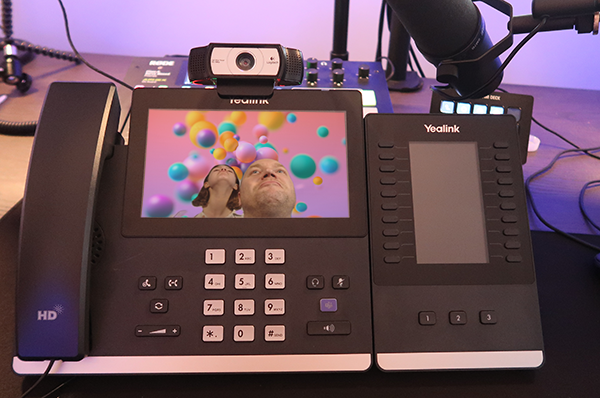 Yammer continues to impress and disappoint in equal measure. After many, many improvements over the last year – the ability to post on behalf of – i.e. delegates – arrives. This is not a great feature, as it will be unhelpful for the authenticity of messages on the enterprise social network, and has the potential to destroy trust in executives. We assume Microsoft must have been pressured to release this from customers, and it is a pity that they did.
Ending on a high note, Teams will be getting Roaming Bandwidth Control. This will allow dynamic bandwidth policies based on location. Paul points out this will be good for users as they begin to travel again, and I think about how this could be useful in a scenario where people are in and out of the office on different days, and whilst bandwidth limits might come off when at home – in an office with limited bandwidth and no QoS setup yet – this could be key. We applaud Microsoft for this feature which is most likely going to be crucial for some organizations, and arrives at the right time.