In this week's episode, Steve and Paul discuss Windows 365, a new version of SharePoint and Viva Licensing.
Windows 365 – is it a game changer?
Windows 365 is coming on the 2nd of August and it is a new SaaS (Software as a Service) way to buy VDI from Microsoft. We discuss what it is in comparison to other solutions, like AVD and where it makes sense to use.
You'll find more about Windows 365 in my article last Friday – Windows 365 Announced and Azure Virtual Desktop Gains New Features (practical365.com)
SharePoint Server Subscription Edition
SharePoint's back. Back again – but for the last time, perhaps? What appears to be an evergreen version of the on-premises collaboration platform arrives for download this week – with no 2022 label like Windows Server, but a simple "subscription edition" tag. Buy it, keep subscribing and keep getting new features. If you're using Software Assurance or similar anyway, this will most likely make a lot of sense. We discuss this -and wonder if we'll here about an Exchange and Skype for Business equivalent soon?
A new day for SharePoint Server – SharePoint Server Subscription Edition preview
New and improved features in SharePoint Server Subscription Edition – SharePoint Server
Viva Licensing Announced at Microsoft Inspire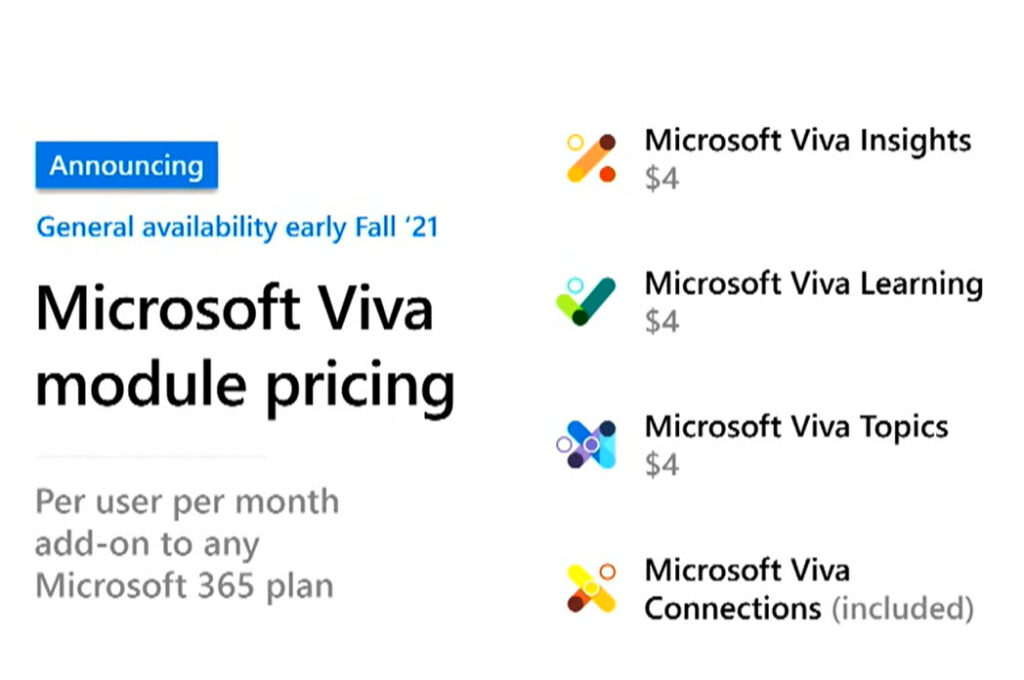 One question on everyone's minds since Viva was announced was licensing. What part of Viva will cost extra, and what will be included within the E3 and E5 suite. For now, at least, Viva Connections is included (which makes sense) but Insights, Learning and Topics will be $4 extra each. We'd assume there's deals to be done with Microsoft on this – and that Insights licensing is to light-up the "workplace analytics" features, rather than the already included MyAnalytics/Insights features that mostly already exist for users today. Viva Learning is an interesting one and divisive – we don't know if it includes any learning platforms, or acts as the gateway to them. Paul makes a great point though on the podcast – for $48 a year for a user it might prove to be extremely good value if employee takes one more course that they wouldn't have without the product.