No Closer to Success After a Decade in Microsoft
Ten years ago, Microsoft acquired Yammer for $1.2 billion to enter the enterprise social networking market. Over nearly a decade of trying, Microsoft is no closer to making Yammer the success it always wanted.
In mid-2012, Office 365 had maybe 30 million users (the earliest number I have is 60 million in November 2015). Office 365 was a loose collection of cloudified applications based on on-premises versions of Exchange, SharePoint, and Lync, glued together with some administration and licensing functionality. Today, Office 365 has over 345 million paid seats and Yammer is an also-ran, bypassed long ago despite the hope expressed in the "Year of Yammer" campaign proclaimed in 2019.
This is the narrative as understood by many who work with Microsoft 365, albeit not by a group of committed professionals who continue to see great value in Yammer. These folk concentrate on community and "superpowers" (note to self: software never has superpowers – it has features and functionality). They are sincere and believe in the ability of Yammer to enable great things when deployed correctly in an organization with support from evangelists and management.
Plumbing the Depths
Why did the optimism of Microsoft's plunge into enterprise social networking dissipate? I think two core reasons exist:
An ill-advised marketing campaign by Microsoft in the 2013-15 period to position Yammer as a form of universal panacea for collaboration. Many who tried Yammer swiftly realized its deficiencies. Some were willing to overlook the problems in their enthusiasm to build community; many were not.
Microsoft engineering decisions not to fully embrace the Office 365 ecosystem for several years. Yammer networks configured in native Microsoft 365 mode have the closest degree of integration, but gaps still exist. Microsoft still operates Yammer networks for partners and customers configured in non-native mode, likely because of the need to support large numbers of external members.
Overzealous marketing and poor integration meant that Yammer functioned well as a standalone application but struggled to embrace the wider Microsoft ecosystem. The problem was well understood by 2015 when a huge gap was evident between Yammer and the rest of Office 365. The technology stack was so different and so little progress had been made to embrace the direction the rest of Office 365 was heading in (Azure Active Directory, the substrate, Graph APIs, a unified approach to information governance and protection, and so on), it was obvious that Yammer was set on doing its own thing. It's good to have faith in your convictions, but when applications exist alongside others in a suite, customers expect interoperation and integration. The opportunity for Yammer to become a critical piece of Office 365 passed without even a whimper.
A New Boss and New Direction
The reset forced by the appointment of Murali Sitaram in 2018 as the GM of Yammer and his declared goal to make Yammer "the social layer for Microsoft 365" extended new hope. Sitaram seemed to get it. He knew that Yammer needed closer integration with the rest of Microsoft 365, needed to support compliance features, to exploit Azure services, move its document storage to SharePoint Online, and operate on a global basis. What Sitaram said at the Ignite 2018 conference made sense and it seemed like Yammer was about to turn a corner.
A year later, the Ignite 2019 conference rolled around, and Microsoft launched the Year of Yammer campaign. Some of the same flaws still existed and progress had been slow since the 2018 reboot, but it seemed like Yammer had a new focus on knowledge sharing and community. All the rubbish about replacing email had disappeared and Yammer had its mission.
Teams Ate Yammer's Lunch
Unfortunately for Yammer, Teams ate its lunch. The engineers who created Teams embraced the Microsoft 365 ecosystem from the start. They built Teams on top of Azure AD, Exchange Online, SharePoint Online, OneDrive for Business, and a bunch of Azure services. The upshot was that Teams leveraged the strengths of Microsoft 365 from its inception. Even though the client was slow and hogged memory, and Teams services started off had limited scalability, Teams grew like weeds and soon was everywhere. Because most companies have limited bandwidth to deal with collaboration solutions, once Teams took hold, there wasn't much room for Yammer.
The pandemic and the need for people to change the work habits of a lifetime to operate from home helped Teams. However, being built on Azure meant that Teams could scale to cope, even if Microsoft had to make some compromises because of growing pains. The net is that despite its many challenges, Teams now boasts 270 million active users and is core to everything that happens inside Microsoft 365.
Take Microsoft Viva for example. Although Yammer has a role in Viva Connections, Teams is the delivery vehicle for Viva Insights and Viva Learning and will support Viva Topics. Microsoft badly wants to grow Viva into the Teams installed base because that's where the opportunity exists.
Yammer Progress
Meanwhile, Yammer progresses at its own pace. I use Yammer daily and consider the modern user interface attractive and much better than the old. Its implementation of actionable messages in Outlook is excellent. Native mode networks support Azure B2B collaboration (guest users), and the Yammer Communities app for Teams (Figure 1) is solid. And some progress has been made in eDiscovery as Yammer now captures compliance records for messages. Other recent improvements include pinned conversations, the ability to report and close conversations, delegated posting, better branding, and nested replies.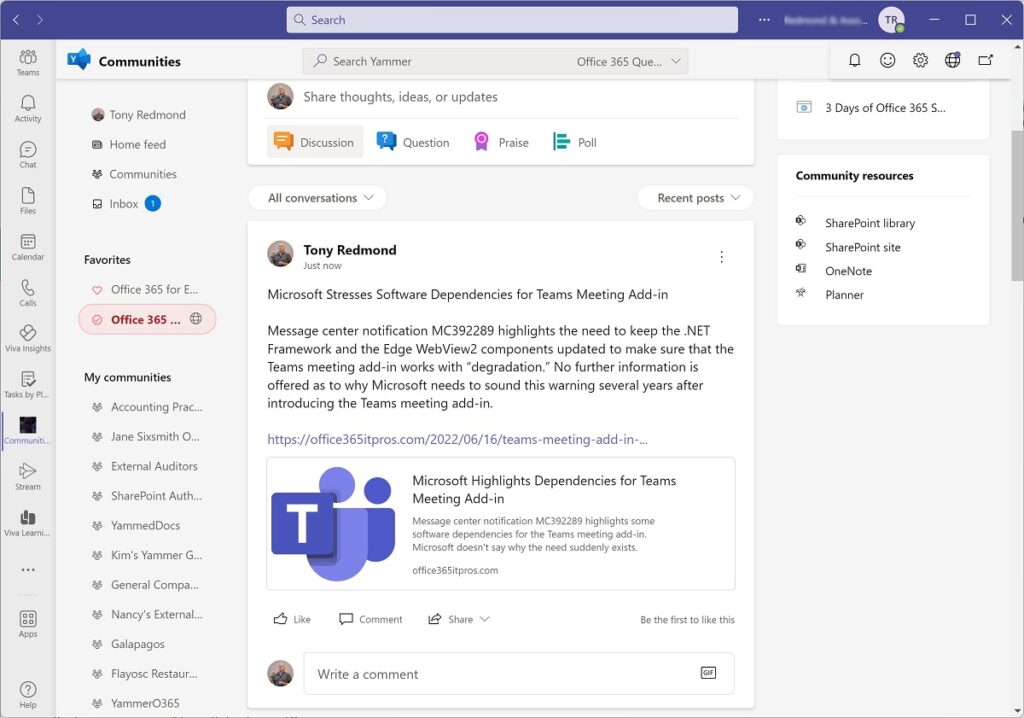 There's no denying that progress has been made. The question is if it's too late for Yammer to be anything more than a bit player alongside the big beasts of Microsoft 365: SharePoint Online, Exchange Online, and Teams.
Curiously, while Microsoft reveals usage data for Teams, SharePoint Online, Exchange Online, Viva, Azure AD, and Office 365, Microsoft has never divulged any number for active Yammer users (monthly or weekly). Some will conclude this is because the number is low compared to the other applications. Whatever reason exists for Microsoft's unwillingness to share data to track Yammer's progress, it's clear that the engineering effort poured into Yammer since 2012 has probably not delivered the anticipated success.
Passion Isn't Enough
A lot of passion exists in the Yammer community. The product has a core of enthusiastic aficionados who advocate the capabilities they see in Yammer. That's fine. Every product has its fans, and some become very passionate, especially after years of defending their product against all comers. Any attempt by an outsider to criticize Yammer is met with derision because people don't understand what Yammer can do, despite the best efforts of Yammer fans to explain its value.
Unfortunately, we live in a world where passion isn't enough, and results are measured by outcome. If a technology is useful to customers, it will be widely adopted. If not, it won't. A technology helps itself by adding features and functionality to attract more customers. It is these aspects where Yammer has a problem. It doesn't have enough customers and its functionality isn't attractive enough to convince more customers to adopt Yammer. Having an apparently better option available inside Microsoft 365 is not helpful. Instead of chattering on about superpowers, it seems more rational for its proponents to seek a mission and position within Microsoft 365 Yammer can fulfil which other products cannot.
Where Yammer Goes Next
To me, Yammer's natural target is large enterprise-wide communities. Teams covers much of the market for collaboration and can satisfy the need to foster "community." Its org-wide teams are good enough and Teams is ubiquitous with a strong following from Microsoft and the ISV community, with approximately 1,400 apps currently available in the Teams app store.
Yammer's advantage increases as numbers scale up. It covers the same kind of need that VAX Notes did 35 years ago, albeit in a text-only world. Enabling open communications, where anyone can contribute and share, is valuable in large enterprises and Yammer does a good job in "ask me anything" forums like internal support, employee Q&A, new employee welcome, and so on. I wrote code for VAX Notes a long time ago; I see many similarities and some of the same challenges in customer adoption. Not all enterprises like community and openness; some prefer the closed model where people must be added explicitly to the membership of a team before being allowed to access information.
Whether Yammer can refocus to be successful is an open question. Much time has gone by, Teams has a lot of the available market within the Office 365 base, the world has changed since 2012 and meetings, calls and video communications are more important now. Yammer isn't dead and Microsoft won't kill it because Yammer is important to their relationship with some major customers. But it is a dead end. The mistakes made since 2012 have come home to roost with a vengeance. And that's sad.