But What Would You Expect from a Developer-Focused Event?
Microsoft Build 2022 isn't a conference to attract much interest from IT Pros. Its focus is on the developer community, so there are plenty of discussions about new Azure services, API enhancements, and development methodologies as Microsoft attempts to convince customers to use its toolsets to build applications. However, there are always a few things to tickle the interests of Microsoft 365 tenant administrators.
Here are some of the topics that made an impression on me. As it turns out, they're all related to Teams. It's hardly surprising that Microsoft focuses on driving developer interest in a platform that has 270 million monthly active users, but it's interesting how little attention Microsoft pays to other Microsoft 365 workloads. Even Yammer, long the favorite of Microsoft marketing, gets zero mentions in the Build 2022 "Book of News." It's all Teams, baby!
Graph Momentum
The Microsoft Graph APIs give developers a common target to access all kinds of data drawn from across the Microsoft ecosystem. In his keynote, Satya Nadella said that over 50% of tenants are using Graph-powered custom and third-party apps (Figure 1).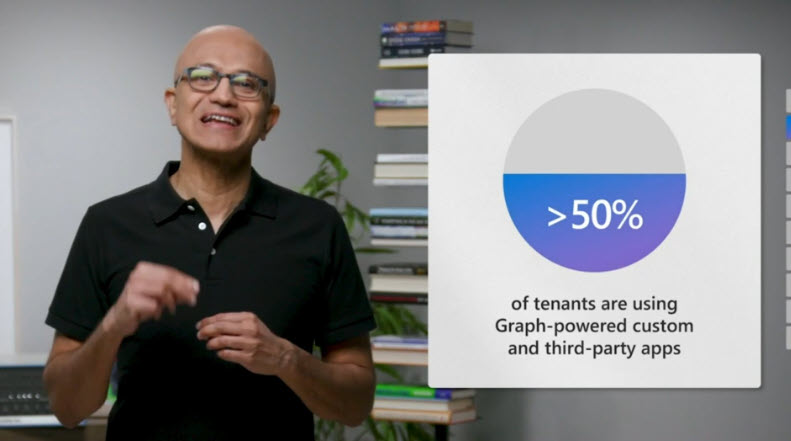 We've devoted a lot of effort to making sense of the Graph for IT Pros from Graph permissions to Office 365 service communications plus the Microsoft Graph SDK for PowerShell. Given Nadella's comments, it seems that this is a popular topic, so stay tuned for further coverage.
Teams App License Management
Microsoft recently introduced the ability for administrators to purchase licenses for third-party apps through the Teams admin center. App developers can also include in-app purchases. Microsoft is going further to allow users to manage and assign purchased licenses, saying that they will "offload license management to Microsoft where users can manage and assign licenses directly in Teams." Quite how this will work in practice remains to be seen, but it's coming in preview in mid-2022, probably before the end of Microsoft's fiscal year on June 30.
Loop and Adaptive Cards
Loop components are available in Teams chat now and are due to be available soon in OWA. Even though the use of Loop components creates some compliance and eDiscovery difficulties for organizations, Microsoft is pressing ahead to make this new method of interactive collaboration more pervasive by bringing the technology to adaptive cards. Microsoft says that people can use the adaptive card-based loop components in Teams and OWA, with Zoho Projects and Service Desk Cloud Plus the first apps lined up to use the capability. I imagine that the apps will store the underlying fluid files in OneDrive for Business and include a URL to the files in their cards, but we'll see when the new versions of the apps appear.
Live Share
Teams meetings are very important to the hybrid working model and Microsoft has put a lot of effort into sharing content during meetings. PowerPoint, for instance, has gained many features to improve how presenters and users interact with slides during meetings. Whiteboard has also improved dramatically in its Teams meeting capabilities. New extensions in the Teams SDK give app developers the chance to make their apps more interactive and compelling by allowing people to work on shared content in real time. The new capability is built on top of the Fluid Framework, which is also used by Loop components, and that's where the advanced editing and real-time updates likely originate. Hopefully, the upgraded apps generated using Live Share will be easier on the eye and more functional during meetings.
Approvals API
Organizations love approval processes. Teams already has an Approvals app. Now Microsoft is introducing an Approvals API with functions to create, read, update, and delete approvals. The point here is that people build tons of approval processes in all manner of scenarios from travel requests to purchase orders to creating new IT entities like teams or sites. Microsoft says that the API will be available in preview soon, and if it's easy and flexible, I can imagine how many organizations will use the API to automate a bunch of business processes. Time will tell.
Embedded Chats
A new Graph API allows developers to embed Teams chats into applications, including support for federated chat (with external users), that create interesting possibilities in scenarios like help desk interactions with end-users. If you're interested, check out this on-demand session.
Corporate Events Have Corporate Agendas
Like any event, the pace of Build 2022 is dictated by the priorities of the event organizers. Things that Microsoft doesn't want to talk about, like the consumption model for the Graph API for Teams Export and how it might affect ISV backup products, don't appear on the agenda.
For IT Pros, attention now turns to events like Microsoft Ignite. Microsoft hasn't announced details for Ignite, so we don't know if it will be virtual (like Build), in-person (unlikely given no announcement at this point), or hybrid (a mixture of some in-person attendees with virtual sessions for the majority). The Ignite content is always more aligned to the work that IT Pros do, which is why it's more interesting than Build. While you're contemplating what Ignite might be, consider coming to TEC 2022, an in-person event for IT Pros in Atlanta on September 20-21. By that time, we should understand what the Build announcements mean and have some idea of their real-world consequences for customers.