In this week's show, Paul Robichaux and I take a short break from Ignite 2022 to discuss the biggest announcements, and take a deep dive into what these actually will provide to your organization, and which new features to watch; with a few fun moments along the way.
Ignite 2022 – In Person?
In-Person Ignite is happening, and even though we aren't there (well, I am virtually, in a pre-recorded session), we discuss the feedback we've heard from people who have visited Seattle for the main event and traveled to some of Microsoft's in-person "Go Local" venues. On the whole, the experience has been good – with people enjoying the networking side, reconnecting with old friends, and making new ones.
The elephant in the room of course is Microsoft staged Ignite at the same time as several other international community conferences that had already been announced, meaning it's somewhat of a strange week as Microsoft employees from the Redmond HQ are speaking at those events instead – and at least one of the conferences added an Ignite watch-party experience to their conference. We discuss it on the podcast, but think the most logical conclusion is probably the simplest one; it might be frustrating but it's not intentional. And after so long without a selection of conferences, having three or four to pick from in a week is nothing to complain about.
Teams Premium Delivers Some Goods
We discuss Teams Premium in detail in the podcast – but rather than summarise what it is, I'd recommend you read Tony Redmond's great article on the subject on Practical 365.
On the show, Paul and I discuss the value of the features – and compare the pricing versus other products in the suite – not great value compared to what's included in Microsoft 365 F3, but good value compared to some other add-ons for the same price.
We Mesh with Avatars as they launch into Private Preview
We've discussed Microsoft Mesh in Teams on the show before, and we were hoping for some news, as the deadline Microsoft set itself for launching the VR experience has long since passed without fanfare.
In private preview (we test on the show, but can't show you, for obvious reasons), the new Mesh Avatars feature promises to make meetings more inclusive for folks who want to be on-camera but don't want to turn on their camera. Microsoft's New Future of Work report highlighted the evidence for the real-life use case, which we summarised in Season 3, Episode 2 as "helping people overcome professional networking shyness."
Unfortunately, we have a suspicion that in meetings where the organizer is expecting the camera to be on, this won't placate them and could actually cause some conflict between employees. For someone presenting, it doesn't do as good a job, as solutions like Adobe Character Animator, in actually conveying the real emotion or reaction. For example, you can't see if the real person behind the avatar is paying attention or looking bored. In the example shown at Ignite, you see that the reactions and mood aren't based upon the camera feed – the mouth moves as you speak, but all reactions are performed by selecting an action (i.e. like choosing an emote in Roblox or Fortnite)

Microsoft Places could be the best solution for organizing your hybrid workplace
So as long as Microsoft delivers Places early in 2023, they might have the right solution at the right time. If it's released into a private preview of some kind at the next Ignite – then maybe not. But putting aside past experiences like Microsoft's plans to enter virtual reality, being better organized in actual reality is something that is important and can deliver value to customers.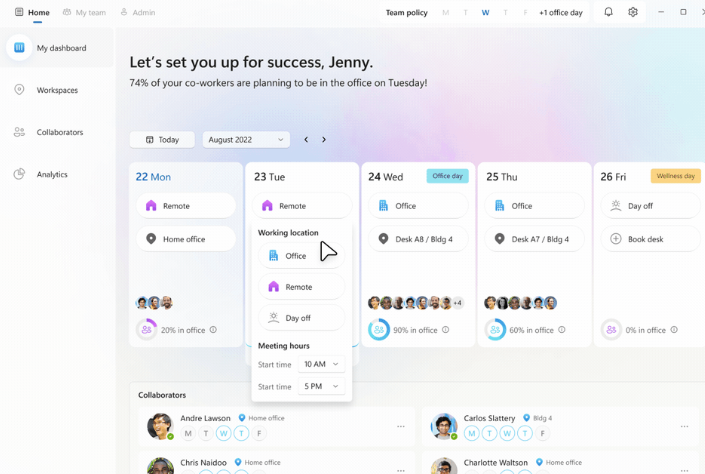 Places will be based on the Outlook announcements integrated with Outlook rather than some of the sample apps provided by Microsoft for desk booking, which left a lot to be desired. A fundamental part of hybrid working is being able to actually gain some value from being in the office, other than it being a nice change of scenery; it's about face-to-face time with people, and most often seeing people you work with in person.
In Places (and when it arrives, in Outlook and Teams too), you can see folks' plans for the week, where they will be, or where they have chosen to show they are now. If you book a meeting room at the office, you'll be able to get a much better idea in advance as to who will join you in the room and who will be remote.
As someone who uses a really good Power App developed by my colleagues, one feature I am pleased to see is the ability to see the office plan, where each hot desk is, and who's booked which desk, so that I can book a desk near people I would like to catch up with in person. I've found that feature invaluable in the bespoke solution I use, and Places looks like it will do an even better job.
Like all announcements from Microsoft, the Places blog is a little too over-eager to paint a rosy picture of serendipity, empowerment, and the intelligence of the cloud; but taking away the marketing speak, there is some genuinely valuable functionality that only a company like Microsoft can deliver.
Most solutions on the market for desk booking and occupancy tracking are closed systems and don't integrate with anything particularly useful – however, the lists of third-party vendors, building management companies, and commercial landlords are pretty expansive.
For example – insights on their own suggesting closing a particular floor two days a week are OK, but being able to integrate with the building management systems so that the heating works in concert with what people do is useful. It saves time, and provides some guarantees that the right actions will happen and that money (and energy) is being saved. It has the potential to be a win-win for business leaders who hate the idea of flexible working but will be convinced by improvements to the bottom line, and for employees who do want to go into the office every now and then – but on their terms to fit work into their life.
The proof, of course, will be whether Microsoft can deliver before it's too late and either the vendors of the solutions build the capabilities themselves, or less flexible but robust ways (like forcing whole teams into the office on particular days) take grip.
Microsoft brought Intelligent Cameras back from the OEM graveyard, re-branded and working the way Practical 365 recommended
We made no apologies for taking Microsoft to task in our article two months ago, where at Inspire (Microsoft's partner conference), Microsoft "launched" Intelligent Cameras in a "not actually launched" manner.
Last year, Microsoft promised their AI would power special cameras sold by Meeting Room that would use face detection to frame each person as if they joined from an individual device, then face recognition to label each person with their actual name.
Vendors had so-so solutions doing face detection, tracking, and framing, but couldn't tell the difference between a cardboard cut-out and an actual person. Even the latest solutions appear to be the stuff of a decade ago with a few tweaks; simple, slow models that are looking for skin-shaped blobs every so often, then re-cropping or moving the camera.
Taking the easy route, Microsoft launched Intelligent Cameras using a select set of devices that could, at a stretch, claim to be "AI" cameras – and at least looked the part, and announced the mission was accomplished. As the cherry on the cake, they said the face recognition was still on the way – but just not right now, showing a hastily put-together fake Teams screenshot.
As computer vision is an interest of mine, I published some comparisons of what anything can do using modern methods & tech. We compared the predictive framing and real-time tracking available from, say – any smartphone or modern PC – to the vendor devices being sold at top-end prices, with hilarious results. Vendor cameras in kit claimed to be intelligent and could take 5-10 seconds to track a person, whereas your smartphone AI co-processor or PC graphics card can not only do it real-time with 100% accuracy – but also predict where people will move to next and of course – recognise people's faces too.
In the article, we suggested Microsoft consider doing it client-side or using similar methods to Together Mode, composite the multi-frame view in the Microsoft cloud.
So – at Ignite 2022 – Microsoft announced Intelliframe and, in the process, moved Intelligent Cameras to a "type of camera" rather than a feature of Teams.
Intelliframe performs the framing either client side, or using similar methods to Together Mode, which composites the multi-frame view in the Microsoft cloud.
At the moment, Microsoft suggests the client side will be only for the "AI" intelligent cameras. If there's a valid reason not to add any additional processing to the Windows Mini PC, that's understandable. The MTR on Windows devices would have to rely upon the same AVC chipset features that are used for background effects. Still, it's a reasonable question to ask MTR on Android vendors – "when will you release a firmware update to make the device an intelligent camera," as unless they kitted out their MTRoA devices with the worst hardware they could find, the MTRoA devices should have AI co-processors to run industry standard face recognition models at 100FPS. I know I won't be holding my breath.
While we'd love to think that Microsoft listened – it's likely that they were already planning to take any work they'd done on Intelligent Cameras and move it into a separate feature, so we'll assume IntelliFrame was planned way ahead of our August article – but it does remain some way off, and should arrive in 2023.
That's all for the show this week – so catch us in two weeks' time with a special guest who long-time listeners will be extremely pleased to hear on the show – Sigi!
Cybersecurity Risk Management for Active Directory
Discover how to prevent and recover from AD attacks through these Cybersecurity Risk Management Solutions.
Learn More