Bothered by Microsoft's Choice of Eligible Copilot SKUs
Ever since the March 16 Microsoft 365 Copilot announcement, I've been bothered about the focus on Microsoft 365 as the base for Copilot. Microsoft gradually reinforced the message when describing how organizations can prepare for Copilot in June. On July 18, Microsoft confirmed that the only product SKUs "eligible" to support Copilot are Microsoft 365 E3, Microsoft 365 E5, Microsoft 365 Business Standard, and Microsoft 365 Business Premium. The first two SKUs are for the enterprise market, the other two are restricted to 300 users per organization and are for the small-to-medium (SME) market.
Microsoft also announced that Copilot licenses would cost $30/user/month. This is an expensive license, but Copilot processing consumes more Azure and Microsoft 365 resources than normal user activity. When discussing their FY23 Q4 results, Microsoft executives pointed to the $10.7 billion of capital expenditure to "support cloud demand, including investments in AI infrastructure." The cost of Copilot licenses reflects that investment. On the upside, it's highly unlikely that everyone in an organization has the need to use Copilot (or even a high-end version of Office 365 or Microsoft 365). Selective license assignments can restrict the amount of extra license spending for customers.
Although I feel that the sticker price for Copilot is a tad high, the reason for my discomfort is that no technical reason exists to select the SKUs eligible for Copilot. As we'll see, the lowest-price eligible SKU (Microsoft 365 Business Standard at $12.50/user/month) doesn't contain any obvious technology to enable a Copilot deployment.
Looking Deeper into Product SKUs
Microsoft publishes a valuable web page containing details of all the product SKUs commonly used with Microsoft 365. Entries for SKUs like Microsoft 365 E5 include the service plans bundled with the SKU. A service plan is a capability within a SKU and covers apps like SharePoint Online, Exchange Online, and Teams as well as basic capabilities like Microsoft Search. Administrators can enable or disable service plans on a per-user basis using the Microsoft 365 admin center (Figure 1) or PowerShell. The apps listed by the Microsoft 365 admin center for a user account are service plans.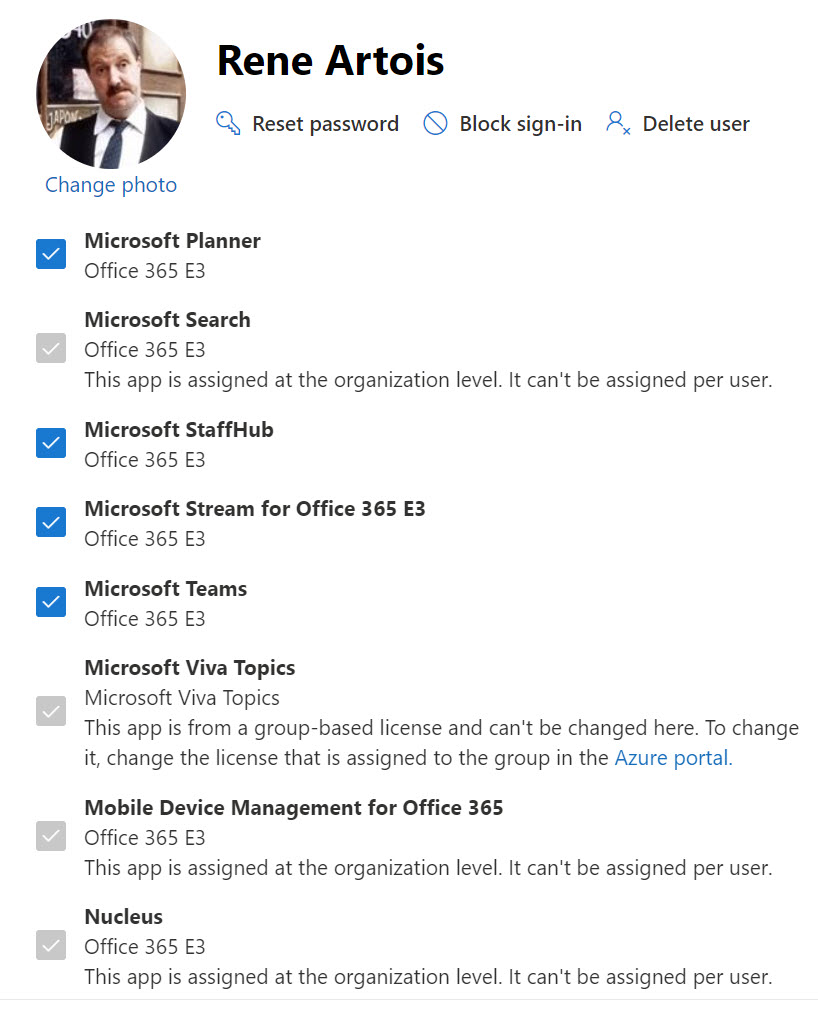 Since the introduction of Office 365 in June 2011, Microsoft has gradually increased the number of service plans in its SKUs. Service plans result from:
Over time, service plan debris accrues within SKUs as Microsoft deprecates features. The Office 365 E3 SKU contains service plans for Sway, Kaizala Pro, and StaffHub. Some organizations might still use these features, but most do not.
The page includes a downloadable CSV file with the SKU and service plan data. A Practical365.com article explains how to use this data to create a licensing report for a Microsoft 365 tenant. To check the technology bundled in the Copilot-eligible SKUs, I downloaded the version dated July 6 to review the current service plans in each SKU to see if I could find any trace of a capability needed for Copilot deployments.
The review revealed that:
Office 365 E3 SKU (6fd2c87f-b296-42f0-b197-1e91e994b900) includes 30 service plans ($23/user month).
Microsoft 365 E3 (05e9a617-0261-4cee-bb44-138d3ef5d965) spans 43 service plans ($36/user month).
I assume that licensing for the orchestration engine for Copilot and the Semantic Map for Copilot are covered by the $30/user/month Copilot add-on (the semantic map prepares the data in an organization for consumption by Copilot).
Surely one of the extra service plans covered by Microsoft 365 E3 reveals the secret sauce for Copilot? Let's see.
What's in Microsoft 365 E3 that's not in Office 365 E3
The extra service plans available in Microsoft 365 E3 compared to Office 365 are:
Windows 10/11 Enterprise (Original) (21b439ba-a0ca-424f-a6cc-52f954a5b111).
Universal Print (795f6fe0-cc4d-4773-b050-5dde4dc704c9).
Windows Update for Business Deployment Service (7bf960f6-2cd9-443a-8046-5dbff9558365).
Windows Autopatch (9a6eeb79-0b4b-4bf0-9808-39d99a2cd5a3).
Microsoft Azure Multi-Factor Authentication (8a256a2b-b617-496d-b51b-e76466e88db0).
Microsoft Defender for Endpoint Plan 1 (292cc034-7b7c-4950-aaf5-943befd3f1d4).
Microsoft Defender for Cloud Apps Discovery (932ad362-64a8-4783-9106-97849a1a30b9).
Azure Active Directory Premium P1 (41781fb2-bc02-4b7c-bd55-b576c07bb09d).
Azure Information Protection Premium P1 (6c57d4b6-3b23-47a5-9bc9-69f17b4947b3).
Microsoft Intune (c1ec4a95-1f05-45b3-a911-aa3fa01094f5).
Microsoft 365 Lighthouse (Plan 1) (6f23d6a9-adbf-481c-8538-b4c095654487).
Microsoft 365 Lighthouse (Plan 2) (d55411c9-cfff-40a9-87c7-240f14df7da5).
Nucleus (db4d623d-b514-490b-b7ef-8885eee514de).
In summary, Microsoft 365 E3 enables access to:
Five service plans related to Windows 11 management and deployment (including Intune).
Azure MFA (supports MFA protection for other apps over and above Office 365 MFA bundled in Office 365 E3 and E5).
Microsoft Defender for Endpoint and Cloud Apps Discovery.
Azure AD Premium P1 (needed for Conditional Access policies)
Azure Information Protection P1 (allows the use of the unified labeling client to apply sensitivity labels to files stored outside SharePoint Online and Exchange Online).
Two Microsoft Lighthouse plans used by Managed Service Providers (MSPs).
Nucleus for app data synchronization. Office 365 E3 users can use Nucleus, but it is not included in the SKU as a service plan.
There's nothing here that has anything that would affect the ability of Microsoft 365 Copilot to use Graph APIs to retrieve information from SharePoint Online, OneDrive for Business, Exchange Online, and Teams.
Organizations can get real value from Microsoft 365 E3 or E5, especially in terms of licensing Windows, access to Defender for Endpoint and cloud app discovery, and identity management. Of course, that depends if the organization doesn't already have alternative solutions in those areas.
No Secret Sauce in Microsoft 365 Business Standard Either
Microsoft 365 Business Standard ($12.50/user/month) is also eligible for Microsoft 365 Copilot. Microsoft 365 Business Standard includes 29 service plans. At first glance, the set of service plans seems close to what's in Office 365 E3 except that it's Exchange Online Plan 1 versus Plan 2, SharePoint Online Plan 1 versus Plan 2, and so on. These differences eliminate features like retention processing and mailbox archives. Both support the same clients, including the Outlook Monarch client, which is the only version of Outlook scheduled to support Copilot
There's no good reason why an SKU costing $10.50/user/month less than Office 365 E3 should be eligible for Microsoft 365 Copilot while Office 365 E3 is not. The story is that Microsoft 365 Business Standard is less functional than Office 365 E3 is, but still qualifies to support Microsoft 365 Copilot.
The thought goes through my mind that perhaps it's possible to purchase a few Microsoft 365 Business Standard licenses to make it possible to run the Semantic Map for Copilot in a tenant and lay the foundation for some selected users to use Copilot. This might be possible in a small organization that comes under the 300-user limit, but it's a crazy approach to take.
The Focus on Monarch
Focusing on Monarch (the new "Outlook for Windows") is another example of product management choice. OPX (OWA Powered Experiences) is a technology to allow Outlook for Windows (classic) client consume features developed for OWA such as the room finder. There's no reason that I can see why Microsoft couldn't use OPX to deliver a Copilot add-on for Outlook.
It seems like Microsoft is using Copilot as a forcing function to convince people to move off classic Outlook to Monarch. I can understand why Microsoft wants to move customers to the new Outlook, but it's also true that Outlook Classic is deeply embedded in the way many people work. Forcing change in customers just to achieve Microsoft objectives is a good way of generating pushback and slowing deployments, which is what I suspect will be the result of focusing on Monarch.
Maximize Profit Opportunities from Selected Audiences
To summarize, Microsoft selected four SKUs to be eligible to support Microsoft 365 Copilot and the Semantic map for Copilot. No evidence exists that any of the capabilities available in the selected SKUs are uniquely targeted at supporting Copilot. Both SME SKUs are less functional than Office 365 E3.
The conclusion is that Microsoft deliberately limited the set of eligible SKUs for Microsoft 365 Copilot to force customers wishing to use Copilot to upgrade to those plans. In some cases, the upgrade is exactly the right choice for customers who can make use of the additional functionality licensed through an SKU like Microsoft 365 E3. In other circumstances, an upgrade simply represents cost increases for customers and swelling profits for Microsoft.
Microsoft's salesforce is incentivized to move organizations to Microsoft 365 E5. No doubt many customers will receive attractive offers to upgrade their enterprise agreements to include Microsoft 365 E5 and Copilot over the next few months (for more backup, listen to episode 13 of Mary-Jo Foley's Directions on Microsoft podcast). Remember that the discounts received today quickly disappear and customers will face the full-price license costs in the future.
It is absolutely Microsoft's right to decide how to license new functionality and maximize their income. In this instance, it seems like they've created some artificial barriers to adoption for Microsoft 365 Copilot by limiting choice to Microsoft 365 SKUs and not supporting the classic version of Outlook for Windows. Another example of Microsoft "encouraging" customers to upgrade to Microsoft 365 is the introduction of Clipchamp for Work, but only for Microsoft 365 enterprise SKUs. Ignoring customers with Office 365 enterprise SKUs is regrettable, but we don't get to vote.
On Demand Migration
Migrate all your workloads and Active Directory with one comprehensive Office 365 tenant-to-tenant migration solution.
Learn more