We talk to Microsoft's Laurie Pottmeyer at Commsverse
Just over a week ago, Paul and I went to Commsverse, the UK conference focused on Microsoft Teams. Over two days, at Mercedes Benz World, technical experts & MVPs from the USA & Europe presented on Teams voice, apps and collaboration topics. Paul and I discuss on the podcast the best bits of Commsverse, and while we were there, we chatted with Laurie Pottmeyer from the Microsoft Teams product group to find out how to get your favourite feature into Microsoft Teams and why do Microsoft 365 roadmap features get delayed?
We test new features in PowerApps and attempt to use Figma to build an app. How did it go?
In season 3, episode 5, we talked about new "AI experiences for building apps" using PowerApps. Draw your app with a crayon and take a photo, sketch it on a whiteboard, or for the more creative folks, use Figma to create the UI and build the app automatically.
I had an app to build, but no experience with Figma, so enlisted the help of my colleague Clare for some advice and found Figma is indeed pretty good; for building PowerApps though you don't have full flexibility and need to leverage Microsoft's assets in a particular way. If you can already build PowerApps, and hoped Figma might speed up your workflow then it's fairly unlikely to do so, at least immediately, unless you already have experience with it. If you have teams who are designing app layouts in Figma already, today, and will use the UI kit from Microsoft, then this certainly could speed things up.
Round up of released Teams Features
Every month, the Microsoft Teams folks provide an update of features that did make it to GA (General Availability) over the last month. On the show, Paul and I discuss the ones know that folks are waiting for.
The co-organizer meeting role has been hotly anticipated by folks organizing training sessions and webinars; so that if you organize a training session you can grant co-organizer role to the trainer so that they can manage breakout rooms – and similar for webinars where multiple people in a marketing team might need to manage settings for the webinar itself.
Disabling the ability for anonymous & unauthenticated users is a small but important feature if you are are organizing meetings with external folk and guests, and want to have some control in larger meetings. It's fairly common in a larger meeting for participants to allow others in from the lobby, and sometimes those folks might be intending to be disruptive. Limit this without needing to turn off chat for everyone, or even selectively by using this feature to ensure everyone is who they claim to be.
As a regular Android user, I welcome any improvements in meetings and new notification improvements provide a collapsible tray of notifications at hand. This is in contrast to switching mid-meeting to read your notifications, and then needing to find the meeting or the pop-over button to return to the meeting itself.
We've mentioned it on the roadmap earlier in the year – but this is one that a customer of mine has been waiting for as they regularly used the give and take control functions in Skype for Business in their VDI environment, and needed this for Teams. Whilst other methods like co-authoring are available, sometimes people need assistance or to work on a line-of-business app that must be screen-shared; this is available for VMware and Azure Virtual Desktop (and thus Windows 365) users today.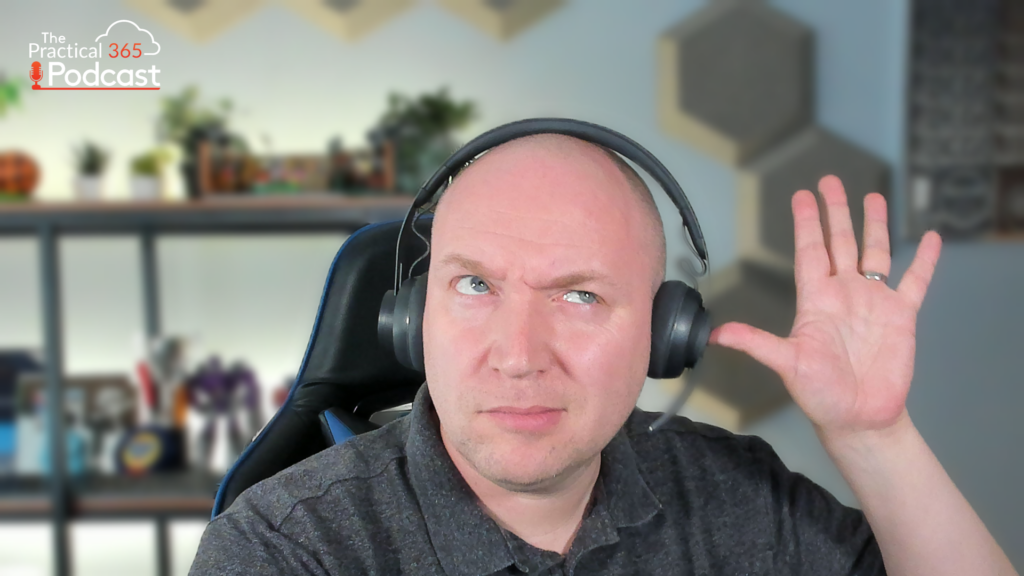 And – on the podcast we do joke around a little about a new feature we can't quite imagine using – but you might love. To raise your hand during a meeting, you can now hold down the Microsoft Teams button on your headset, as demonstrated by me below. I'd be concerned I'd accidentally drop the call, or press the wrong button – and I'd rather a feature where AI detected the raised hand, to be honest…
Read more on Microsoft's Tech Community Blog Post
New Updates app in Microsoft Teams provides Frontline Worker value
I've been working with various companies that employ frontline workers, including construction, retailers, hospitality, manufacturing and distribution and features like Task Publishing in Teams and Walkie Talkie are often extremely useful. When I work with operations teams and similar teams to understand what they need, we talk through various processes and existing systems that could improve. A common ask is for the ability to regularly get updates from front line workers – such as a regular health and safety check or other compliance audits.
There are sample Power Apps templates for Teams that can help, but the new Updates App is a designed for purpose app that meets the type of requirements – like the regular audit, or the type of check list that needs to be sent out one time, like a store display setup with a photo provided by the person assigned.
It comes with templates out of the box that meet many common requirements and complements Task Publishing very neatly. The business admin user interface follows similar conventions to Task Publishing and by using App Setup Policies in Teams, you can curate a frontline worker experience so they see important apps like Updates, Task Publishing, Viva Connections and so on when they open up Teams each day.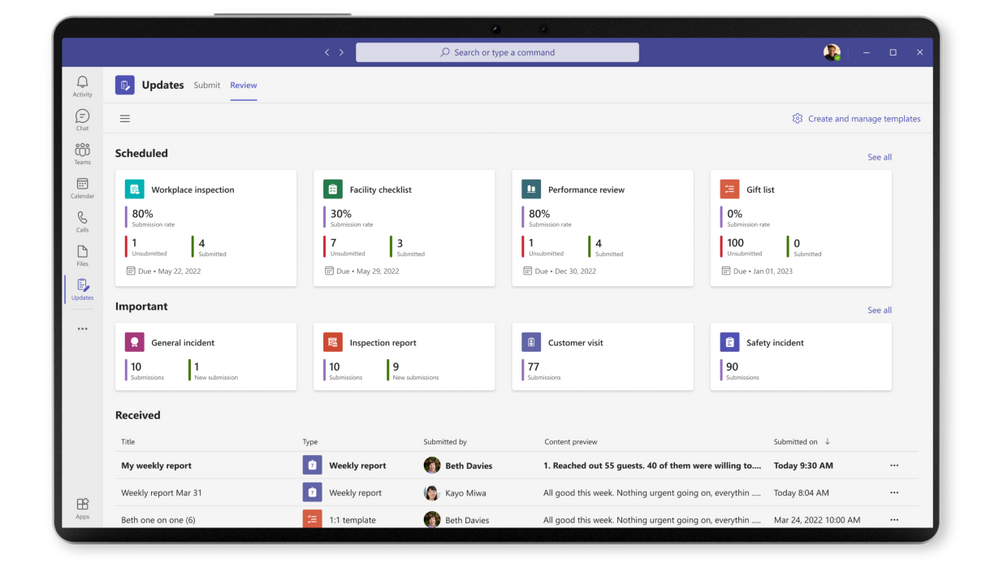 Over the coming weeks, I'll take a deep dive into the new Updates App so that you can understand what you need to know to deploy it and get the business started with it.
Read more about the new Teams Update App
Late breaking Azure AD news
In late-breaking news, Azure AD re-gains a preview we saw for Microsoft 365 Groups some years ago – group writeback. This is in public preview and allows you to leverage features like Access Reviews and other Azure AD identity governance features against on-premises resources using Active Directory.
Read more about Azure AD Group Writeback for on-premises Active Directory from Microsoft.
Here are some practical expectations to have for this capability from The Experts Conference 2022 speaker and Microsoft Cloud Solution Architect for Identity, Jim DeSantis.
Microsoft Inspire begins July 19th and provides Microsoft Partners guidance for the next 12 months
If you are a Microsoft Partner or ISV, the Microsoft Inspire conference is the big event of the year where Microsoft provide information and guidance on what their focus will be over the coming financial year, which is July to July. If you are on the customer side, then you'll benefit from watching technical sessions and also could gain an understanding of why Microsoft and their partners combine certain offerings a certain way; if you are on the Partner side then the virtual event will provide many hours of viewing pleasure. We'll be watching and give you a steer on any new announcements of note.
Not in person
Register for Free
Register for Microsoft Inspire for free
Microsoft 365 Roadmap Updates You Don't Want To Miss
We discussed a few of the most interesting Microsoft 365 Roadmap additions we've spotted over the last few weeks.
Outlook Lite for Android is coming this month, apparently. This July a new application will be launched that provides a "lite" version of Outlook on Android devices with fast performance for low-end devices. Outlook Mobile is reasonably fast, so it will be interesting to see this new application. Will it be a return of the old OWA App?
And a feature we've heard people ask for in the past arrives in a slightly different form; people have asked to use Teams Meetings across multiple screens. Whilst you can't do this for video, you can, this August, pop-out the shared meeting content into a separate window – which you can of course use on a different screen.
Outlook for Mac gets Handoff capabilities across multiple devices. Scheduled for August, but apparently already available on the beta / insider version of Outlook for Mac (or at least, it is in Paul's Outlook client), this will allow you to begin working on an activity like reading an email or drafting a new email on an iOS device and then continue that activity on another device – such as moving from iPhone to iPad to Mac, without reliance on features like saving as a draft.
Teams is scheduled to get new features for Together Mode. Microsoft launched Together Mode as a first – the idea came from Microsoft and Zoom then followed; but Zoom added the ability to assign seats for folks, which is particularly useful if you are trying to copy the layout of a classroom, for example. This feature finally arrives in Together Mode in September.
Like the Q&A app in Teams Meetings, but keep forgetting to use it? You will now be able to – this month – enable Q&A in advance, through the meeting options page. This is especially useful for webinars, as very often organizers moving from Teams Live Events (or other platforms) will prefer to disable chat, and use the Q&A function for moderated or unmoderated chat.
And finally – have you blocked external chat so that users can't receive unsolicited messages over Teams? You will be able to please your users and enable this feature after August, as users can now choose to accept or block a new message, and at any point in time block access to someone they were previously chatting to.
Join us in two weeks time on the 27th of July for Season 3, Episode 7 of the podcast.