Last year, Microsoft announced new pro video output features coming to Microsoft Teams aimed at making it easier to get full-quality video feeds from Teams meetings into other platforms, which have now arrived in Public Preview. Teams has also received improvements to NDI output functionality which make recording or broadcasting meeting participants less error prone, and we'll look at these new features and improvements in this article.
Video Hardware Out is reliable & works with Pro A/V equipment
New video hardware out capabilities allows you to output a full HD video feed of one or more meeting participants to separate HDMI or SDI outputs. You can feed these directly to monitors and projects, video mixers or capture cards, and use it for bringing a clean feed on screen at a company event, hybrid conference and if you are a broadcaster then it will interface (using SDI) with professional equipment.
For IT professionals it means that you don't need to be concerned with the technology aspects of turning a Teams meeting into something that is professionally produced. An A/V expert in your business, or outside company, can take a standard HDMI or SDI output and treat it as if it's simply another video camera input into their workflow. Controls for the user allow them to easily pick the video feed to send to a particular output and select the output resolution and framerate and start & stop the feed.

Microsoft currently supports hardware devices from Blackmagic Design and AJA Video Systems. The complete support list isn't published by Microsoft, so to help you understand what you can use we've tested some of the devices on the market, and if you've watched our podcast videos since November you'll have seen them in action too.
Blackmagic Design are the most widely available devices and they provide several different options. For recent Macbooks with Thunderbolt 3 or better (and some Intel chipset laptops and PCs), the UltraStudio range allows portable use.
The UltraStudio HD Mini allows you to use the maximum output resolution of 1080p (Full HD) with 2 output video feeds via SDI, and a single SDI input. This means you can have two meeting guests fed into a video mixer and, most likely using OBS with webcam output enabled, feed the video from the mixing desk back into the Teams meeting. It is the more complex option though as if your A/V team needs HDMI rather than SDI, you'll need SDI to HDMI converter devices in-line.
The most practical option for laptops is the Ultrastudio Monitor 3G devices. These are small, inexpensive and provide HDMI output as well as SDI. You can either feed it back into a laptop for recording or live streaming, or into a mixing desk and potentially connect several to capture multiple Teams Meeting participants.
Desktop PCs can use Blackmagic's Decklink devices, which are PCIe cards, which is what we've used for Practical 365 videos recently. The Decklink Mini Monitor is a PCIe 1x card, suitable for almost any desktop PC, and allows Full HD output (1080p at 30 frames per second) of a single Teams meeting participant in both HDMI and SDI. The Decklink Duo 2 is around four times the cost, and allows up to four SDI-based outputs, therefore allowing four different Teams meeting participants to be fed into a video mixer, or back into a capture card in the PC.
To enable video hardware output, create or update a Teams Meeting Policy in the Teams Admin Center that is assigned to a user that will participate or organize the meeting, enabling the Local broadcasting option already used for NDI-out: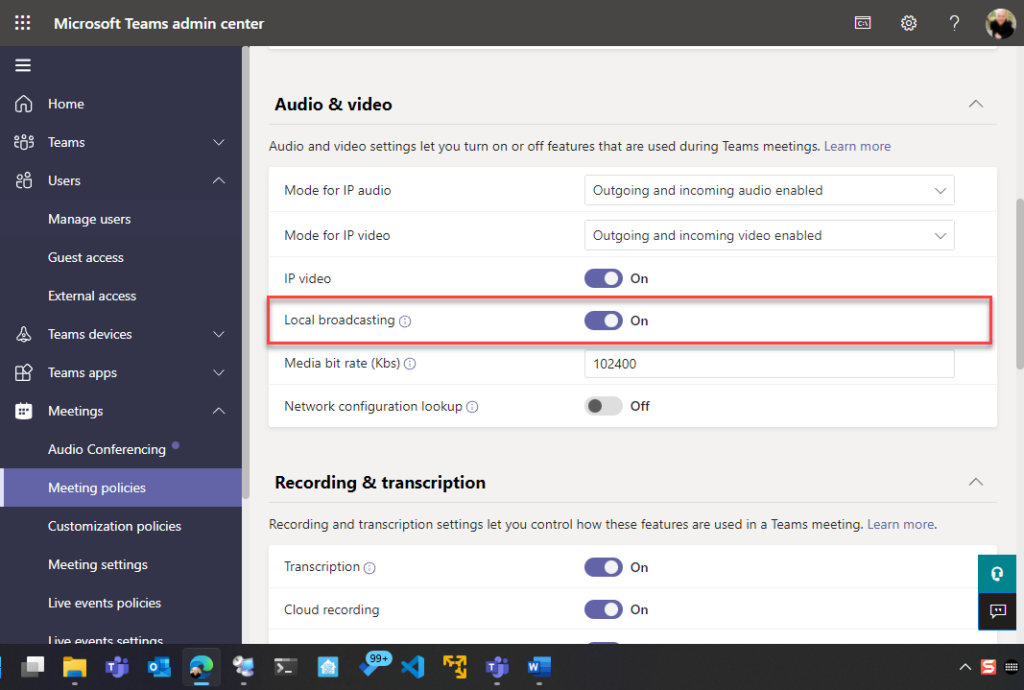 NDI output receives isolated audio output features
We'll need to update our guide on streaming Teams Meetings using NDI, because one "snag" with NDI-output has been that the audio feed via NDI included all meeting audio, rather than just the individual meeting participant captured in the video.
Also in preview, for both NDI-output and video hardware out, is the ability to send isolated audio feeds. This doesn't need to be specifically enabled, so if you are already using NDI-out and have preview switched on, then each NDI output feed for each meeting participant will only include their audio. Which means if someone unmutes and is making unwanted noise, it won't be captured or broadcast – unless you've added their audio into the output mix. In software like OBS, this typically means you'll need to include all NDI sources of people you want to be heard in the output feed into the scene, regardless of whether their video feed to be actually displayed.
That's all for now! For more information on the new announcements from Microsoft, check out their Teams blog.