Microsoft Really Wants Customers to Use Microsoft 365 Apps for Enterprise
You might have read some adverse commentary about Microsoft's position regarding access for Office 2016 and 2019 clients to Microsoft 365 services. The original position as laid out in a Microsoft Technical Community blog said "Importantly, Office 2016 & 2019 won't be supported for connecting to Microsoft 365 services, including Exchange Online, starting Oct 2023." That seems like a block would descend in a year's time, much like Microsoft is about to block basic authentication for seven email connection protocols starting on October 1, 2022.
Now, a more nuanced situation is emerging with Microsoft saying that they will take no active measures to block these clients. As Mary-Jo Foley points out in her article, she believes that the posturing is no more than Microsoft playing a game of chicken with customers to move them away from the perpetual versions to Microsoft 365 apps for enterprise. Stranger things have happened.
I'm sure that Microsoft would much prefer customers to use the subscription apps, which are included in the Office 365 E3 and E5 subscriptions. Apart from simplifying the client matrix Microsoft support copes with, it means that Microsoft has the chance to sell additional services that take advantage of the smarts built into the Microsoft 365 apps for enterprise.
Good Reasons Exist to Go Down the Subscription Path
Good reasons exist for why customers should use the Microsoft 365 apps for enterprise instead of their perpetual counterparts. It's obvious that Microsoft is putting its engineering effort to build out functionality in the subscription apps that will never appear in the perpetual versions. Anything powered by machine learning or artificial intelligence for a start, simply because the back-end services aren't picked up or recognized by Office 2016 or Office 2019. Microsoft would also say that they want to exploit the data gathered from apps in the Microsoft 365 substrate to power new experiences that simply can't be picked up by the perpetual apps.
The growing interconnection across the Microsoft 365 ecosystem is another consideration. For example, the Outlook 2016 or 2019 clients don't include the encryption technology necessary to support Microsoft Information Protection sensitivity labels. Users of these versions must install the now-deprecated Azure Information Protection unified labeling client before they can apply labels to protect messages. Another example is the way the Microsoft 365 apps for enterprise use the AutoSave feature for files stored in OneDrive for Business and SharePoint Online to make sure that users don't lose edits.
Not everyone is interested in encrypted email, but roaming signatures are a more commonplace example. Due in October 2022, roaming signatures mean that Outlook applies the same user signatures to new messages no matter what device the client runs on. It's a feature that people have wanted for years, one that's now being implemented by having the signature data stored in a hidden folder in user mailboxes. I don't believe that any perpetual version of Outlook will support roaming signatures, and anyway, with the future of Outlook centered on the "One Outlook" (Monarch) project, it seems like new Outlook clients for Windows will use a very different architecture. (But who knows?)
No Viva Topics
Microsoft is putting huge energy into its Viva suite. While some components, like Viva Insights, can surface in the perpetual versions using add-ins, others cannot. For example, if you deploy Viva Topics inside your organization, Microsoft Search automatically includes hits from Viva Topics when you search for terms inside apps like Word (Figure 1). This might sound like a small thing, but if a company puts effort into building Viva Topics out as a knowledge management system, it's nice to see the information exposed in as many places as possible.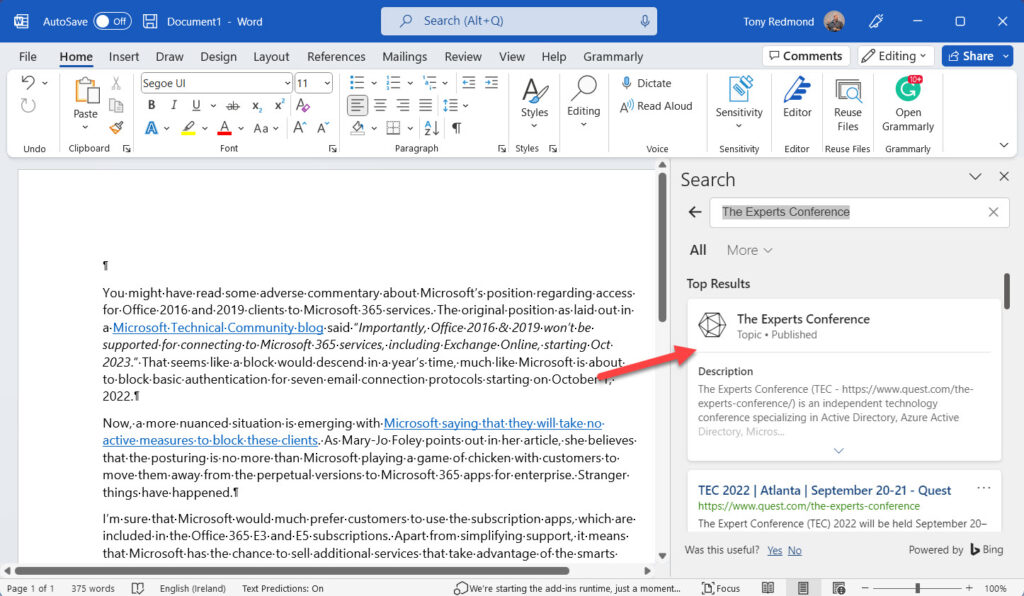 No Loops
Loop components are a relatively new technology. Originally available for Teams chat and recently in OWA, Microsoft's plan of record is to make Loop components available in the Outlook desktop client. Of course, this is the Outlook version that's part of Microsoft 365 apps for enterprise. There's nothing in the plan that covers support for Loop components in the perpetual versions of Office and given the storage dependency that Loop components have on OneDrive for Business, there might never be.
The Opposing View
Supporters of the perpetual apps are quite right when they say that they want to realize the investment made in purchasing the perpetual licenses. They might also say that the functionality available in Office 2016 or Office 2019 is sufficient to meet their needs and that they want to continue using these apps with Microsoft 365 services until the apps go out of extended support (October 2025). They have no desire for users to be bothered with the regular channel updates Microsoft delivers for the subscription apps, believing that there's enough turmoil already in dealing with Windows updates and the ongoing change introduced by Microsoft in its web-based apps. All of these are fair points that deserve consideration.
Time Running Out for Perpetual Versions of Office
But then you look at the way that Microsoft 365 is developing, you might conclude that the static nature of the perpetual apps makes them ill-equipped to handle any significant technology innovations that Microsoft might introduce between now and October 2025. Sure, Microsoft might run out of ideas, and the innovation they create might be of little use to your organization. But using apps that can leverage new features and functionality in the Microsoft 365 services seems like a good place to be, even if Microsoft sometimes undermines this point by insisting on high-end or additional licenses for new capabilities.
The perpetual versions of Office are on life support. All signs point to their demise. How long these versions last before Microsoft puts them out of their misery is an open question, but I suspect that eventually users will be forced to use the subscription-based desktop apps to consume Microsoft 365 services. For now, the official plan of record remains that "Office 2019 and Office 2016 will be supported for connecting to Microsoft 365 (and Office 365) services until October 2023." The only perpetual version supported afterward will be Office LTSC 2021. This is definitely a topic to keep an eye on.
Cybersecurity Risk Management for Active Directory
Discover how to prevent and recover from AD attacks through these Cybersecurity Risk Management Solutions.