Unannounced but Welcome Update
Update (January 25, 2022): Microsoft has reannounced this feature. It seems like they ran into some problems with the original implementation, did some rework, and have launched again in preview. Posting an announcement is an odd way of doing things, but there you are…
Exchange Online mailboxes can have multiple SMTP proxy addresses (also known as aliases). One of the addresses, called the primary SMTP address, is stamped on outbound messages. Exchange Online can accept and deliver email addressed to any proxy address for a mailbox, but up to now users have been unable to use their non-primary SMTP addresses when sending messages.
This week, Microsoft rolled out an update to allow clients to send messages using any SMTP proxy address assigned to a user's mailbox. This is Microsoft 365 roadmap item 59437, which the roadmap says is due for release in June 2021. The early release of a useful new feature is always appreciated, even if I suspect that the feature is only released on the Exchange Online side at present with some client-side work still to come to make the task easier to perform.
Update April 27: Message center notification MC252942 says that OWA will get support for the send from proxy address feature in early May.
Mergers and Acquisitions and Other Uses
Being able to send email using a selected proxy address is useful in several scenarios. For instance, if your company is involved in a merger, your mailbox might have addresses for both the old and new company. This happens to allow users to continue to receive email using their old and new addresses, and while people usually send new messages using the new company email address, it might be that they need to use the old address until the merger is fully closed. More prosaically, people might have addresses accumulated over the years generated using different address schemes.
Figure 1 shows the email addresses available to an account as seen through user settings in the Microsoft 365 admin center. One is the primary address, used by default whenever the user sends email. The others are the proxy addresses. As you can see, a proxy address can use any of the domains registered for the tenant (the accepted domains).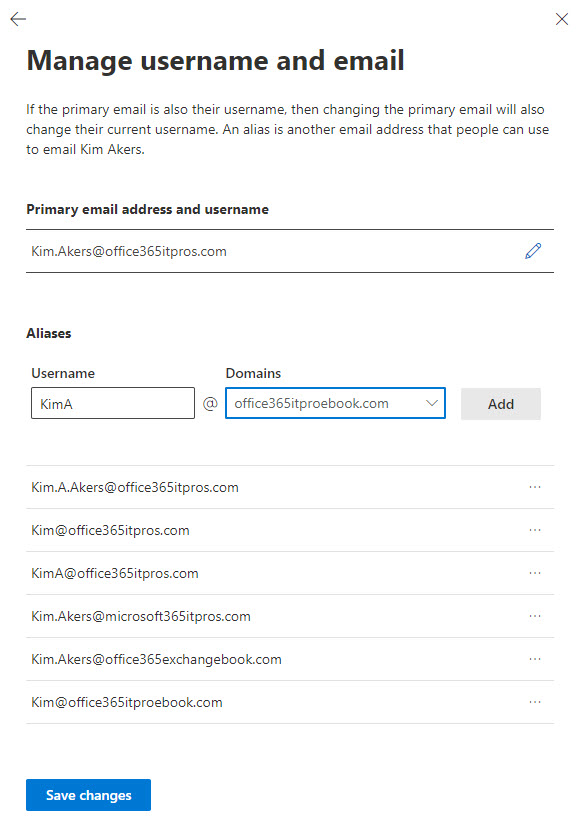 The proxy addresses for a mailbox can be examined using the Get-ExoMailbox cmdlet. Although most of the addresses are SMTP (the uppercased SMTP address is the default), we also see a SIP address for IM communications and an SPO address for use when SharePoint Online generates email on behalf of the user (like a sharing invitation). Some mailboxes have many proxy addresses while others have just a few.
Get-ExoMailbox -Identity kim.akers | Select -ExpandProperty emailaddresses

smtp:Kim.Akers@microsoft365itpros.com
smtp:Kim@office365itproebook.com
smtp:Kim.Akers@office365exchangebook.com
smtp:Kim.A.Akers@office365itpros.com
smtp:KimA@office365itpros.com
smtp:Kim@office365itpros.com
SIP:Kim.Akers@office365itpros.com
SMTP:Kim.Akers@office365itpros.com
SPO:SPO_ba123f05-97b0-4492-9430-5c534fb03cf3@SPO_b662313f-14fc-43a2-9a7a-d2e27f4f3478

Updating the Exchange Online Configuration
No matter how many addresses a mailbox has, the important thing is not only to be able to send using a selected address, but that the recipient sees that the message comes from that address. In other words, the FROM and REPLY TO headers in the message are populated with the address. To allow this to happen, the tenant must run a PowerShell command to update their organization configuration and instruct the Exchange Online transport service that it can process messages sent using a proxy address.
Set-OrganizationConfig -SendFromAliasEnabled $True
Sending a Message Using a Proxy Address
After updating the organization configuration, it takes some time before all the mailbox servers used by a tenant learn about the update. Clients must also refresh their settings. After a few hours, you should be ready to try sending messages using proxy addresses.
The roadmap item says that OWA will allow users to select which address to use from a drop-down list (this is what we should see when MC252942 arrives in early May). That client-side tweak isn't available yet, but the same approach used to send messages on behalf of or as a shared or group mailbox works using either OWA or Outlook desktop. Here's what you need to do:
Make sure that the From field is exposed in the message compose form. For OWA, select Show From in the […] menu. For Outlook, it's much the same except that you need to go to Options first. Click From to select the address to send from. If you haven't used a proxy address before, you need to click Other email address to input the proxy address you want to use (Figure 2). This is the part which should be much easier when OWA gets a GUI update.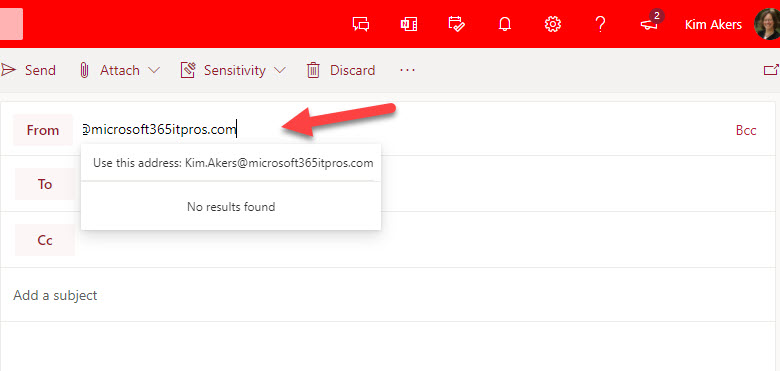 After entering the address, complete and send the message as normal.
Checking the Sent Message
Any domain used to send email must be configured correctly in terms of SPF, DMARC, etc. as otherwise receiving domains are likely to consider them spam. If you run a message trace to check the actions taken by Exchange Online to dispatch the message, the details captured in the Exchange Online message logs should show the use of the selected proxy address for the email (Figure 3).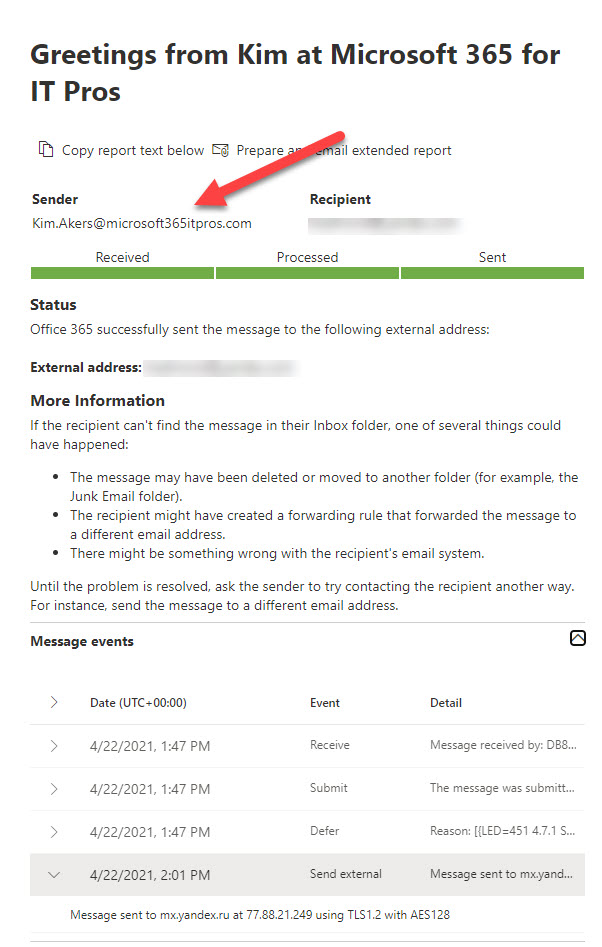 The message delivered to the addressee should show that the email comes from the proxy address (Figure 4).
The FROM and REPLY TO properties for the message are populated with the proxy address, so any replies go back to this address. As the proxy address belongs to a mailbox, Exchange Online can route and deliver the reply to the correct destination.
Useful Update with More to Come
It's entirely possible that most users won't care about sending using a proxy address. But for those with a reason and who do care, the early introduction of the feature at the server level is very welcome. And once the clients catch up, it will be easier to send messages using your favorite proxy address.
Read this post for more answers for common questions about Exchange Online's support for sending from proxy addresses.