In episode 3 of season two, Paul Robichaux and Steve Goodman chat about a flurry of new Microsoft Teams features – including the long-awaited Teams Connect shared channels going into general availability, plus Microsoft's headline conference for IT professionals is back in-person – but will it be the same?
Microsoft Ignite Returns In-Person October 12-14 2022 (but there's a catch)
Whilst Microsoft-focused independent conferences like The Experts Conference are back in-person and are proving pretty successful, we've had a long time to wait to find out whether Microsoft would bring back Ignite in-person, or whether it's a partly pre-recorded session watchlist like previous years.
Yesterday (27th July 2022), Microsoft revealed that Ignite will indeed return in person – but kept the full details pretty light. In past years, we'd expect to find out the venue and location a lot earlier with registrations opening up as early as May along with headline speakers and potentially session listings.
This time though, Microsoft has been somewhat late in announcing Microsoft Ignite – despite many other conferences returning in person and travel restrictions easing significantly. Our investigations show there might be some reasons behind that though.
The in-person experience (as Microsoft calls it) will be hosted at the Seattle Convention Center, which Paul Robichaux notes on the podcast was also the venue for conferences like Microsoft TechReady (Microsoft's internal employee conference) and Microsoft Build.
The last in-person Microsoft Build had around 6000 delegates- which is low compared to Ignite's typical 25,000+ attendance. The convention center was visited by event planners at Microsoft back in 2021, touring a new addition scheduled to open in January 2023, with the current conference center hosting up to around 17,000 people in the largest keynote room with 63 breakout rooms. The event industry in Seattle is apparently only expecting conferences of up to 8000 delegates though, post-covid, which may indicate a cap on numbers similar to Microsoft Build.
What appears to be the replacement for Ignite the Tour, will be the Microsoft Ignite Spotlights. These were introduced at Microsoft Build and hosted at Microsoft's regional offices in the UK, France, Germany, Japan, and Latin America. Think watch party + community get together + sessions delivered in-person.
Like every Microsoft Ignite (and TechEd before it) a virtual experience remains – so you can watch sessions remotely; the big questions still remain unanswered – will we finally have an Ignite conference again without pre-recorded content and move back to getting great presenters performing demos live and answering questions from attendees? We remain hopeful.
Naturally, you don't need to wonder about upcoming conferences including The Experts Conference, which are in-person, real-world experiences delivered by Microsoft, MVPs, and other industry experts.
Microsoft released some (but not all) long-awaited Microsoft Teams features
With Microsoft Inspire, Microsoft's conference for partners, it came as little surprise that new features would be announced. Even better though, Microsoft released several features we've been hotly anticipating.
Teams Connect shared channels reached general availability (GA) – which means you can finally configure and use it in your production Microsoft 365 tenant with real users.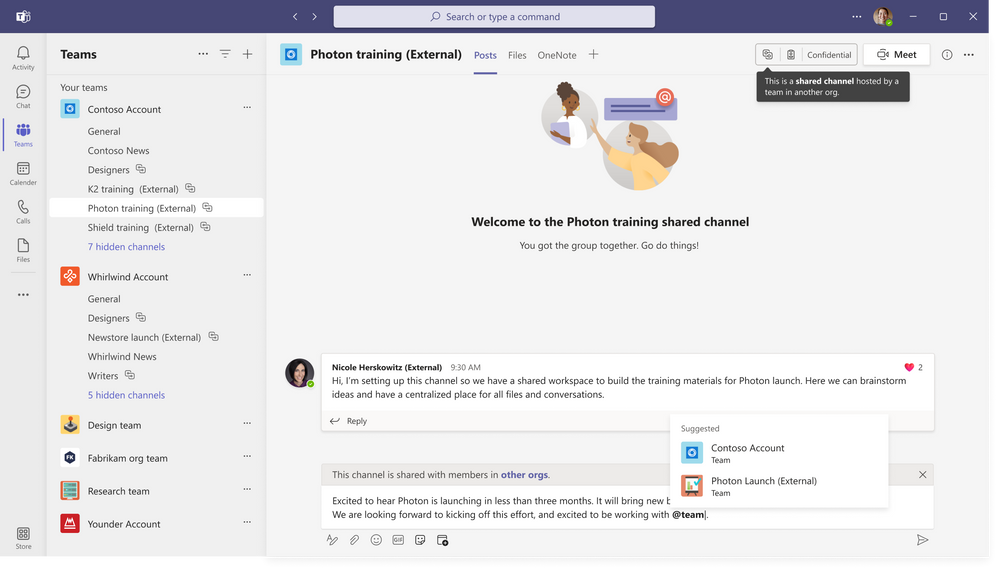 With GA we also get new features added, including the ability to build Teams Apps for shared channels, and increased limits from 50 to 200 shared channels per Team. External users gain support for rich messaging such as GIFs and emojis, usage reports have been added, mobile support has been added, and support for Security Defaults – i.e. ensuring MFA is required if you use Security Defaults – is also baked in.
Read more about Teams Connect shared channels moving to GA
Collaborative Annotations are now available, in Public Preview. This new feature allows you to enable a virtual whiteboard over shared screen content in a meeting. On the podcast, we discuss potential scenarios – such as screen sharing a non-Microsoft 365 CAD design application and allowing a client to draw over the shared screen content in the meeting to share their feedback visually. It may be a niche feature, but it is a feature that is worth experimenting with and providing guidance to your business users.
Finally, the ability to join a Teams Meeting via an ID and passcode has been rolled out. You may have already seen this in your Teams client or in invites to new meetings you create, as shown below.

The ID and passcode can also be used to join via the web, at a new portal from Microsoft: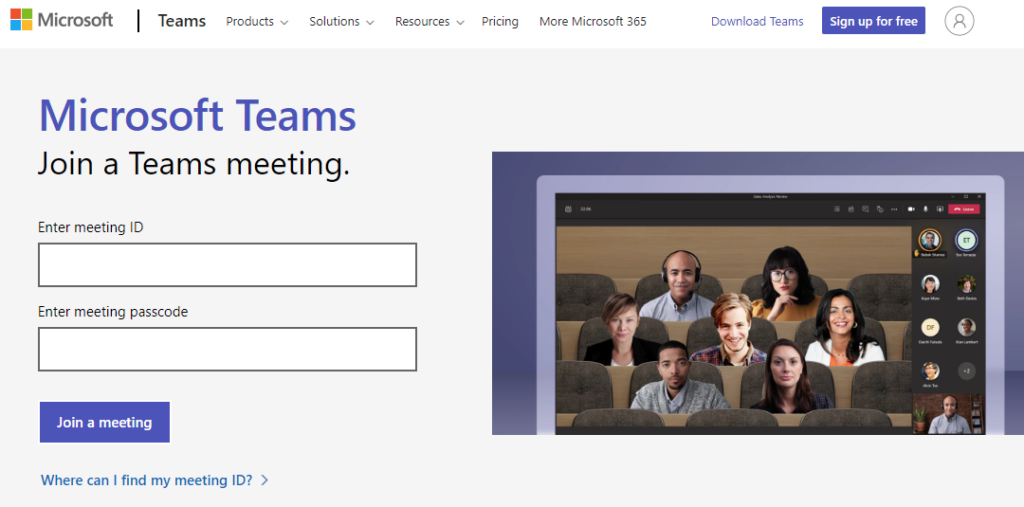 https://www.microsoft.com/en-us/microsoft-teams/join-a-meeting
On this page, people without Microsoft Teams and only armed with the meeting ID and passcode can join the meeting.
New Teams collaboration features coming in August and September
Not everything is in GA or Public Preview, and as Laurie explained on the last show, things do get delayed; so don't plan to use these features just yet.
The first, Excel Live builds on co-authoring capabilities you already have in Excel on the web, with significant improvements to the user experience in meetings.
On the podcast, I note to Paul that when walking around a customer's office, I'll often see colleagues screen-sharing an Excel file so that everyone can see exactly what people are working on and where. That's slightly different from co-authoring because when you co-author, you can see the edit take place live – even if you are on a different worksheet or looking at a different location in the document.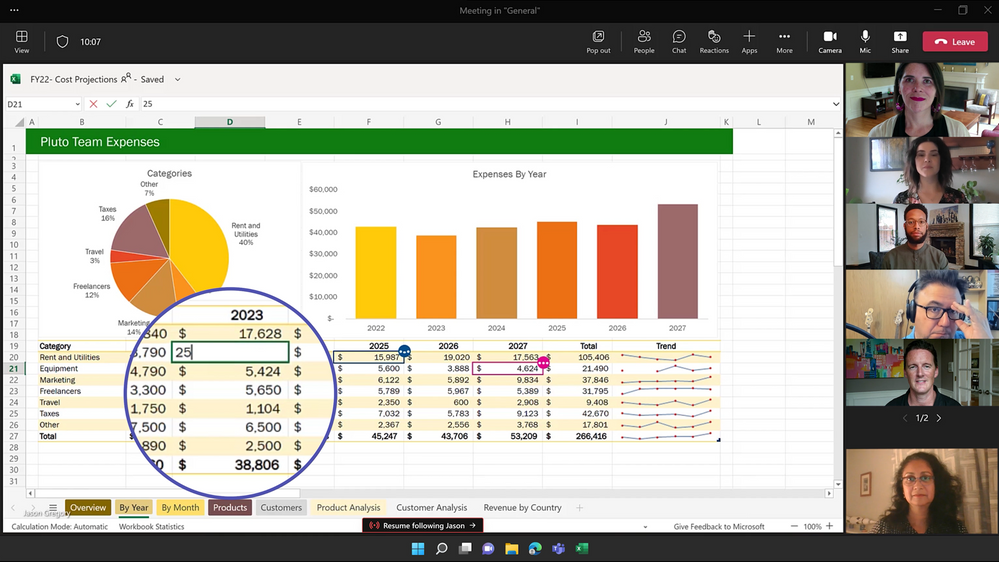 Excel Live solves the co-authoring problem in meetings by providing the ability to follow the person editing during the meeting as they make changes; or like with normal co-authoring, (or PowerPoint Live) move to a different location by yourself. Microsoft is expecting this to reach Public Preview at the end of August.
Read more about Excel Live on Microsoft's Tech Community
If you've got users wishing Microsoft Teams was TikTok, then thankfully the new Video Clip feature doesn't make that happen. But people will be able to send videos to their colleagues in chat to "make a lasting impression".
Paul and I wonder on the podcast if we're just getting old – as a millennial who started using the internet in the 90s, I'm not massively enthralled with this feature, but perhaps GenZ employees will be? We note that at Practical 365 we do make video content, and even a teaser video for the podcast – so maybe it's worth trying out to see how effective it is. If you have folks using it, let us know in the comments the best use-cases.
Webinars in Teams will go into overdrive
Dedicated webinar platforms remain popular with marketers who rely upon attendee controls, statistics, ease of use, and integrations into the platforms they use. However, as a presenter, most of these platforms leave a lot to be desired. Improved audio codecs in Microsoft Teams mean we now use it to record the podcast; effects like background blur are used by people daily and often lacking (or not very good) in webinar platforms. Newer functionality like PowerPoint Live means that using a third-party webinar platform as a presenter feels like going back several years.
From a marketer's perspective this hardly matters if Teams isn't working the way they need, and Teams webinar features are "OK", but best suited for internal webinars and all-hands style meetings. Even newer features like RTMP-out (which you can use to broadcast to a third-party platform) are good in theory – but having used them to attempt to broadcast user groups, lack easy-to-use controls for organizers.
If you are fine with using Teams features that live inside its partly-closed ecosystem (i.e. no integration with, say, HubSpot, for webinars) then the new features coming to Teams webinars will be appreciated.
The new features for webinars provide an end-to-end experience including the ability to create presenter bios, host a registration page with full branding, customized invitation emails, deeper controls for registration, built-in registration tracking, custom questions for attendees, and importantly – reporting on attendees to see when they joined and how long they spent in the webinar, along with the questions they asked.
The Q&A feature for Teams forms a core part of the webinar experience so that webinars can be structured with a moderated Q&A rather than open chat (or disabled chat). Whilst that's been in preview for a while, it can now be added prior to the webinar itself so that it is set up for usage by default.
These new features are rolling out now, with the co-organizer feature that we've mentioned in previous podcasts rolling out (hopefully) before the end of this month too.
Read more about new webinar features in Teams
Teams Intelligent Camera Feature re-announced as a Third-Party add-on
Originally, when Microsoft announced Intelligent Cameras last September, it was planned to be based on "using Microsoft's AI facial recognition technology" but in a change of direction, will now "harness OEM designed AI capabilities". This should be disappointing to hear if you've seen kits from vendors in action and the variable results their own technology produces.
Microsoft's first-party contact center platform gets a name and new features
Originally announced (in part) as a "voice channel for Dynamics 365 customer service", Microsoft has wisely renamed their omnichannel contact center solution to Microsoft Digital Contact Center. The digital part is somewhat superfluous as it would hardly be an analogue contact center.
As an offering, it takes a different approach to challenger contact center products like Five9, which are using AI to deliver virtual contact center agents, and building features that are useful for contact center supervisors running remote, distributed teams such as gamification. If you've worked in a contact center then competitions and prizes are used as key motivators for often low-paid workers; so if you want that, then you'll probably need to make some fun Power Apps.
Digital Contact Center does compete well though, even if the language Microsoft uses to describe features is comparatively dry. For example "insights on how consumers interact with the brand throughout their journey with customer journey analytics to improve customer acquisition and tailor personalized offers" is similar to Five9's ability to "use AI-driven assistance to elevate interactions and turn a customer return into an upsell opportunity"… but there's a crucial difference.
Most of Microsoft's material is written towards IT teams who often care less about whizz-bang new features and more about how it will replace the legacy solution. Companies like Five9 focus on selling to the business, who will be willing to lose features in their old system in return for functionality in a new solution that promises to improve the bottom line.
Microsoft Entra / Azure Active Directory features for cross-tenant collaboration are released to general availability
If you haven't read Tony Redmond's article on cross-tenant access policies, then it is time to do so because alongside Teams Connect shared channels (and its supporting feature B2B direct connect), it is now generally available to use.
Microsoft found that during public preview over 5000 organizations tested the preview features to allow MFA trust from another organization and over 2000 used capabilities to allow the trust of a compliant device. This shows that the important reasons to use this functionality – so that you can classify trusted partner organizations to provide a seamless access experience – are so useful that folks began using the features before the general release.
You can read more about the cross tenant access settings here. In addition to cross-tenant access, it's also worth reading up on B2B direct connect, the associated feature that you can use to enable cross-tenant access without the creation of guest users. Bear in mind that B2B direct connect is only available for use with Teams Connect shared channels.
The most important new Viva features & Power Platform features will get a deep dive in the next show
Finally, we briefly discuss Viva Engage – which improves the experience with Yammer & Viva, and new features for Viva Learning in preview.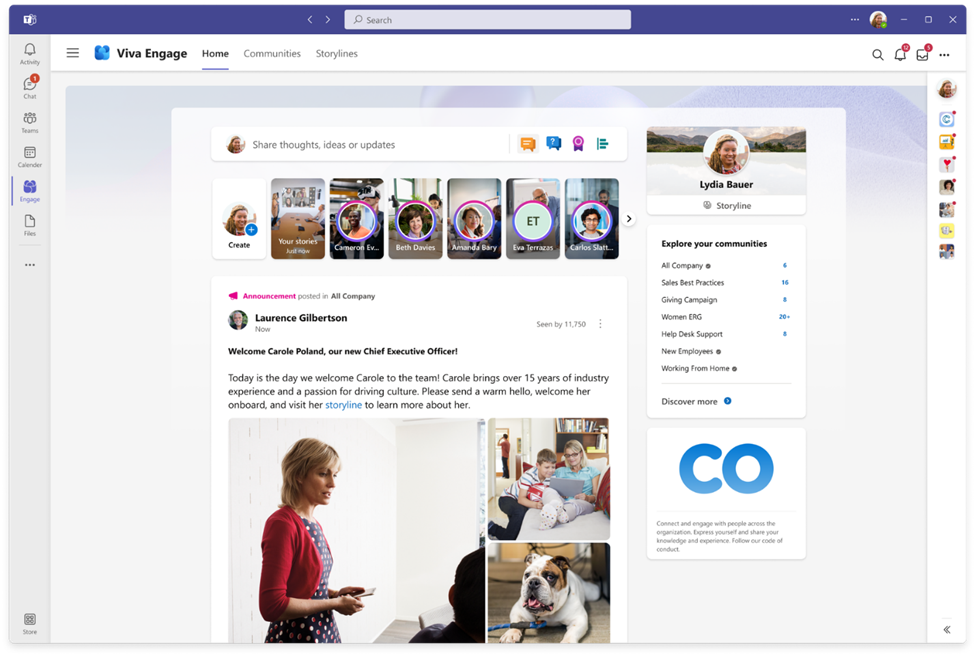 As both are interesting topics, we decided we'd save a deep dive on both new features for the next show. In the meantime, you can read about Viva Engage here, and the new preview features for API integrations with Viva Learning here.
The Microsoft 365 Kill Chain and Attack Path Management
An effective cybersecurity strategy requires a clear and comprehensive understanding of how attacks unfold. Read this whitepaper to get the expert insight you need to defend your organization!
Learn More