Last week I wrote about items I would be looking for in Microsoft's Fall Ignite virtual conference.
One striking aspect about the schedule for the Fall Ignite event was the total absence of anything to do with the base Office 365 workloads. Just as they did when discussing their FY22 Q1 results last week, Microsoft wanted to talk about Teams and any anything related to Teams or could be accessed as an app in Teams. As Jared Spataro (corporate VP, modern work) said in his keynote, the "center of it all is Teams…"
To confirm the impression, I searched the session scheduler to see the available sessions for several workloads and found:
Exchange Online: 1 (on end to end migrations)
SharePoint Online: 17 (including the Exchange session and a big keynote-type of session featuring Jeff Teper.
Teams: 94
Even Yammer had 3 sessions. It's disappointing that Microsoft had nothing to share with their customer base about Exchange Server or Exchange Online. Although it's natural for Microsoft to want to talk up the latest and greatest technology, they should remember that their customers want to know about technologies they use instead of something that might be of interest in the future. After all, Microsoft has been wrong about the technology they chose to publicize in the past…
Office Future -Teams is Everywhere
To get an update on Microsoft future directions for Office, I listened to Spataro's session titled Empower everyone for a new world of hybrid work. Here are my notes about Microsoft Loop, Mesh, and Connect IQ, all which Spataro says will be core to how we work in a year's time.
Microsoft Loop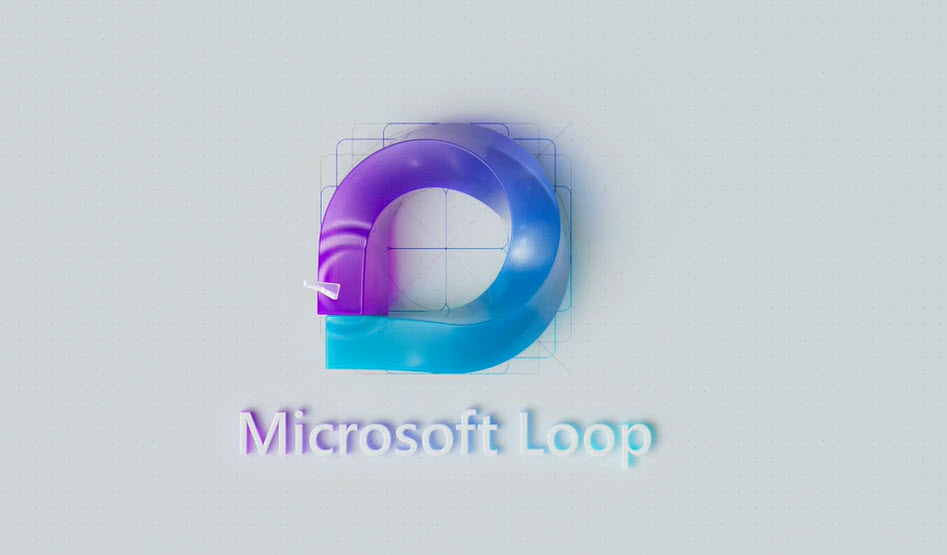 The big Office announcement is the advent of a new Microsoft 365 app. Microsoft Loop is "a single, flexible and collaborative canvas to get work done." Spataro said that in Loop, Microsoft is "completely reimaging Office to go beyond the traditional confines of a document, spreadsheet, or presentation."
Built on the open source Fluid Framework, Loop is home for the components previously called fluid and live. Microsoft says components are "atomic units of productivity" that multiple users can work on. Loop components such as the set available in preview in Teams chat (paragraph, table, bulleted list, etc.) already cover the basics, and Microsoft announced the addition of new voting table and status tracker components coming soon.
Loop components currently exist as fluid files stored in the author's OneDrive for Business account. Sharing controls allow other users to access the components with synchronization used to make sure that every contributor sees the same content as updates occur. It's like co-authoring in a Word document, but the synchronization is much faster.
Microsoft Loop (the application) adds loop pages and loop workspaces to the mix. Loop pages are a canvas for loop components, and the pages are organized in workspaces, which are shared with colleagues. Figure 1 shows a Loop workspace with an open page containing two Loop components.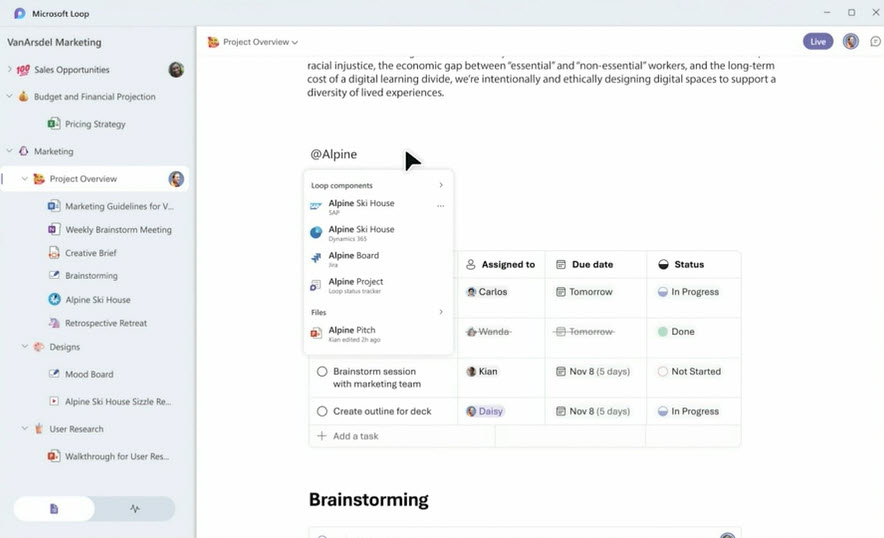 You can take components from pages and share them in Teams or Outlook – and continue to have those components updated as people react to their content. And you can connect Loop components into workspaces, which is what Microsoft demonstrated with a component containing a Dynamics 365 customer record.
In a weird sort of way, it's like OneNote. Maybe Loop is the future for OneNote? Who knows!
What's for sure is that support for loop components will turn up in more Microsoft 365 applications over time. Now in Teams chat and likely soon in Teams calendar invitations and channel messages, Loop components are also slated for Outlook (OWA first) and OneNote, with other Office apps in the future.
Microsoft says that app developers will be able to build Loop components by "extending their existing message extensions apps and Microsoft Graph Connector integrations with minimal investments." Microsoft will explain what all that means at the Microsoft Build event in 2022.
There's no doubt that Microsoft is trying to move people to a more collaborative way of working. However, old habits die hard, and although there's no doubt that more sharing of documents now happens to replace email attachments and that more people use co-authoring, people do have their own ways of getting stuff done. Will someone who organizes meetings embrace a loop agenda instead of publishing a Word document? Or will folks who use a shared OneNote notebook as the basis for group collaboration move to a Loop workspace? And then there's the nitty-gritty of collaborating across different organizations, some of whom don't use Microsoft 365 and others who have hybrid tenants. There's lots to tease out before it becomes clear how successful Microsoft Loop will be in the real world.
Editor with Context IQ
Microsoft has invested heavily in developing the capabilities of the Editor component to help people write better by correcting spelling, grammar, and most recently, the tone of your email. Editor is also the component which learns how people compose text and uses that information in auto-complete suggestions. Now Context IQ (surely a pun on intelligent context?) will offer "predictive assistance." In other words, as you type, Context IQ analyzes what you're working on to attempt to predict when you might need to take an action like attaching a file, find a suitable time in your calendar to meet, and tag people.
I'm all for using Editor to improve writing by eliminating spelling and grammar mistakes. My writing would be much worse otherwise. I can see how AI can learn about user habits and how the Microsoft Graph has access to information drawn from across Microsoft 365. The sense of bringing things together seems undeniable, yet I have a feeling that people will want more control over sharing documents. The risk of sharing the wrong document through inadvertently accepting a suggestion from Editor seems high. We'll have to see how Context IQ works in practice when it becomes available in OWA and other apps in early 2022.
Meshing in Teams Meetings
For those wishing to use mixed reality headsets in Teams meetings, you'll be able to use Mesh for Microsoft Teams in the first half of 2022 to meet. Microsoft promises that the 3D experience with humans represented by avatars will "enhance camaraderie, spark creativity, and foster water-cooler conversations." Hmmm… not wanting to throw cold water anywhere, I wonder just how well humans will take to 3D mesh interaction, even if AI interprets reactions to make the avatars behave as their humans do. On the other hand, if you take the time to build the necessary environment to enable people to meet and collaborate using applications like Whiteboard (Figure 2), some will find it both compelling and useful technology.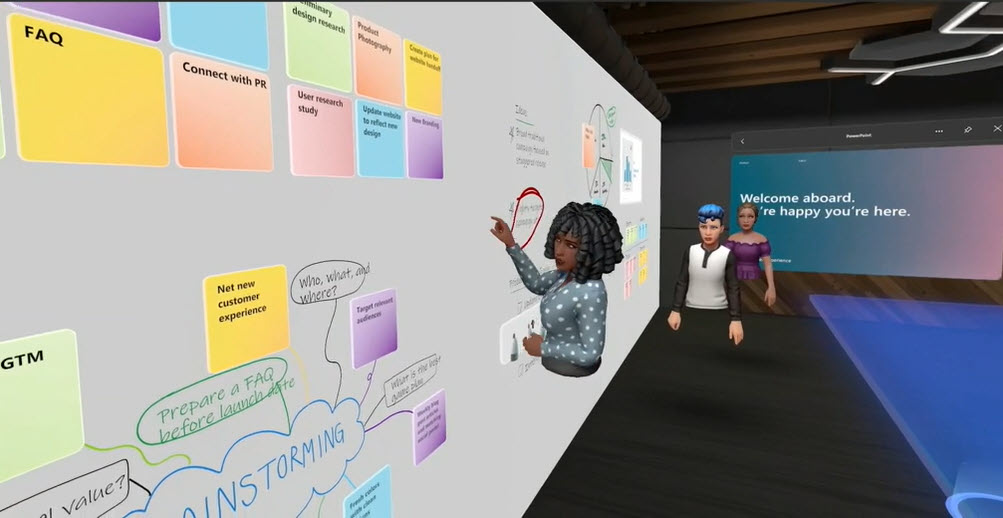 No Teams Shared Channels Until 2022
The biggest disappointment for many tenant administrators will be the delay for Teams shared channels (aka Teams Connect). I expected Microsoft to announce preview availability at Ignite, but Microsoft has pushed that date out to "early 2022," with general availability following. Shared channels depend on new method of inter-tenant sharing where users authenticate using their regular accounts instead of guest accounts as used with regular and private channels. Microsoft says that each shared channel with "up to 50 teams and as many organizations as needed." Given this kind of sharing capability, it's obviously important that Microsoft makes sure that the mechanism is robust, secure, and auditable, so while disappointed, I'm happy to wait a little longer.
In yet another attempt to make Teams personal work, by the end of 2021, Microsoft will extend external federation for chat to Teams personal accounts. This isn't surprising because Teams chat with Skype consumer users has been available since early 2020, and the Teams 2.0 personal client is the chat app available in Windows 11.
Teams Webinar Updates
Now that Microsoft has tolled out the basics to run webinars as Teams meetings, they're coming back with a bunch of enhancements to make it easier for both event organizers and attendees. Top of the list for delivery in early 2022 are the virtual green room (for pre-event preparation), controls over what attendees see, the co-organizer role to spread event management tasks across multiple people (already announced in message center notification MC292796 for availability in the late November)., and a structured Q&A feature which seems like what happens in Live Events today. Also, Microsoft has signed up Cevent, an event management company, to help customers organize registration and other aspects of Teams webinars.
Teams Chat Updates
Among other updates announced at Ignite were some for Teams chat. Microsoft has already announced the new Teams search results page (available in preview), and they're adding a Chat with Self feature (send yourself a note), which also kicks in when a person you have a 1:1 chat with leaves the company to avoid the "unknown user" syndrome. The new feature likely to be most popular is the ability to delay sending a chat message until a specific time, an idea like the Outlook feature.
The ability to use Viva Topics should also turn up in Teams chat soon (the same capability is coming to Outlook and Yammer).
Stream
Microsoft didn't share much news for Stream. The ability to search for words spoken in Teams meeting recordings has been around for a month or so and the new web player is generally available. What was interesting is that Microsoft said that the ability to migrate videos from the classic Stream platform to OneDrive for Business and SharePoint Online is now in preview.