Run Webinars as Easily as Normal Meetings
Updated September 16, 2021
Announced for Teams desktop (Windows and Mac) and browser clients in message center notification MC237807 on February 4, deemed to be rolling out in roadmap item 66586, and hyped at Ignite 2021 in sessions like Easy, intuitive webinars with Microsoft Teams, the long-flagged webinar functionality for Teams meetings is coming in April with worldwide deployment due to complete in early May.
Along with other new features like meeting overflow (view-only attendees), being able to run webinars through regular meetings allows Teams to compete externally with products like GoToWebinar and Zoom Webinar or even internally with Teams Live Events.
One thing we still don't know is if the webinar functionality is tied to the Teams Pro license. Microsoft is staying very quiet on what that license will cover.
Preparing for Webinars
Teams meetings are either personal (organized by someone and limited to those invited) or channel (owned by the team and available to all team members). Webinar meetings can only be personal single events and they can only be created using the Teams calendar app rather than Outlook. If you want to run a multi-day event, you need to create multiple webinars as recurring meetings are not supported. Breakout rooms are also not supported. These gaps might well be closed in the future.
Settings in the Teams meeting policy assigned to user accounts control who can schedule webinar meetings and if webinars are internal-only or accessible by both internal and external attendees. For now, the settings are configurable by PowerShell and are:
AllowMeetingRegistration: Controls if a user can create a webinar meeting. The default is True.
WhoCanRegister: Controls the attendees who can attend a webinar meeting. The default is EveryoneInCompany, meaning that internal accounts and guest accounts can attend. If you want to organize public webinars, set the value to Everyone.
AllowEngagementReport: Controls if the user can download the meeting's attendance report and the registration report. Make sure this value is Enabled as a big part of running a webinar is knowing about audience acquisition and participation.
StreamingAttendeeMode: Controls if Teams uses overflow capability once a meeting reaches its capacity (1,000 users with full functionality). Set this to Enabled to allow up to 20,000 extra view-only attendees to join. In the preview, this setting was called StreamingModeEnabled.
Here's how to update a meeting policy with the required values:
Set-CsTeamsMeetingPolicy -Identity " Allow Meeting Recording" -AllowMeetingRegistration $True -WhoCanRegister Everyone -AllowEngagementReport Enabled -StreamingAttendeeMode Enabled
Like any change to Teams policy settings, it can take several hours before the new settings are effective.
One setting that's missing is control over attendee privacy. Participants in teams meetings can see details of other attendees. This is fine for internal meetings but maybe not for external events. It would be good to be able to control if attendee details are visible to non-presenters.
Creating Your First Webinar
Before creating a webinar meeting, the organizer should know:
The webinar topic and date for the event.
Decide whether the event is internal or external. Once created, you can't change the scope.
How attendees will register for the webinar. When you create the webinar, Teams creates a registration form or page into which you put content describing the event and data you would like participants to provide, including custom questions. Teams generates a URL for the registration page to include in email or on a web site to have potential attendees register for the event. You can also invite people to attend the webinar just like regular meetings.
The presenters. These people need to be invited to the meeting.
As an example, I took the details of a webinar to discuss moving on-premises Exchange servers to the cloud and replicated them in Teams. First, I created the meeting in the Teams calendar app (Figure 1), making sure that the meeting requires registration (to mark it as a webinar). Note that I've elected to have "everyone" register for the event, which means that it's a public webinar.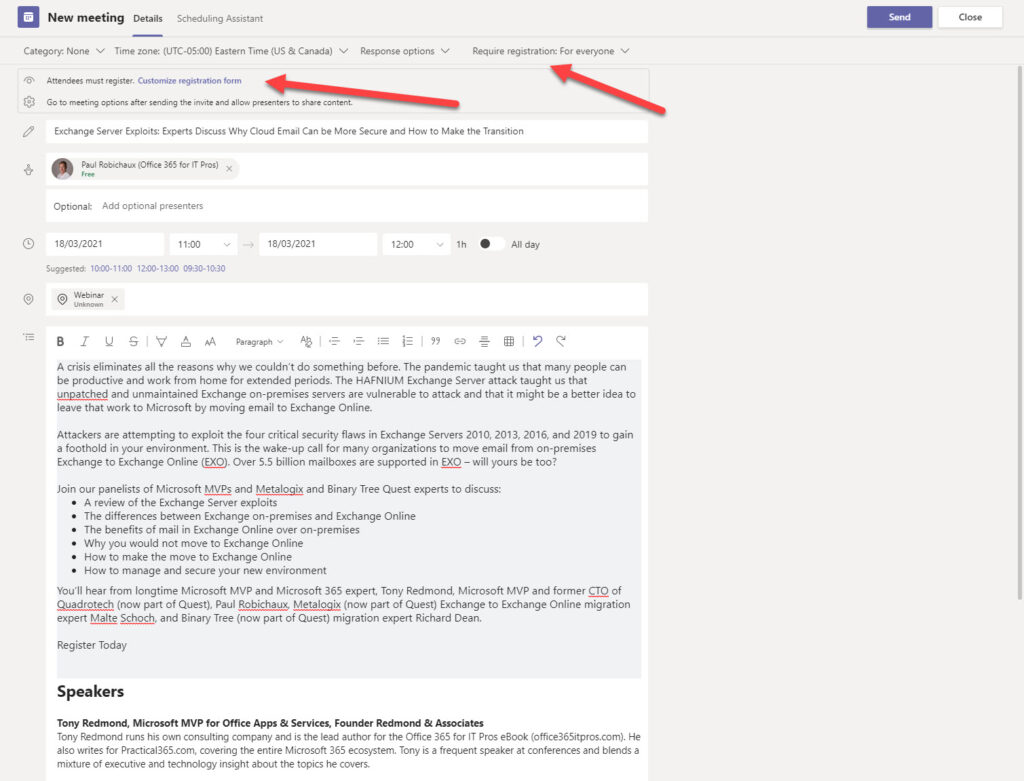 Clicking the link to customize the registration form allows the organizer to enter details of the event, speakers, and some custom questions (Figure 2). You can add as many custom questions as you like but remember that each question adds some friction to the enrolment process, so it's best to keep the questions to a minimum. We've set the questions to require answers, meaning that people can't register until they enter a valid response. Teams includes a bunch of precanned fields which can also be included, like the person's organization.
Broadcasting News of the Event
The link to the registration form (use Copy link to retrieve the link) looks something like this:
https://teams.microsoft.com/registration/PzFitvwUokOaetLif080eA,_xwZzApnQEeEWOYGdTfHRw,8WUQVaYEeUmLGSyKDBYxnw,it7kMRLtfUOXr52oaEIfmg,2OuDgrYFWEmeCPXZCqHI1Q,yCw6Cinw5U-KvaqDX9fLxw?mode=read&tenantId=b662313f-14fc-43a2-9a7a-d2e27f4f3478
This link should be included in email or a web page to let people know about the webinar and to allow them to register. Remember that Exchange Online limits the number of outbound messages a mailbox can send in a day to 10,000 recipients and 30 messages per minute. For this reason, organizers of webinars who want to notify large populations of potential attendees should use a commercial email service to broadcast news of the webinar. Figure 3 shows a message ready to go with the registration link embedded in the text.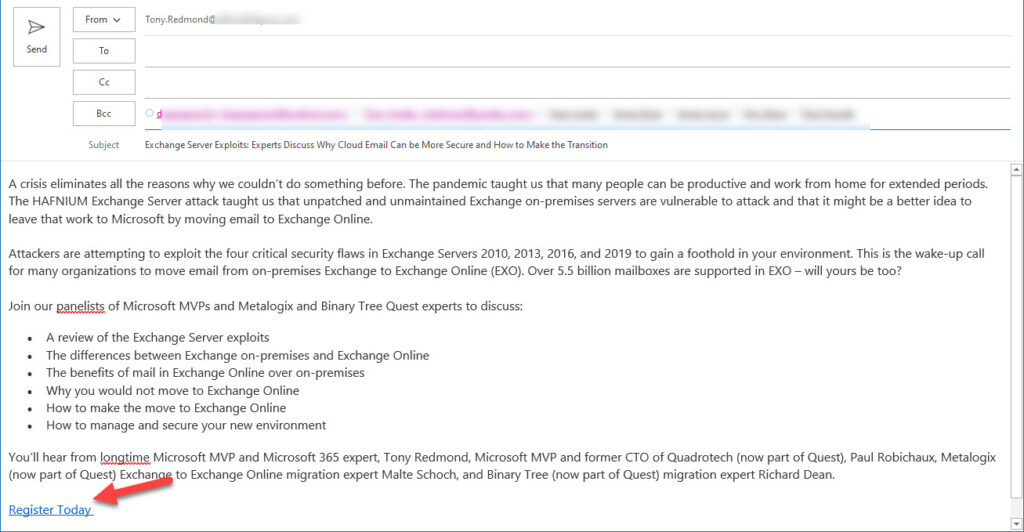 Registering for the Webinar
Recipients who click the Register Today link are brought to the Teams registration page (Figure 4) where they can sign up for the webinar and answer the questions posed by the organizer. The result of a successful registration is an entry into the meeting's registration report and an email Teams sends to the attendee to confirm registration and give the event details, including an .ics file to add the event to their calendar.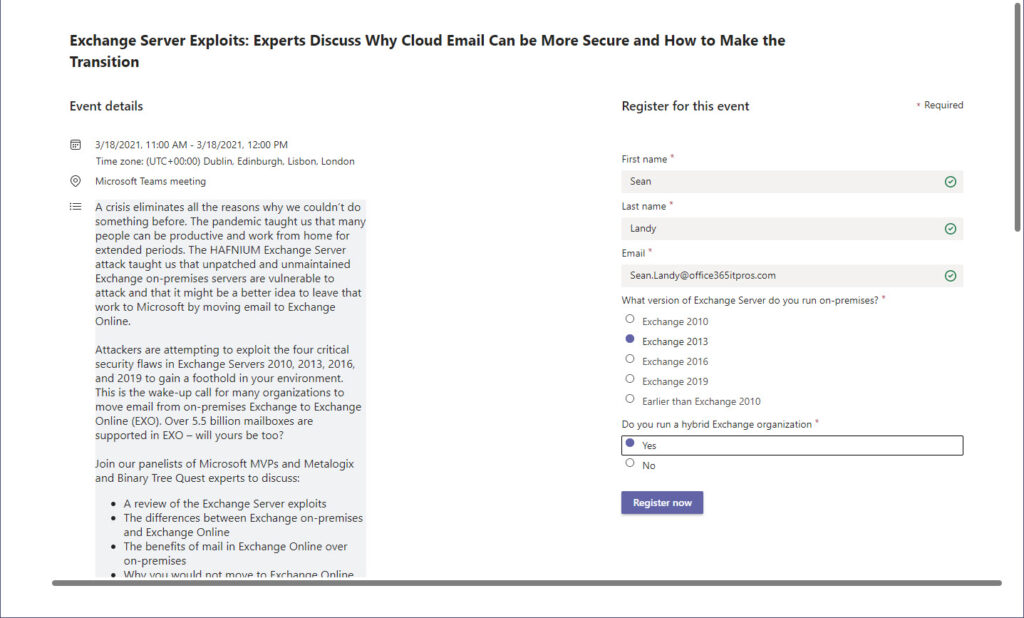 The organizer can check on potential attendance for the webinar at any time by downloading the registration report. However, if they find someone objectionable (like a person from a competitor) in the registration report, there's no way to block that person from attending the webinar apart from refusing them access when they turn up in the meeting lobby.
Like the attendance report for normal Teams meetings, the downloaded copy of the registration report is a CSV file (Figure 5).

The norm is that only 30-40% of registered attendees show up for a public webinar with higher attendances expected for internal events. Your mileage might vary. Like the attendance report available for normal meetings, Teams generates the registration data from information held in its online data store.
Update June 10: In message center notification MC260565, Microsoft said they'll deliver a new tab for meeting organizers to review attendance report information without having to download data. The new tab shows the registered attendees and who actually attended the event (including unregistered attendees) and how long each participant was present. It should be a helpful aid to webinar organizers, who can still download the same data if they want to do their own analysis.
Run the Meeting
A webinar meeting runs in much the same way as a normal meeting with the usual Teams facilities like meeting recording, polls, meeting notes, reactions, and live captions available. Presenters can share information like presentations and other applications. Teams meeting options govern whether chat is disabled and who can bypass the meeting lobby (for public meetings, make sure that you don't allow external people to join until the webinar is ready to begin). In late April, organizers will also be able to update meeting options to block attendees from turning their video feed on (including for individual attendees).
In other words, if you can run a regular Teams meeting, with a little extra preparation, you can run a webinar.
Following the Event
Once a webinar completes, the organizer will probably want to review the recording and decide if it can be shared publicly along with any other content to attendees and people who couldn't attend the event. Because Teams meeting recordings are now stored as MP4 files in OneDrive for Business, it's easy to share the recording from OneDrive or move it someone more appropriate.
The organizer will probably also want to review the data in the registration and attendance reports to understand how popular the event was and how engaged attendees were during the webinar. For example, did a significant number of people drop out early? The registration report is also a good source for names and email addresses for follow-up calls by sales representatives or others. The attendance report is less reliable because people don't have to confirm their email address to join a webinar, which means that the data for external attendee lacks verified contact information.
Webinar information is captured and available for search and eDiscovery using Lists stored in the organizer's OneDrive for Business account. This is the reason why meeting organizers need access to Microsoft Lists as a prerequisite before they can organize webinars.
Easy Webinars Delivered
There's no doubt that Teams has delivered an easy way to run webinars by leveraging its meeting capabilities with some extra functionality. This is going to be a popular feature. The sole question is how will it be licensed?