We were live at Microsoft Ignite. Watch the show below – or tune in to the podcast as usual above, or via iTunes, Spotify or your favourite app.
In the show this week, we talk about Microsoft's biggest announcements in the world of Microsoft 365, including:
Microsoft Loop – a next gen whiteboard designed for digital information, where the components can be placed onto a page within a workspace- almost like a mix of a digital dashboard where you might have a table of information that is updated in Loop, but that table is then updated in documents like PowerPoint or Word when you change it.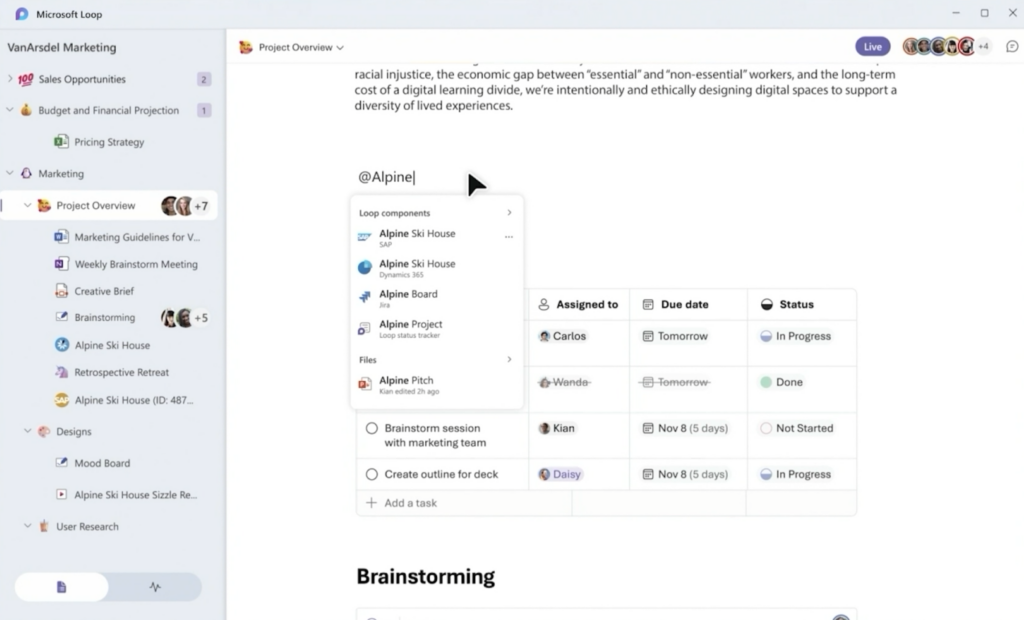 Microsoft Editor with Context IQ finds and suggests files to add, meetings to schedule, improves tagging of people by suggesting the people you'll likely work with on something, tab-autocomplete of data such as files you go to mention, or people relevant to the conversation.
Mesh for Microsoft Teams – VR meetings using avatars to represent people in a 3D space for meetings and collaboration using documents stored in Microsoft 365 in virtual rooms. Based on Microsoft Mesh, in and naturally, similar to AltSpaceVR, the technology that is being used at Microsoft Ignite this week for some sessions and conference networking. Accenture talked in Satya's keynote about how they are already using it today, and have deployed 60,000 VR headsets to staff. We'll all get it in the first half of 2022.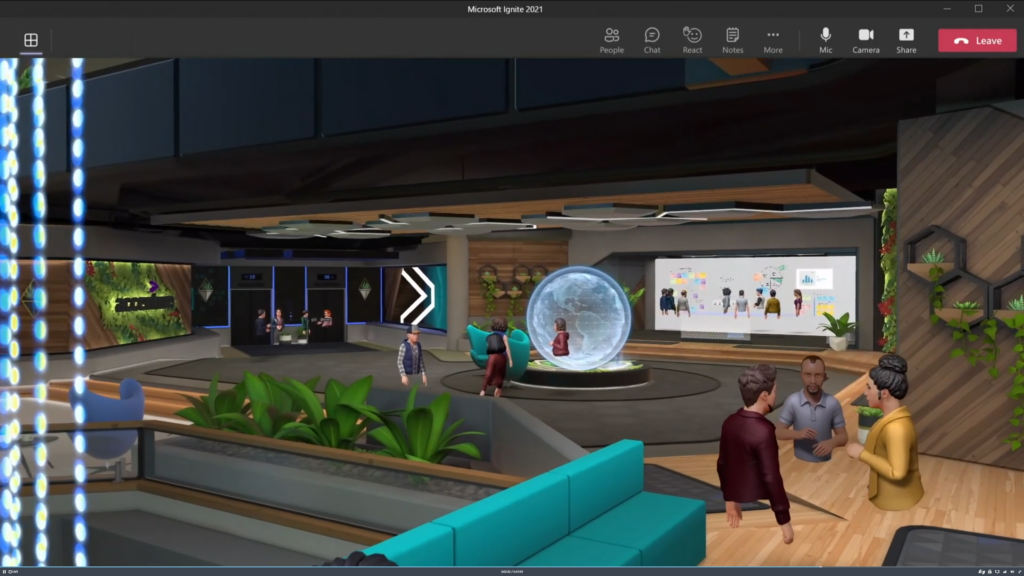 Teams Connect – announced in March and we get a reminder about it today and a little more detail today on what will be possible, but it won't be released right now, and instead will be coming early 2022.
Webinar Enhancements include a virtual green room, better controls on what attendees can see, so they can only see other organizers, structured Q&A, co-organizer roles, plus integration with CEvent, which is a commercial event/webinar organizer platform.
Teams chat improvements are on the way too – including the ability to delay delivery of messages until a later time (like you can with emails), additional reactions with up to 800 emojis, better search UI and a few others
Read Tony Redmond's expert view for more depth on Microsoft Loop, Editor with Context IQ, Microsoft Mesh and the Teams webinar and chat improvements on the way.
Whist we didn't have time to talk about everything this week – some of the biggest announcements included:
Moving on from the headline news at Ignite and what we'll expect to hear about later in the week – Meeting Room improvements are on the way, including support for Direct Guest Join from Microsoft Teams Room to GoToMeeting and BlueJeans meetings.
We'll be seeing more admin improvements coming to Teams – priority account notification and alerts let IT specify VIPs so they can be alerted of issues they have quickly, device analytics dashboard to better see phone, teams display, panel and room system data, alongside info about PC and mobile client experiences. Finally, a workspace view to make it easy to see Teams devices based on where they are – tagging was the only way to do this before
Viva Learning launches with two versions; the version that comes as part of your paid-for Microsoft 365 subscription includes free Microsoft 365 content, a selection of free LinkedIn Learning content and the ability to link your organization's existing LinkedIn Learning Subscription. It also gets integration with SharePoint.
An additional step-up licence to a premium version also launches with more integrations, admin and manager controls.
Viva Insights will get effective meetings report providing tips, suggestions and tips for managers to improve habits and foster team culture. In Jared's session we had a sneak peek, but expect more later today in the main Viva session.
Viva Topics will get more features including being able to reach into Yammer conversations and Outlook messages to tag topics and data, plus a question concierge service to find the right expert to answer questions
A new licensing SKU will come with everything Viva in it. Alli.io, Microsoft's recent acquisition of a solution that connects work to strategic objectives, will be part of Viva and included in the new licence.
Syntex will get new features including automatic document creation and template creation based on existing documents, and automatic legal contract creation based on standard clause libraries
Windows 365 Enterprise gets support for Azure AD Joined and managed Cloud PCs. It was only available in Windows 365 Business before now so even in preview, this will be a welcome improvement for customers who want to begin testing Windows 365 in larger environments without joining machines to a traditional Active Directory.
Azure Virtual Desktop get auto scaling – easy cost savings by shutting virtual desktops down on a schedule and support for on-premises deployments as well as pure cloud using Azure Stack HCI
Dynamics 365 gets greater Teams integration, including collaboration on Dynamics 365 sales records in a Teams chat or channel – apparently powered by Fluid components and chat now functionality in Dynamics.
Dynamics 365 Customer Service sees the release of the new voice channel, which allows contact centres to be built using Microsoft Teams voice as the back-end.
Whilst there's a lot more in Security & Compliance – Endpoint DLP comes to Mac OS, Intune/Endpoint Manager gets support for Linux and better Mac OS app deployment capabilities, Defender for Business is coming to preview soon – big news for our mid-size customers and – Microsoft Cloud App Security is renamed to Microsoft Defender for Cloud Apps