On the show this week, we're talking through the news from Build and going into detail on the most important announcements for IT pros. We're also joined by Jason Warnke and Tony Leraris from Accenture, who give us inight into some of the fun and games involved with running the world's largest Microsoft Teams deployment.
Our biggest Microsoft 365 headlines from Build
First up this week, it is Microsoft Build 2021. Paul and I talked first about how, as a developer-focused conference, IT professionals have not traditionally been especially interested in it – especially in the days of PDC, where it was renowned for being especially technical and perhaps dry. In recent years though it has become a venue for Microsoft to reveal their direction on products and as low-code development and abstraction blurs the boundaries between IT professional, developer and sometimes even business users, it has become more relevant to Microsoft 365 focused IT pros.
Whilst there is a lot of announcements from Microsoft Build – including lots of Microsoft 365 developer related new features and capabilities, we focused on several announcements that really stand out in the show today.
Microsoft Teams, naturally, gets new capabilities for Meetings that are especially interesting. First up is the Shared Stage. This allows developers to create an application manifest to build a multi-user web app that's integrated into a Teams Meeting.
If that sounds a little complex, then think of Microsoft Whiteboard, which is a good example of an existing app that works in a Teams meeting this way. We discuss other examples of how this could be used, such as a kitchen designer with a remote appointment with a client; imagine the scenario where during the meeting the client uses the shared design tool to pick and change the colors they want for the kitchen cabinets, rather than a screen-share where the designer does it for them.
More developer capabilities of note come to meetings including the Event API allowing meeting start and meeting end events to be used to trigger actions. This could be used in the above example to send over the design or quote; or for advanced transcription processing, AI-based note taking and other apps – assuming someone builds them.
Of immediate interest to some IT professionals will be the new Developer Portal for Microsoft Teams. This was previously the app studio, but can be used now by multiple people working together in a Team, and offers an interesting capability – the place for creating custom Together Mode scenes. Paul wasn't sure about the value of this – and wondered if it could be a fad; I suggested it could be used not by developers, but perhaps by marketing or internal communications teams who want to build a company-focused experience in Together Mode. Another option could be to create Together Mode scenes that fit the surroundings of an office meeting room, so that participants in the meeting look more like they are in the room.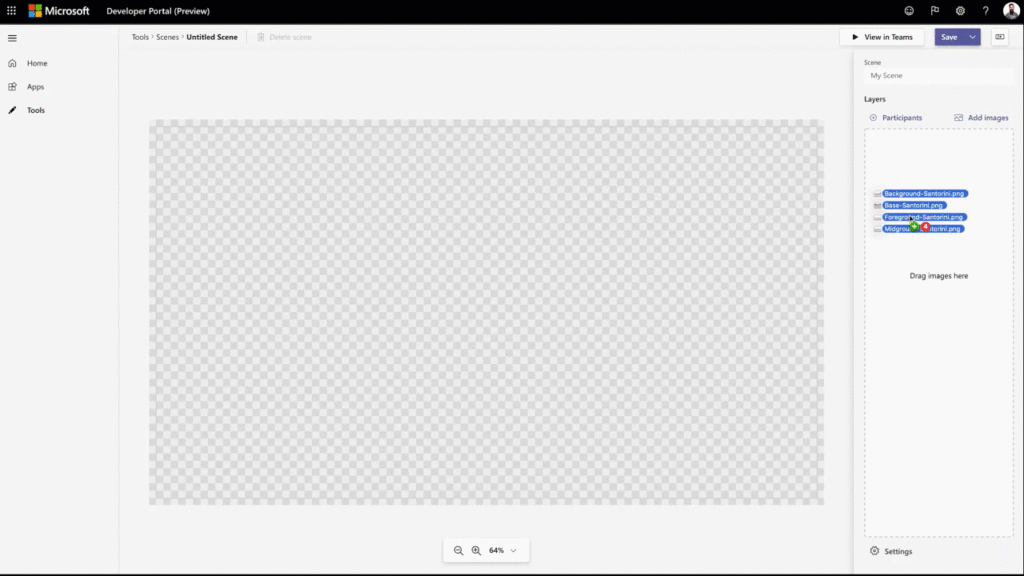 Paul talked about the new model for Adaptive Cards, first explaining how he is using it today with development teams. The new functionality in Adaptive Cards allows one card to be build and used in both Microsoft Teams and Outlook – so UI data, bots and similar work in the same way across both applications.
Read more: Build the next generation of collaborative apps for hybrid work – Microsoft 365 Blog
We also discussed new Fluid Components for Teams, coming to Private Preview now. These allow you to compose a message with components like tables, action items and lists that can be co-authored. We talked about the compliance and user-training aspects of this – will there be a "what tool in Teams to co-author in when?" diagram needed – and I suggested a good use-case for this will be transient items that people work on, like using Teams to decide upon an agenda for an upcoming meeting.
Finally we discussed the new Process Advisor tool in Power Automate. This tool, which we haven't had a chance to use yet, helps mine for processes that are ripe for automation. It provides both suggestions for Flows and also RPA (Robotic Process Automation) and is a licenced capability in the per-user and per-flow with RPA plans.
Paul wondered if this will be useful – and gave examples of some high-value tasks that are often partly offline and don't get captured in data today and would be key targets for automation projects. I gave some examples of how I work with customers to identify cross-team tasks that do use Microsoft 365 today that often spur on businesses to then bring forward some of those harder-to-find processes, and suggested that this tool could accelerate finding good candidates to use as examples in a business.
Read more: Reduce process bottlenecks with process advisor for Power Automate, now generally available | Power Automate Blog (microsoft.com)
Accenture IT on running the world's largest Teams deployment
We were joined this week on the show by Jason Warnke, Senior Managing Director at Accenture, and his colleague Tony Leraris, Managing Director, to talk about Accenture's Microsoft Teams deployment. Accenture have rolled out Microsoft Teams to over 500,000 users globally, and whilst they aren't running the largest Microsoft 365 tenant (some government and education customers have more users) they are either at the top or close to it for actual active usage of Teams.
Because Accenture focused on digital transformation pre-pandemic, they are an excellent example to look to of an organization that has went through the full journey, rather than a rushed roll-out. Last year a lot of organizations rolled out Teams rapidly – and whilst some people called that digital transformation, it really was just.. digital enablement or conversion. To do it properly takes time and thought, and companies like Accenture have been looking to enable their employees to work from anywhere effectively for years, and often were the first to embark on Microsoft Teams roll-outs that eclipse Microsoft when it comes to foresight, vision and strategy.
Whilst several professional services companies like Accenture or in similar industries like engineering have completed similar transformations, Accenture's massive user based and diverse, global workforce prompt some interesting questions – such as how do you run a Teams environment at that scale, and how do you plan for the return to the office. It may not (but probably shouldn't) come as a surprise that Jason and Tony were well-prepared for these questions, and we also delved into topics like Windows 10 and Office PC management and patching – with answers that would surprise smaller organizations who are still clinging to legacy ways of managing software.
Check back here on Monday to see the video of the interview – or listen now to Tony and Jason from Accenture talking through the various aspects of running a deployment of Teams at scale no-one else has.
The one message center notification you don't want to ignore
We've noticed that several Microsoft 365 tenants who are running Skype for Business Online (still!) haven't quite realised that retirement doesn't mean "still working" but actually means "we're sending Fido off to the farm to ahem retire" when it comes to Skype for Business Online. It is going – gone – and will not be coming back.
And if Microsoft giving a date of July 31st 2021 wasn't enough to get you to worry about it, then the message center notification you'll see (or soon see) will. You will see your date for automated Skype to Teams move (where coexistent is set to Teams-Only mode) appear here. We are seeing dates show up in early August, with a window of opportunity to delay slightly if needed.
However, if you see this notification and it is a surprise – get doing something about it now. Don't wait for that day to arrive and keep your fingers crossed. You can move to Teams Only mode without waiting for Microsoft to push the button for you!