Employee Engagement Platform and Teams Give Yammer a New Target
When I wrote about the 10-year anniversary of Microsoft's Yammer acquisition, I said that Yammer is still searching for a mission inside Microsoft 365. The original attempt to replace email failed and Teams took most of the oxygen surrounding workgroup collaboration. Yammer remained popular with a certain segment of the Microsoft 365 base (mostly in large enterprises) but was unwanted and unused by most tenants. The joke that you could hide information by posting it in a Yammer community is all too true.
With the announcement of Viva Engage, I see a glimmer of a new mission appearing. It's important to emphasize that the traditional Yammer browser-based client is not going away. Instead, Viva Engage is a repackaging and rebranding of Yammer as delivered in Teams as part of Microsoft's employee engagement platform.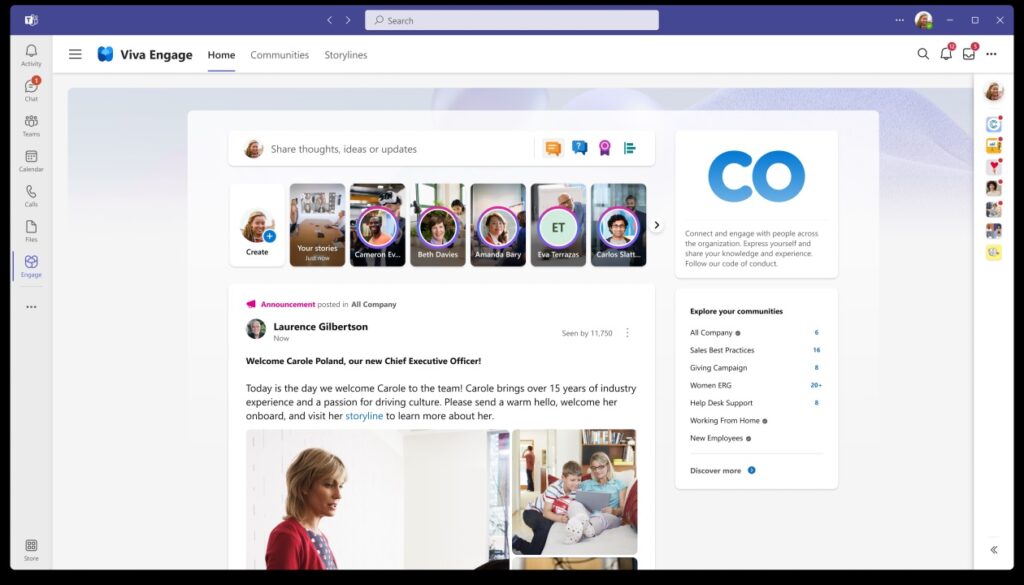 Viva Engage Essentials
The basic things you need to know about Viva Engage are:
Users need a Yammer license to use Viva Engage. Yammer is a service plan included in enterprise products like Office 365 E3 and E5 and in Microsoft 365 Business Basic, Standard, and Premium. Microsoft also bundles Teams in these plans, so Viva Engage will be available free of charge to a large target audience. In effect, it's a way of introducing Yammer to the 270 million plus Teams users.
Viva Engage will replace the current Communities app in Teams (see message center notification MC402427, Microsoft 365 roadmap 91117). The replacement will happen automatically when Microsoft rolls the app out later this year. If you've deployed the Communities app to users via an app setup policy, they'll get Viva Engage.
The Viva Engage app will include new features like stories (short videos or photos) posted to the storyline of individual users. No matter which way you color this news, it makes me think of Tik-Tok or Instagram for Teams. Microsoft says that stories are a "delightful way to catch up and stay connected with people you work with and interesting colleagues." The question here is what makes a colleague interesting?
Microsoft emphasizes that Viva Engage is safe, secure, and governable and points to Microsoft 365 privacy and compliance controls. This assertion deserves to be tested, especially in how eDiscovery and communication compliance works for video stories. Teams already has an issue with eDiscovery of video messages posted in chat. It would be bad to see the same issue occur with Viva Engage.
Microsoft says that Viva Engage will come to Outlook later this year. I imagine that this will appear in OWA first, possibly as an option in the OWA menu bar, to reveal functionality like the storyline
In short, Viva Engage is a makeover of the existing Yammer Communities app for Teams with some new functionality that could be very interesting. As Steve Nguyen, a long-time marketing manager for Yammer said: "We don't want to just slam the Yammer brand in there. So we are doing this hybrid rebranding" before acknowledging that the Yammer name could go away in the future and be replaced by Viva Engage.
Some organizations, especially smaller tenants, will happily ignore Viva Engage and concentrate on other methods for internal communications, like standard Teams. Others will find Viva Engage more interesting and worthwhile. That's the nature of Microsoft 365: it's a huge space accommodating radically different types of tenants from mom-and-pop stores to the largest businesses on the planet.
The New Mission
Although you might ask why Microsoft chose Yammer to power Viva Engage instead of building an app based on Teams, there's a one-word answer: scalability. Teams supports org-wide teams with automatic member maintenance, but they top out at 10,000 members. That limit is too constraining for organizations that want every employee to engage in conversations. Yammer has always been good at hosting highly-scalable workforce conversation spaces, and that's why it's a good choice for Viva Engage and a pointer to where its future lies.
Overall, I think the transition to Viva Engage is a good thing for Yammer. It increases the value of the Viva employee engagement platform at no cost to organizations that already have licenses to use Viva Engage. You can use Viva Engage if you want or ignore it with equal conviction. I guess it all depends on the culture within an individual organization and how they want to deal with employee engagement.
If you don't want to use Viva Engage, simply block the app in the Teams admin center. The temptation might be to remove the Yammer service plan from licenses assigned to user accounts as described in this article, but if you do that, you'll block access to other features that consume Yammer, like Q&A in Teams meetings. The truth is that you never know where Yammer will pop up in the future as Microsoft tries to use the technology within Microsoft 365.