Microsoft Dodged a Bullet by Not Buying Slack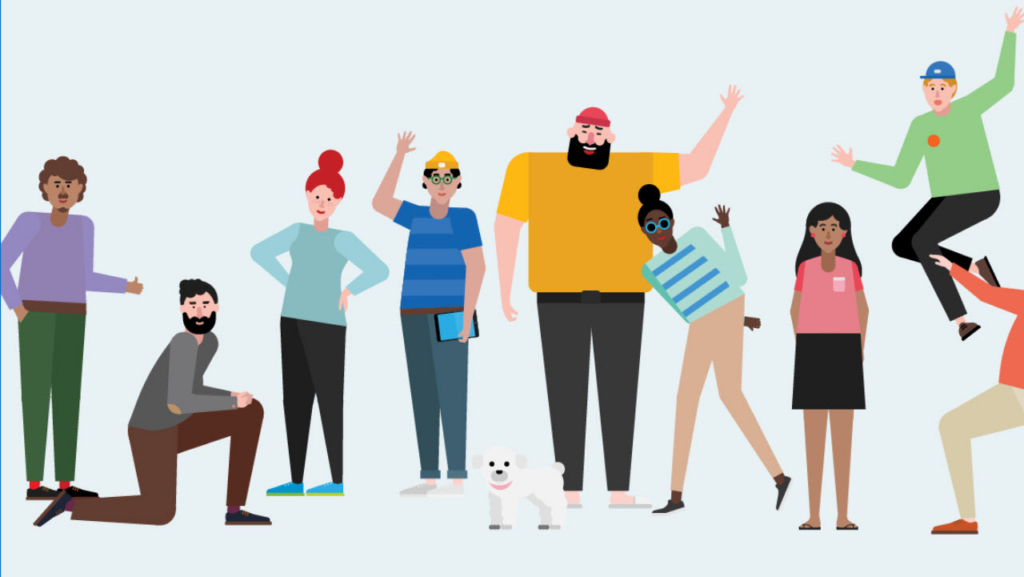 On March 14, 2017, Microsoft made the initial release of Microsoft Teams available to Office 365 customers. A public preview of Teams released in November 2016 had attracted a lot of customer attention, mostly because Microsoft was struggling to demonstrate innovation within Office 365.
The capabilities of today's client is very different to the basic capabilities available in the launch edition (think channels and chats, SharePoint Online, Office web apps, and limited customization). However, you can trace a direct line from 2016 to today, if only because the same Electron-based client is still used. Figure 2 is an image from the Microsoft press pack for the 2016 preview. Users of the current client will recognize what's shown here. Today's client has the Calendar app instead of Meetings and a big New conversation button in channels instead of the original prompt, but it's all very familiar.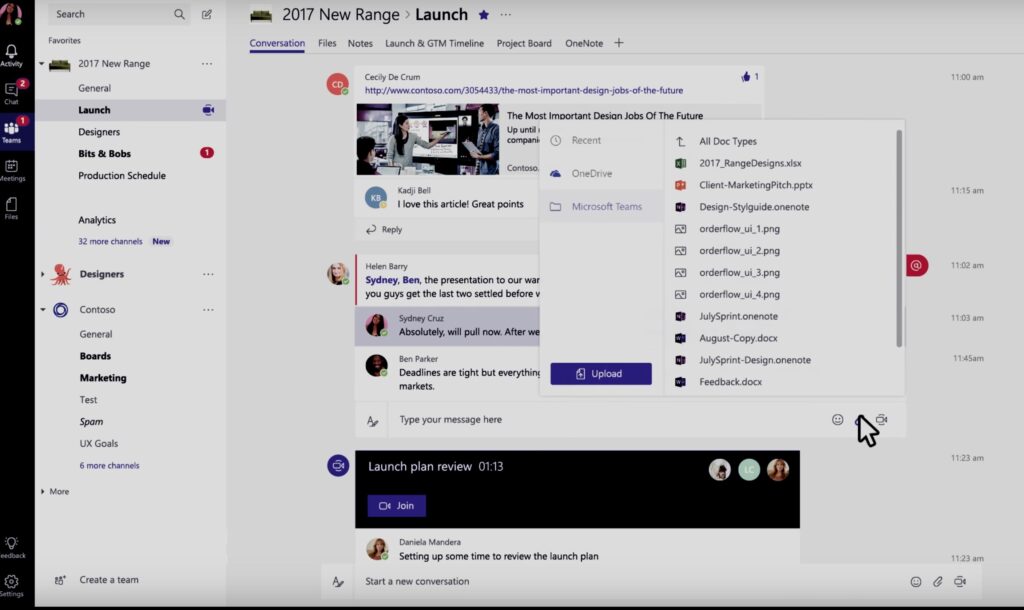 Microsoft will make a big deal of the fifth anniversary. They should. Growing faster than any other Microsoft 365 app, Teams is a huge success, achieving a claimed 270 million monthly active users. Going with the home-grown option led by Brian MacDonald, the Microsoft VP previously responsible for Project and Outlook, proved to be a smart move. Does anyone think that Microsoft would have had the same success had they spent $8 billion to buy Slack in early 2016?
The answer is an emphatic No. The success of Teams comes from the wholesale leverage of existing assets, building a new fulcrum for teamwork from the massive software toolkit available to Redmond developers. The fundamental building blocks of Azure (many services, including Cosmos DB for message storage), SharePoint Online and OneDrive for Business (storage for documents, videos, and other files including loop components), and Exchange Online (calendar and compliance) gave Teams a turbocharged start that a bought-in Slack could never have had.
If you doubt this position, consider the example of Yammer, acquired in June 2012 for $1.2 billion and ask how integrated Yammer is with the rest of the Microsoft 365 ecosystem nearly ten years on. Microsoft has improved matters recently, but Yammer is nowhere close to achieving the type of integration evident in Teams, even with five years' start.
Microsoft Teams is an Enterprise Play
The success of Teams is in the enterprise. Leveraging Microsoft's software toolkit took it on a natural course to serve the customers moving from on-premises servers to the cloud. Microsoft sought to enable hybrid connectivity for Teams from the start, but it's always been easier and better when user are cloud denizens.
The array of applications available for Teams grows at around 40 per month. Apart from the first-party apps like Tasks by Planner and To-Do (a truly horrible name), Yammer Communities, Approvals, Stream, and the Viva suite (apart from Viva Topics, which still hasn't shown up in Teams messages), the Teams app store now contains more than 1,400 ISV apps. No doubt the ISVs are attracted by the lucrative market represented by the Teams user base, but they're also reading Microsoft's messaging, which emphasizes Teams at every turn. Everyone wants to leverage the new hot platform, or in this case, the continuingly hot five-year old platform.
Teams Had a Good Pandemic
A casual glance over the number of Teams active users reported at different points over the last five years proved that Teams had a good pandemic. User growth accelerated dramatically from 20 million in November 2019 to 115 million fifty weeks later. No one can argue with that kind of success.
The downside of spiking user demand is the strain placed on systems. Microsoft's Rish Tandon says that the way Teams coped with massive increases in user load, especially in areas like online meetings and calls, over the initial work from home period underlined the benefit of their Azure base. Sure, Microsoft had to flex its services to cope (for example, by reducing the fidelity of Teams meeting recordings from 1080p to 720p for several weeks), but they managed. And even better, Microsoft made sure that Teams runs in all Office 365 datacenter regions, including the ability to handle multi-geo deployments.
At the same time, Microsoft went head-to-head with Zoom for leadership in online meetings. Zoom had its own difficulties, notably with security, but was easier to manage and had the famous 49-user grid view for meetings. Teams started with its paltry 2×2 gallery view (Figure 3) but rapidly scaled up to achieve parity and introduce innovations like together mode. Even Slack ended up creating an integration for Teams meetings.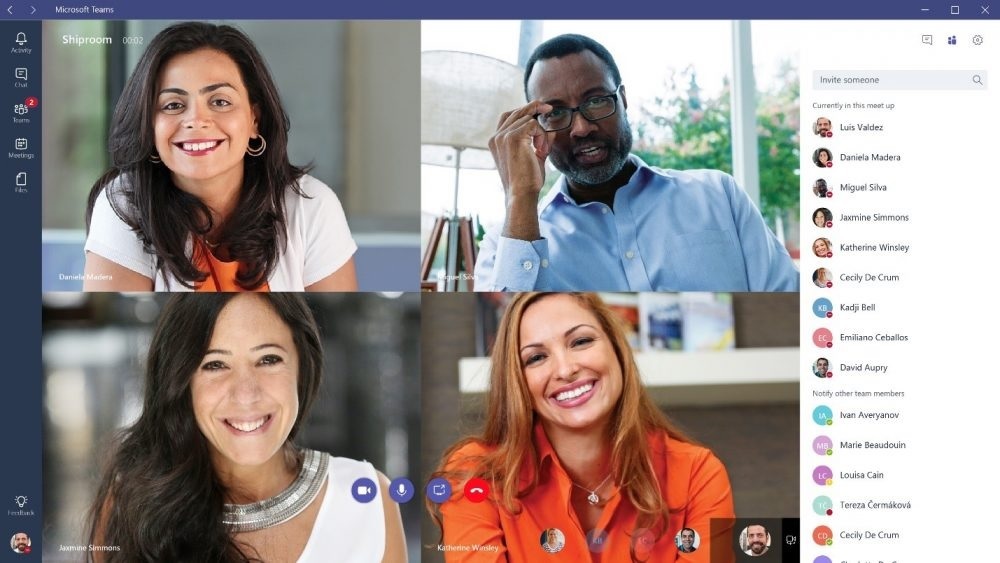 Curiously, I don't know if together mode gets much use anymore. Despite Microsoft's bold assertions that the mode helped people be less fatigued during meetings, all I see in current meetings is the normal gallery view.
With the benefit of hindsight, it's also strange that so much hot air and bluster was created over how many video feeds Teams displayed during meetings. Then again, online meetings now work so well and exert such an influence on how people work, the old 2×2 view seems like an artifact of history.
Teams Calling
Microsoft had worked on online meetings and calls for a long time over multiple products from Office Communication Services to Lync to Skype for Business Online. All shared a common flaw: these products were designed for on-premises deployment. In September 2017, Microsoft confirmed that Teams would take over from Skype for Business Online, a process which finished in July 2021 (some tenants lasted a little longer).
Microsoft continues to encourage customers to use Teams Phone. Customers get the chance to dump older PBX and other VOIP systems while Microsoft can sell calling plans for domestic and international numbers. Everything is integrated across an increasingly capable range of Teams devices. It's fair to nominate Teams calling as a major success for Microsoft.
Speaking of devices, the Teams mobile client and its ability to seamlessly deal with calls and meetings is one of my favorite parts of the product. Even using the reduced data mode, I quite happily join calls to review presentations and other materials from all manner of places. I even managed to deliver a session at The Experts Conference (TEC) 2021 over a flaky 4G connection from a car after finding myself in the wrong place at the wrong time. Fortunately, TEC 2022 is an in-person event in September, so Teams won't be forced to save my bacon again.
The Inward-Facing Nature of Teams Messaging
Many Teams calls and meetings connect with people outside an organization. On the other hand, Teams messaging remains firmly inward-focused. Many people have said that Teams will replace email. Experience has comprehensively rubbished that assertion, Teams cannot replace email and it will not (and here's why). But what Teams can do for most organizations is divert many internal conversations away from email and avoid endless chains of replies. Used effectively, Teams private chat, group chat, and channel conversations are excellent replacements for inward-facing communications.
You'll notice the emphasis I place on words like internal and inward. Despite support for Azure B2B Collaboration (guest users) from late 2017 (for other Microsoft 365 tenants) improved in March 2018 (to allow guests from any email account), Teams messaging is inward-facing. By that I mean that people must join a tenant before they can collaborate in channels. Apart from federated chat (if permitted by an organization), there's no concept of open teams: you must present your credentials and be known before we'll communicate.
The advent of Azure B2B Direct Connect and shared channels will improve matters by making it possible to collaborate without guest accounts, but people must still be known before they can join shared channels.
Compared to the openness necessary to enable communication across 4.2 billion email users, the closed nature of the Teams system restricts its potential growth and usefulness. Essentially, Teams grows off the Microsoft 365 ecosystem and the total number of Office 365 active users represents its natural base. Microsoft says that there are 270 million monthly active users of Teams. They don't say how many are enterprise users and how many are consumer, but I assume the majority are enterprise. Microsoft hasn't given a number for Office 365 monthly active users for a while, but it's likely in the 330-340 million range. You can see the problem for future growth.
Teams Consumer and Other Variants
Although Microsoft enjoys huge success in the enterprise, the same can't be claimed for Teams consumer or Teams Essentials (and Teams Free doesn't count because it doesn't add anything to revenues).
A version of Teams Consumer based on the Teams 2.0 architecture is the chat client bundled in Windows 11, but I don't hear of many people using it. I hear of even fewer people (outside Microsoft) who've convinced their family to switch to Teams consumer from WhatsApp or Facebook (I certainly could not). The lack of traction in Teams consumer is probably Microsoft's biggest disappointment in the Teams story to date. Maybe Manik Gupta, the new boss for Teams consumer appointed in August 2021 hasn't had time to make much of an impact yet.
Five Years of Success
Aside from the miss of Teams consumer, there's not much else to complain about the progress of Teams over the first five years. Some complain that the Electron client still hogs memory, despite Microsoft's ongoing efforts to optimize and improve its internals (the Teams V2 enterprise client based on Edge WebView2 expected later in 2022 should deliver better performance). Others bemoan the lack of an OWA integration in Teams. And there's a long list of other user suggestions for improvements on the Teams feedback portal. You'd expect that when so many people use a software product..
The bottom line is that Teams changed the way many people work. It stopped people sending email for internal communications and made SharePoint Online more accessible and usable, resulting in a dramatic increase in the volume of files stored online. But taking everything into account, the most obvious sign of its success is that journalists commonly include phrases like "Teams meeting" in reports without needing to explain what that means. That's truly impressive.