On the show this week, we talk about a new report from Goldman Sachs on how Generative AI could affect 300 million jobs – and with Microsoft 365 Copilot on the front line, we consider how likely this is. And finally – Microsoft Teams "V2" – the new Teams, has begun appearing in Microsoft 365 tenants. Plus, you can replace your face with an Avatar, use the preview of the Loop App – and Windows 11 might be appearing on your Teams Rooms devices very soon.
The New Teams is available in Preview
After some time waiting, the new Microsoft Teams app is available in preview for Windows desktops and laptops. You can try it yourself by ensuring you have a preview policy assigned, then switching to preview and selecting the toggle in the top left corner; then, after the client downloads the New Teams update and restarts, you'll see the fresh new look. After a short time to cache relevant data, you should hopefully experience the improved performance.
In terms of improved performance – Microsoft is delivering faster start-up times, less memory usage, and overall better performance in this new Windows app. As the app is moving away from the Electron-based app to a combination of native application with WebView2 (as we understand it), this means using web-based views for aspects like rendering video helps provide a big uplift and reduction in the abstraction from the client to the machine itself.
For easier application management, the app is able to be distributed as an MSIX via Intune. If you want to test the new deployment experience and roll it out to users who will participate in early testing, Microsoft provides guidance for this that can be used today.
It's not ready for prime time just yet, as features like third-party or custom apps can't be used yet. We suspect these web-based app features will be available later in the year, around the time that the ability to use Teams apps in the Microsoft 365 portal arrives too, but we don't have any insider info on that. A list of what's not available and known issues is available here.
Naturally, because it is a preview within a preview – and a new code-base, it doesn't have full feature parity with Microsoft Teams, so you will see new features announced at Enterprise Connect that are only available in the current version. However, this early release means you can get a head start on preparing for deployment or evaluating the benefits of the New Teams app.
Read more on the Microsoft Blog and the Tech Community New Teams announcement, and Enterprise Connect Announcements.
Cybersecurity Risk Management for Active Directory
Discover how to prevent and recover from AD attacks through these Cybersecurity Risk Management Solutions.
Turkeys voting for Christmas: Is Generative Artificial Intelligence coming for your job?
Generative AI (in ChatGPT, Microsoft 365 Copilot, and elsewhere) includes the capability to create content like text that is hard to distinguish from something a person wrote and clearly has the potential for productivity improvements.
Therefore concerns about AI coming for our jobs is a common knee-jerk reaction. Given some rational thought, the answer is no, it isn't coming for your job. However, a new research paper suggests it could be coming for some jobs.
In "The Potentially Large Effects of Artificial Intelligence on Economic Growth" by Joseph Briggs and Devesh Kodnani at Goldman Sachs pouts some predicted numbers and industries that are likely to be affected. The key points are:
The equivalent of 300 million jobs could be exposed to automation through generative AI.
Usually, when jobs are lost, new roles arise to replace them, and the researchers feel this will be the case here.
The benefit to productivity is unknown but potentially could provide a 7% increase in global GDP – if generative AI delivers on its promises.
The list of roles that are likely to be automated is fairly wide-reaching, and primarily focused on admin support roles across a range of industries,
The findings are logical, as often clerical support-type roles are created to offload low-value tasks that reduce the productivity of highly skilled workers. And this isn't new – RPA (Robotic Process Automation), OCR (Optical Character Recognition), and Speech-to-text dictation software appeared soon after PCs appeared in offices. As IT professionals, the manta of "automate yourself out of a job every 18 months" should be familiar as we usually don't get assistants to help us perform laborious menial tasks and instead create PowerShell scripts.
On the show this week, we chat more about this topic – and consider where Microsoft 365 Copilot is going to provide value. If you read Tony Redmond's thoughts on Microsoft 365 Copilot, you'll note that Copilot is not expected to be free (especially given Microsoft's investment in training the models), so proving the value will be a crucial task for IT leaders.
One key point we make on the show is – as the benefits are unknown right now, the research should be taken with a pinch of salt. There are other barriers to face with generative AI or Microsoft 365 copilot, ranging from compliance concerns to employee resistance to using the technology itself. Or, fundamentally, people might find that the content created just isn't good enough to justify the uplift versus the time to write a few paragraphs up from notes. For example, it wouldn't be possible to use ChatGPT or Microsoft 365 co-pilot to create this blog post because it's primarily my opinion based on both research and a few decades of experience seeing automation in the workplace.
If there has ever been a time to understand this new disruptive technology though, the time is now as features like AI-generated replies in Viva Sales are now in GA, so prepare yourself by learning the underpinnings by reading and following guides like Working with GPT-4 and ChatGPT models on Azure (preview).
Replace Your Face: Avatars in Microsoft Teams in Preview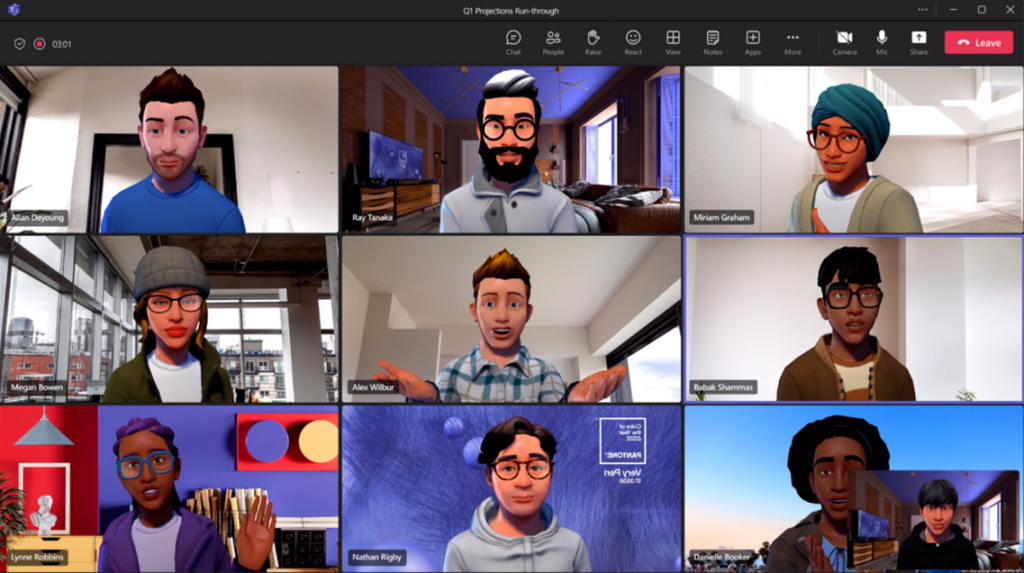 Microsoft's Avatars feature in Microsoft Teams is available in preview. We've talked about Avatars in Teams a few times on the podcast in the past – as it doesn't use your camera, remember to be on guard to press the right buttons to control your virtual puppet in a meeting, so you don't look like you are sitting idly. We know there are some folks who will love this feature, but Paul and I both agree we'll simply keep our cameras off for those meetings where we don't look our best…
Read more on the Microsoft Tech Community
Are you in the Loop? New Loop App reaches preview
Microsoft Loop has been in Teams for some time now, allowing you to create editable content in chat, so that people can work on a single version of the truth – typically for a short period of time, such as during a meeting – avoiding the overhead of creating a new Word document or sharing from OneNote for a simple table or list.
The new Loop app arrives in preview and promises more of what the Fluid framework offers – a modern OLE experience of bringing document content together in re-useable components. The Loop app offers the ability to find and collate your Loop objects together so that the content spread across chats, meetings, and elsewhere doesn't simply get lost somewhere in Microsoft 365.
Like other recent apps new to Microsoft 365, you'll need to enable this for users, however as Loop components are stored in SharePoint and represented in a similar way to Office documents, there should be minimal concerns about compliance or governance/
Read more on Microsoft Tech Community and on the Microsoft Blog
Microsoft Teams Rooms aren't people
It shouldn't be news to you if you have Microsoft Teams Rooms and followed the announcements of Teams Basic and Premium licenses, but you need to be aware that, as promised, Microsoft will begin to enforce restrictions on using user licenses for Microsoft Teams Rooms and Surface Hubs.
As an aside, we don't believe this affects Microsoft Teams Rooms on Android (i.e. Collaboration Bars) that are signed in as a real user and used as a personal device for an individual – this is for the typical scenario where the MTR devices are signed in to Resource Mailboxes.
Read more on the Tech Community
Finally, some highlights from the Microsoft Roadmap
In Microsoft Teams, two roadmap items stand out for attention.
Firstly, the ability for Meeting Participants to rename themselves will be coming in July 2023 to allow people to have "flexible representation" in meetings. The implementation of this will matter, as will the admin controls available because there's always one person who thinks it will be funny to change their name to something inappropriate.
And for those folks who are preparing for Windows 11 and not quite ready yet – perhaps you need to perform a security assessment for certifications like CyberEssentials+ first, for example – to keep an eye on your Microsoft Teams Rooms. Windows-based MTRs that meet hardware requirements for Windows 11 will receive the update, potentially from May 2023 onwards.
Join us in two weeks for the next Practical 365 podcast, episode 25.
Cybersecurity Risk Management for Active Directory
Discover how to prevent and recover from AD attacks through these Cybersecurity Risk Management Solutions.