First Time Delete Warning
Message Center notification MC241752 published on February 26 covers a new "first time delete" warning issued when a user deletes files from a location synchronized with the OneDrive sync client. The notification says that the deployment of the feature is in early March, but I encountered it with build 21.030.0211.0001 of the sync client, now available for Insiders. This is Microsoft 365 roadmap item 70702.
The new warning can be blocked by group policy or by updating the system registry:
HKLM\SOFTWARE\Policies\Microsoft\OneDrive\DisableFirstDeleteDialog ="dword:00000001"
If it's not blocked, the warning pops up (Figure 1) the first time a user deletes some files. Although I have used the OneDrive sync client for years, the "first time" means the first time after updating the client to support the feature. It certainly wasn't the first time I've ever deleted a file in a synchronized location!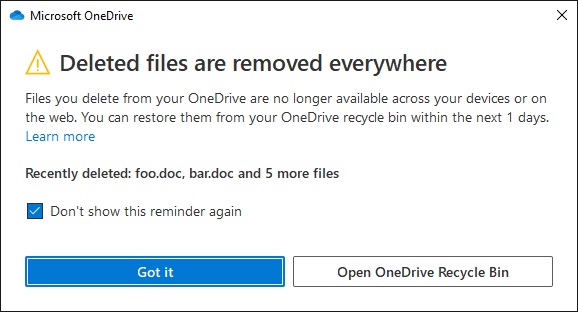 The nagging continues until the user sets the "don't show this reminder again" checkbox. My assumption is that Microsoft's telemetry and support data shows that people have deleted items in the past and haven't known how the OneDrive recycle bin works. The hope must be that users will remember after they're reminded by this warning. This is very possible for the two weeks after someone sees the warning. The question is whether they'll remember thereafter.
Given the Known Folder Move initiative to relocate files from local drives to OneDrive, it's entirely possible that some users are confused when they can't find deleted files in the local recycle bin. In any case, the warning (aka, "helpful hint") is now present.
That 250 GB Limit is for Business Customers Too
When Microsoft announced the increased 250 GB limit for file synchronization in January, some confusion existed whether the limit applied only to OneDrive consumer or to both variants. To clarify, Microsoft issued message center notification MC241870 on February 26 to confirm that it applies to OneDrive for Business (Microsoft 365 roadmap item 70558).
The examples Microsoft gave in January (such as large architectural or design documents) always seemed to be more focused on business rather than consumers. I don't know why Microsoft didn't clarify the situation before now, but at least it's done.