Join myself and Paul Robichaux for this week's latest episode of The Practical 365 podcast and read about everything in the show this week below.
Plus we're joined by Microsoft MVP (and Citrix CTP & VMware vExpert) Theresa Miller to discuss all things VDI with Microsoft 365. We chat about Azure Virtual Desktop, Citrix, VMware and much more, from the point of view of Microsoft 365 IT pros.
This week's biggest stories
First up this week on the show, we discuss the biggest new releases, both into preview and GA in Microsoft 365 and round-up a few announced features that have landed into Microsoft 365 tenants during the last couple of week.
Azure AD Cross-Tenant Collaboration released into Preview
Released into Preview this week, Cross Tenant Collaboration, a new Azure AD feature, allows users across multiple tenants to work more easily together, without some of the limitations of Azure AD B2B (Guest access). This allows relationships to be created between tenants to allow or limit functionality, and is one of the supporting technologies that enable Teams Connect. Scenarios like businesses who have complex structures and requirements like we discussed here will find it most useful. In the podcast we discussed whether this is useful for one-off external people who need to work with your company, or whether it's going to be most appropriate for wider partnerships between companies. We think the most common use case will be the latter.
Read the announcement from Microsoft here
Sending From Email Aliases reaches Public Preview after successful 20-year campaign by customers
We laugh, but it is great news to hear from Microsoft that finally, you can send email from multiple aliases. To be able to do something like this, without additional mailboxes required workarounds like using a Distribution Group with Send-As permissions.
There are caveats highlighted by Microsoft in the article linked below, and for now, this doesn't include the Outlook Desktop client; just Outlook on the Web & Outlook Mobile clients. It is for Exchange Online only (sorry on-premises Exchange orgs) and enabled using Set-OrganizationConfig -SendFromAliasEnabled $True using Exchange Online PowerShell.
Read more on the Exchange Team Blog
Microsoft Teams users can now chat with any Teams user outside their organization
We discuss Microsoft's hopes to bring more people to use Teams in their personal life, and with this new feature, allow Teams work & education users to be able to chat relatively freely with people at home.
One concern is that, with Windows 11 rolling out to capable machines, and launching the home / personal Teams client automatically, you could see people using the wrong Teams client to successfully chat with colleagues; however it is necessary functionality to provide parity with Skype Consumer's ability to chat with Teams Work accounts.
Unclear from Microsoft's announcement was whether this enabled-by-default setting replaced the Skype communications switch. Checking the Teams Admin Center (Figure 1), you'll find the two are separate. The wording "Teams accounts not managed by an organization" is an interesting phrase, because Teams' free versions are branded in so many ways; "Teams for Home" and "Teams for Home with Friends and Family"; Teams for Personal Use, and the small/micro-business Teams Free (Classic).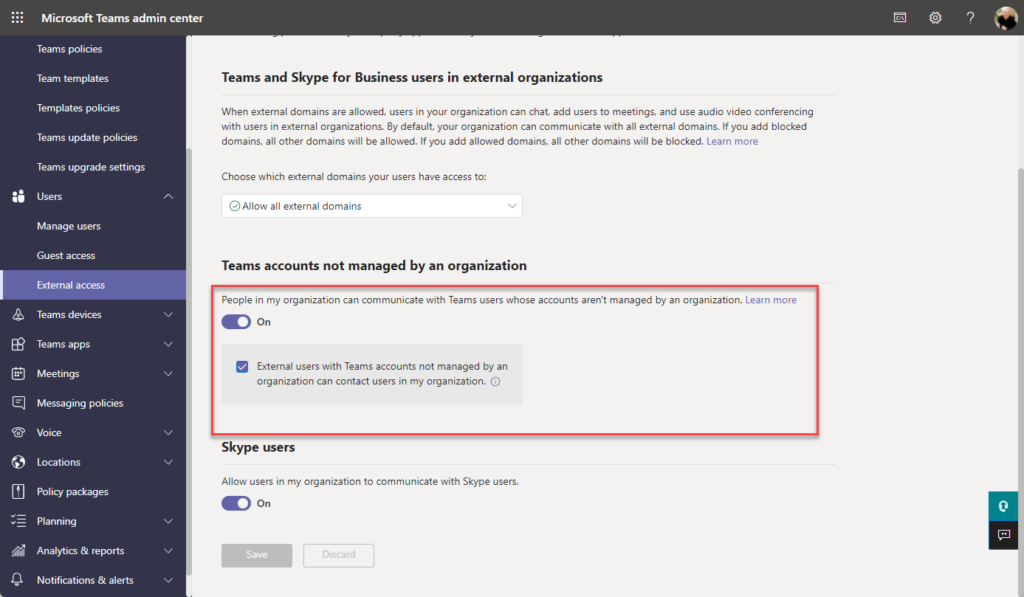 Read more about how you can chat with any Teams User
Introducing MTA-STS for Exchange Online
We discuss this new capability in Exchange Online, that is likely to make it easier for organization who cannot risk mail being delivered via unsecure channels. Those organization today are likely to maintain forced TLS connectors with customer domain names within to mitigate against the risk of opportunistic TLS failing, so this, when widely adopted, will be a great thing. Tony Redmond writes more on the topic below:
"MTA-STS is is a mechanism enabling "mail service providers (SPs) to declare their ability to receive Transport Layer Security (TLS) secure SMTP connections and to specify whether sending SMTP servers should refuse to deliver to MX hosts that do not offer TLS with a trusted server certificate."
Read more from Tony Redmond or on the Exchange Team Blog
Defender for Endpoint with Tunnel for iOS is GA
Microsoft Defender for Endpoint with Tunnel for iOS has been released into general availability, complementing the existing Android capability. This does mean, that as part of Microsoft 365 E3 & Business Premium, you have the ability to roll-out VPN capabilities alongside the zero-touch installation process we discussed on the last episode, when you deploy Intune to mobiles.
You would (or should) have been heartened to hear that deployment of the Azure or on-premises side of Microsoft Tunnel is via a Docker container. However.. don't jump over to Docker Hub just yet expecting an easy installation. A 105 page guide awaits you detailing installation instructions without a single docker pull line within it, and very Microsoft-like guidance for installation, such as:

Read more about the iOS features, and other new Endpoint Manager features from the last month here
Roundup of several new features in Teams
Several roadmap features set for release in Jan have arrived, including custom backgrounds and background blur in Teams via the web, Music Mode in Teams, Mirror My Video and the Front Row (preview) layout in Teams.
And, new Teams video output features, such as hardware output & isolated audio output have launched into preview. You can read more about the new video features in my blog on the topic here.
Microsoft Viva celebrates its first birthday
Celebrating the first anniversary since Viva was announced, Microsoft are keen to highlight some of the key products delivered from the suite since then. We joke that it's a little like celebrating your children's birthday on the date you showed your family the ultrasound scan photo – but it is always great to celebrate an anniversary, so why not?
Microsoft wishes Viva a happy first birthday
Theresa Miller shares her advice and tips for VDI with Microsoft 365
Microsoft MVP Theresa Miller joins us this week to discuss VDI. As a long-time VDI veteran, and Office Apps and Services MVP (and Citrix CTP & VMware vExpert), Theresa is well-placed at the intersection of these technologies to help us understand a little more beyond Microsoft 365, Azure Virtual Desktop and Windows 365 and into the world of thin clients, competing technologies and much more.
We ask:
Microsoft have been putting their weight behind Desktop as a Service with Windows 365, and VDI with Azure Virtual Desktop. Why do you think that is?
What does this mean for other solutions on the market like Citrix XenDesktop & XenDesktop, and VMware Horizon?

Teams VDI support for these platforms in particular; FSLogix support on underlying OS

AVD is coming to Azure Stack HCI. Where does this leave vendors like Citrix & VMware in particular for cloud / on-premises support? What about other vendors, like Nutanix, with their Frame offering? Remo 3, Cameo?
Newcomers to VDI via Windows 365 & AVD may look at Remote Desktop as the entry point, but what are the best thin client platforms or de-facto kit people should be looking at? Is it software vendors like Thinscale? Dell Wyse?
Again, many newcomers to VDI will see Windows 365 from Microsoft, pictures of factory workers with thin clients walking behind heavy machinery and having a great experience. What's you're top tip for success, or biggest problem people don't think about?
Message Center & Roadmap
Finally on the show, we discuss the top message center and roadmap items that have caught our attention over the last two weeks:
Teams app setup policy group assignment
Last time on the show we mentioned that an app setup policy will be created for first line workers by default. Often policies do need some curation for users, especially first line workers, so the ability to create a policy and assign it to a group, rather than individual users, is welcome. We don't believe this requires additional licencing, but watch this space.
Rebrand Privacy Management as Microsoft Priva
Microsoft were at pains to point out in the message center that the new "Priva" brand was announced in November 2021. It was – once, half way through this post, at the bottom of a list. We missed the announcement, even though we have been diligently consuming the firehose of Microsoft 365 news, so don't feel too badly if you did as well.
This will result in initial user interface changes, with Privacy Risk Management and Subject Rights Requests being prefixed with the "Priva" name. We don't know how to pronounce it yet – whether it's the same as Viva, or similar to the pronunciation for "Privacy".
As privacy settings are scattered across Microsoft documentation and various portals, we hope Microsoft may use this opportunity, much like with Viva, to bring together disparate features in the suite so that an IT pro can look in one place to find all privacy settings. No promises from Microsoft on that front – but if they are reading this, we'd love that.
OneDrive and SharePoint: Access your Teams standard and private channel files
Naturally, a user of a Private Channel would not normally understand that the files live within a seperate SharePoint Site Collection, so this new feature, allowing you to navigate (in the web UI, we expect) through to a private channel site collection document library via the "parent" team site will be welcome. This arrives in April 2022.
Office app: Support for add-in metrics on Microsoft 365 Apps health dashboard
And finally – is it Office? Is it Microsoft 365 Apps for Enterprise / Business? We and you all call it Office as do Microsoft in various places too such as this announcement. So, to quote Microsoft the "Microsoft 365 Apps health dashboard" will allow you to see " information about the reliability and performance of COM and VSTO add-ins used by Office apps in your organization" in the Office Apps Admin Center Microsoft 365 Apps admin center. This arrives in March 2022.
Great news – as we discuss, this is a traditionally difficult thing to do, so will be welcomed when you need to troubleshoot issues.
Join us in two weeks for the next episode…