On the latest show, we get into the detail on Microsoft 365 Copilot announcements – what is the Semantic Index, and how does it relate to the content-generation features?
We decipher and dissect where the value in Copilot lies both for a user of the software and for Microsoft. We also discuss the capabilities of more Copilot features announced.
In other news – SharePoint has some really useful features on the way; Loop gets its hooks into Outlook, and.. two big new features in Exchange Server on-premises. Plus there are even a few new Microsoft Teams features coming your way on the roadmap too.
Microsoft Loop Features Announced – Details on the New Components in Email and Teams Chat
First up on the show this week, we discuss Microsoft Loop components making their way to Outlook, Teams, and Planner that support meetings. We've taken these features for a spin and discussed them on the show.
In particular, we consider whether the ability to add editable components in email might cause a few problems; firstly, with well-meaning employees who don't understand the feature completely – for example, drafting content for an agenda over a Teams chat that's then copied in as a Loop component into the email invite; then someone in the original chat adds more content to the agenda which shouldn't have been shared widely. I counter Paul by comparing this to a Modern Attachment, which many folks are now used to using.
Secondly, we wonder how users will discover functionality like this – we hope that Outlook and Teams will auto-add these features to meetings but use sensible defaults. For example, people would not expect a co-presenter to be able to update your meeting agenda, but a co-organizer should be able to.
Task management features inside Loop components are a great new feature – they are a component delivering on Microsoft's vision for meetings; but this also means that clever improvements to Teams that automate the creation of tasks can apply to other modalities too, so that an IM chat can also result in the same results without needing a meeting.
Read more about new Loop features on Microsoft's Tech Community Blog Post
New Capabilities Announced for Microsoft 365 Copilot
The vision for Microsoft 365 Copilot is becoming clearer from Microsoft as more details around the supporting features, technologies, and use cases are demonstrated.
First, we discuss the Semantic Index, which Microsoft plans to roll out to all Microsoft 365 users, indicating it might even replace the Microsoft Search features inside the suite. The Semantic Index is, according to Microsoft, "critical to getting relevant, actionable responses to prompts in Microsoft 365 Copilot". Rather than indexing keywords in documents, emails, chats, and other content, Semantic Index uses an LLM (Large Language Model) to understand the relationships between items and the concept of what they are, meaning search results are more complete and relevant.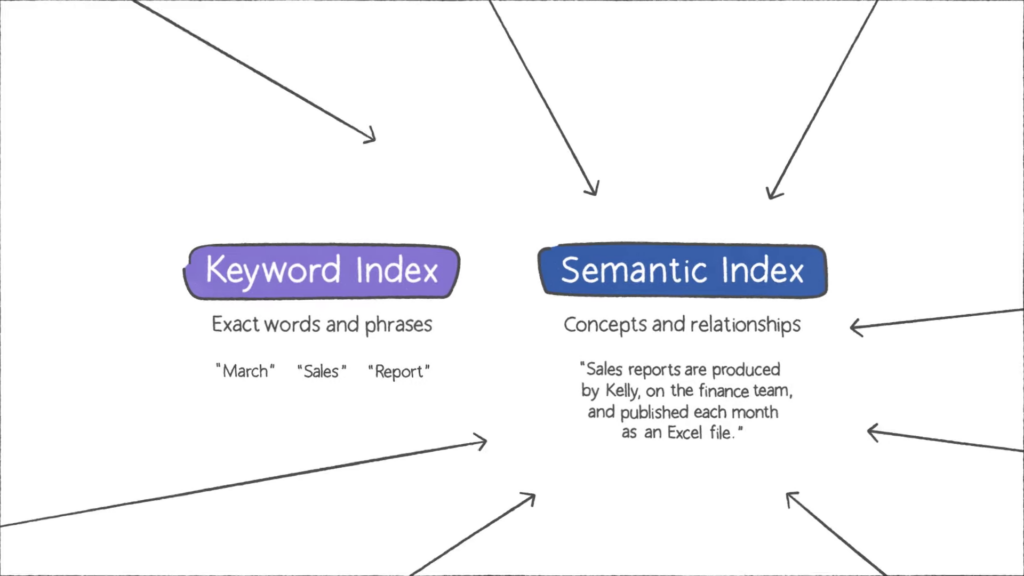 On the show, we discuss how this may form the basis of how Microsoft will separate your data from the OpenAI GPT models used to construct content or perform actions in Microsoft 365; so that you can ask Microsoft 365 Copilot to perform a task relevant to your Microsoft 365 environment and data you have access to.
While it's unlikely to actually be Azure Cognitive Search, it may be based on the same technology and concepts. Today, Microsoft provides code samples for use with OpenAI in Azure that use Cognitive Search to index content and provide a ChatGPT-style experience. In short, the code samples use Azure Cognitive Search and Forms Recogniser to index the content, and when a question is asked, the combined question and the search result (the knowledge) are used to construct the prompt sent to Azure OpenAI's GPT services.
We also take time to think more about Microsoft 365 Copilot and where it is providing value.
Tools like ChatGPT aren't creating unique new thoughts and ideas; they search a similar purpose to analysis tools your business use to interrogate data and present it back in interesting ways. Copilot is providing a similar service using ChatGPT-style capabilities for content generation.
Think about it this way: A lot of the content your business stores has text or images that present content in a way that is easy to consume. Unless it's statistical data, the core of the idea being presented, or the findings could actually be summarised in a few bullet points. Still, these would be hard to read and look unprofessional, so you write content that presents that information in an easy-to-consume way. That content – the padding and filler content is not unique; it's simply stuff you are trained to customize over and over again to fit the business context. Without that context, it is a bit like Kevin's Small Talk from the Office US; and with Copilot, you can be Kevin and let Copilot add the content around the core ideas.
The other part of Copilot highlighted by Microsoft is one that benefits both IT and your business users. According to Microsoft, 90% of the features in PowerPoint aren't used by most people. When they use Copilot to create content, it uses those features, such as adding appropriate animations, speaker notes, design artifacts, and more to PowerPoint (and other documents). If most of your business users are creating content in Office that is passable – but could be created in Office 2007 or Google Workspace, then they aren't getting much value from all the improvements Microsoft has made over the years, and they won't use them because they don't have time to either learn or apply the knowledge. Microsoft and IT benefit from the business seeing more value from Office apps; the business creates content that is better presented and looks more professional.
A stand-out feature that Paul and I discuss will be the Copilot features coming to Microsoft Whiteboard. We discuss how we use Whiteboard to be a flexible canvas for ideas; for example, I spent a lot of time taking the content from a whiteboarding session and then organizing that into themes so I can better map out where Microsoft Cloud technologies will provide value for a customer. Copilot will automate that in Whiteboard and frankly, that will save me a lot of time.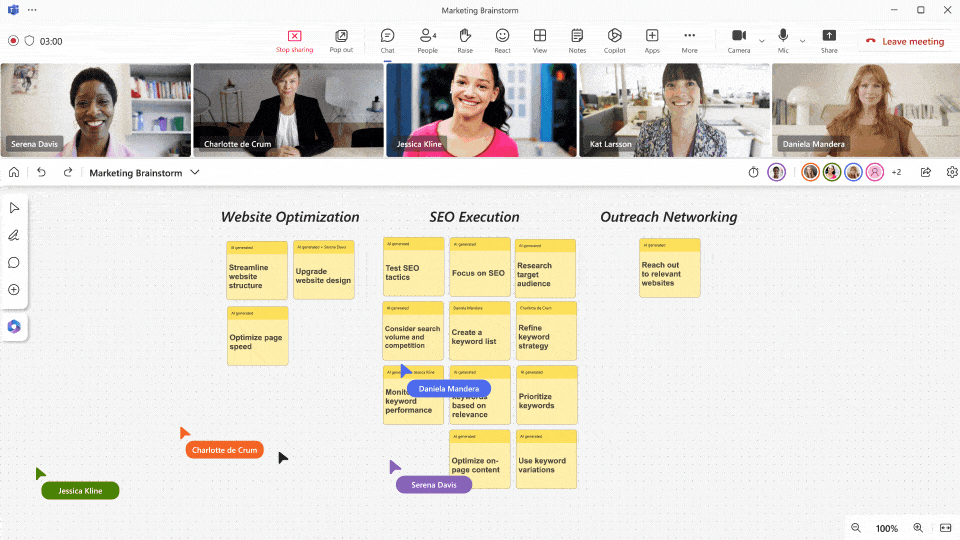 None of this is available today, however. An early access program was announced by Microsoft last week, though, and from looking at roadmap features, such as Design Ideas in SharePoint Online – which are less ground-breaking than some of the new Copilot features for SharePoint Online site design and layout generation – lead us to expect Copilot some time from Summer 2024.
Microsoft's Blog on the Copilot Early Access Program and new Copilot Capabilities in development.
New SharePoint and Microsoft 365 Features Announced in Las Vegas
The SharePoint Online features mentioned above look interesting and will make routine content generation in SharePoint Online intranets easier and make it easy for non-designers to create acceptable designs. Much like the market for AI-driven design tools for marketing professionals, this isn't likely to produce better content than a decent graphic designer, and certainly not something genuinely unique – but it will definitely make a design that follows current trends easier to create in scenarios where the content would otherwise look bland.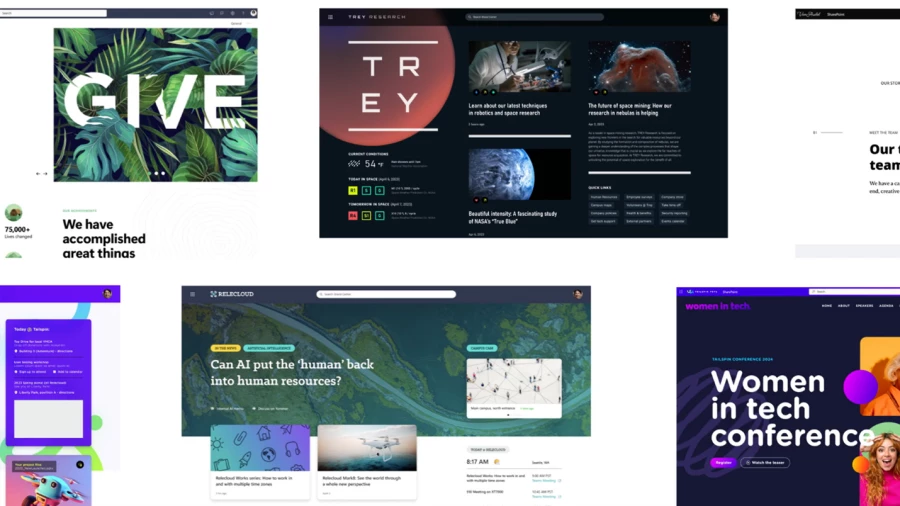 In other SharePoint and OneDrive news, OneDrive gets a new prettier look and feel; Microsoft has been moving away from the simple design aesthetic Metro heralded over the last few years towards the Fluent design, and this is an evolution of that, adding back elements that make OneDrive prettier.
For admins, new SharePoint features are announced that will avoid another "Delve" problem with content discovered by Copilot – governance features, including Oversharing policies.
Tenant-to-tenant migrations for particular use cases are coming too, with a preview program announced at the independent Microsoft 365 Conference a week ago. This appears suited to some M&A (Mergers and Acquisitions) scenarios where you want to move SharePoint site collections between tenants. This move rather than copy approach is similar to Exchange Online's tenant migration functionality in concept, or the capabilities in Multi-Geo; useful features like old links will work; however, we don't see this being suitable for all because most tenant migrations include an element of content re-organization or a need to leave content behind, such as when divesting a business unit.
Microsoft's blog post on new SharePoint Online and OneDrive features
Finally, for SharePoint Online – Microsoft Lists gets forms and performance updates, templates, and built-in automation features:
Read more about Microsoft Lists announcements on the Tech Community
Modern Authentication for On-Premises Only Arrives in the 2023 H1 Cumulative Update for Exchange Server
A long-awaited feature for some, the 2023 H1 Cumulative Update provides new features allowing Modern Authentication against on-premises-only environments. This requires ADFS, and it's worth noting that HMA (Hybrid Modern Authentication) is still recommended if you want Modern Auth; this isn't recommended for Hybrid Environments and only support AD FS 2019. As of today, this requires Outlook on the Current Channel with on-premises-only functionality coming to Office LTSC 2021 by the end of June 2023.
Of more use to anyone running Exchange On-Premises in any medium to complex environment – Config Backup has been introduced. This allows backup and restore of 71 .config files during the upgrade process and will be welcomed by many and simplify Exchange patching for some quite significantly.
Read more about the Exchange Server 2023 H1 Cumulative Update on the Exchange Team Blog
Microsoft 365 Roadmap Items you can't Miss
We have a few items worthy of note that appeared on the Microsoft 365 Roadmap over the last two weeks:
SharePoint News In Outlook will automate the process of sending news posts in SharePoint Intranets to employees via email. This will include email templates to ensure good formatting when viewed in Outlook and unified page analytics so that news posts read in Outlook rather than on the intranet will be summarised as one single number of page interactions. Expect this in July 2023.
Central branding for SharePoint intranets is a feature that non-SharePoint intranet admins might expect as a core feature that was sadly missing. This isn't coming immediately, though, and will arrive this December 2023.
Design Ideas in SharePoint was mentioned briefly above; coming January 2024, this is designed to provide a similar capability to design ideas in PowerPoint; we think this will be a feature that Microsoft 365 Copilot uses to automate content creation in SharePoint Online pages, but also will make it easier for intranet authors to create more professional looking page layouts.
Microsoft Teams Displays have two features coming this June 2023 – firstly, the capability to use a Teams Display as a virtual front desk; not only for calling someone if the reception is left unattended but also to provide "personalized assistance" to customers and guests. And for Teams Displays that are used for hot-desking – i.e., the larger devices that can act as docking station-style devices, QR-code-based sign-in is on the way. We suspect these features will contribute to the overall value proposition of Microsoft Places.
Join us in two weeks' time for the next show.
Microsoft Platform Migration Planning and Consolidation
Simplify migration planning, overcome migration challenges, and finish projects faster while minimizing the costs, risks and disruptions to users.