Important to Some, Not to Others
When Microsoft launched its Viva initiative in February, it supplied an initial version of the Viva Insights app for Teams which essentially mimicked what was already available to users through MyAnalytics. At the time, Microsoft promised that it would update the app with several wellbeing features. Promised in message center notification MC243209, the wellbeing features appear in version 1.4 of the Insights app for Teams, now appearing in tenants.
Later this year, Microsoft expects that "guided meditations from Headspace will be integrated into the virtual commute as well as the Home tab of the Viva Insights app to help you mindfully disconnect from work in the evening, relax your mind before a big meeting, or find focus before starting an important project." The prospect of guided meditations is enough to make anyone go weak at the knees.
Users need to have an Exchange Online mailbox to use Insights. The reason why is simple. Insights stored the data it needs in a user's mailbox. Without a mailbox, no data is available.
To hear more about Microsoft's thinking about Viva Insights, listen to this Practical 365 podcast featuring Microsoft's Kamal Janardhan. Viva Topics, an important part of Microsoft's Viva program, is covered in this two-part series.
Virtual Commute and Taking a Break
For now, the latest update delivers a new Home tab (Figure 1), featuring:
Virtual Commute feature to help "you mindfully wrap up your workdays."
A "Reflect" feature to help people reflect on how they are currently feeling and to track feelings over time.
"Take a break" by playing a video with a breathing exercise to help people relax.
Send praise to co-workers.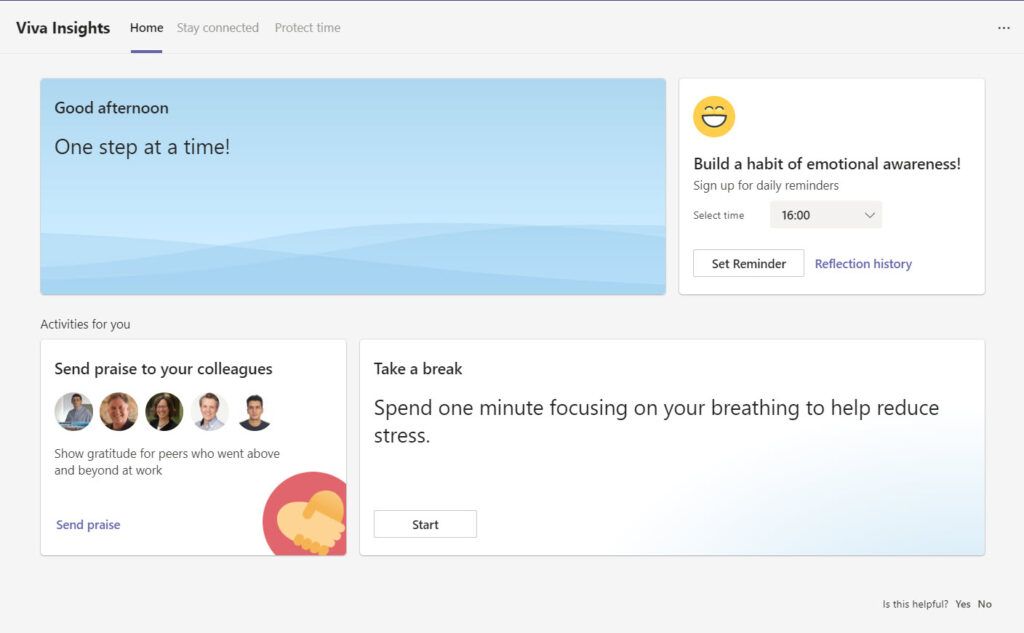 Your view of the value or otherwise of features like these probably depends on your personal attitude to wellbeing. Some consider the features to be very important and helpful in terms of assisting people to cope with the stress and strains of modern life, especially in the context of an ongoing pandemic. Others will wonder why Microsoft dedicates valuable engineering effort to something like Viva Insights when more important work needs to be done, like fixing the way Teams deals with disabled Azure AD accounts or making sure that audit logs hold consistent, accurate data.
Praising Co-Workers
The Teams Praise app appeared in 2019 and allowed people to send badged messages to others via chats or channel messages. Microsoft upgraded Praise in 2020 by adding the ability for organizations to create customized badges. Now you can send praise to co-workers through the Viva Insights app (Figure 2).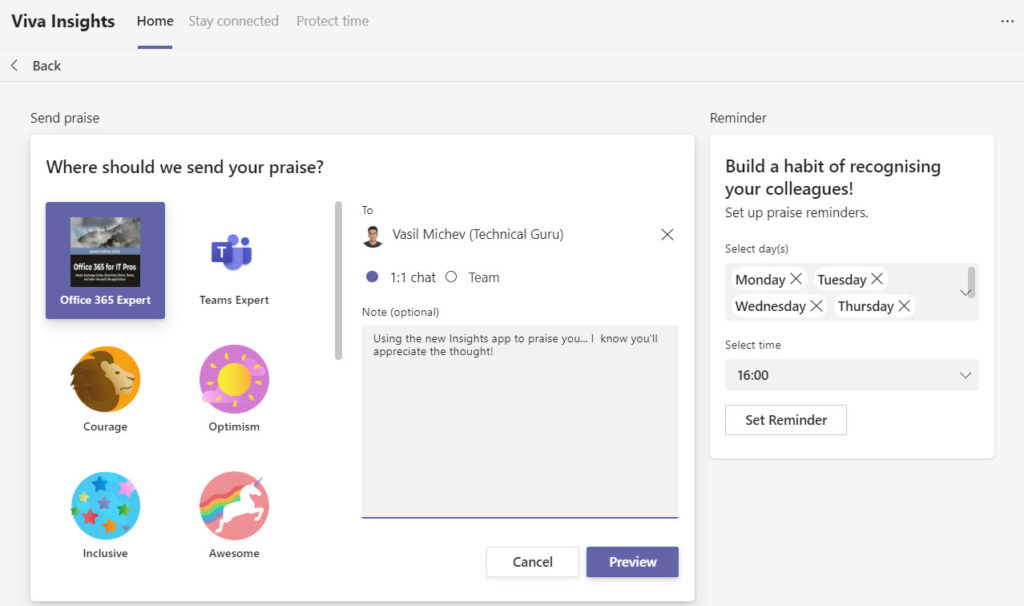 This is no more than an incorporation of the Praise app into Viva insights. You can only send praise to tenant users, even if guest and external users are important contributors to your work. It's an odd oversight to exclude guests because tenant users can send praise to guest users in both chat and channel conversations.
Taking a Break
When you choose to take a break, Viva Insights plays a video (Figure 3) designed to help you relax by focusing on your breathing. Similar exercises are commonly used to help people relieve stress, and I guess the idea is that you can do the exercise while sitting at your desk.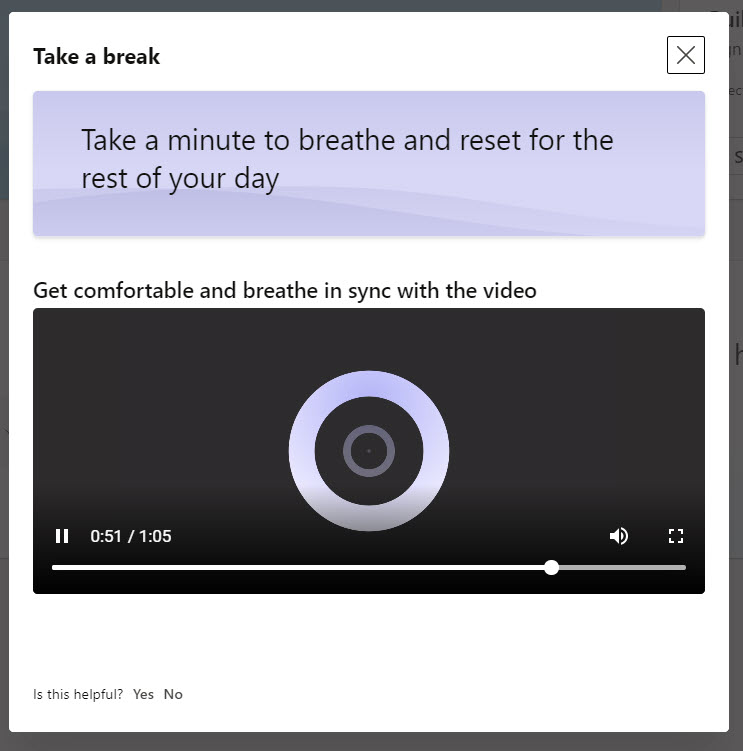 Reflection
The Reflect feature requires users to choose an icon to note how they currently feel. You can set a reminder up to note your feelings at the same time daily, which then surfaces in the Teams activity feed (Figure 4).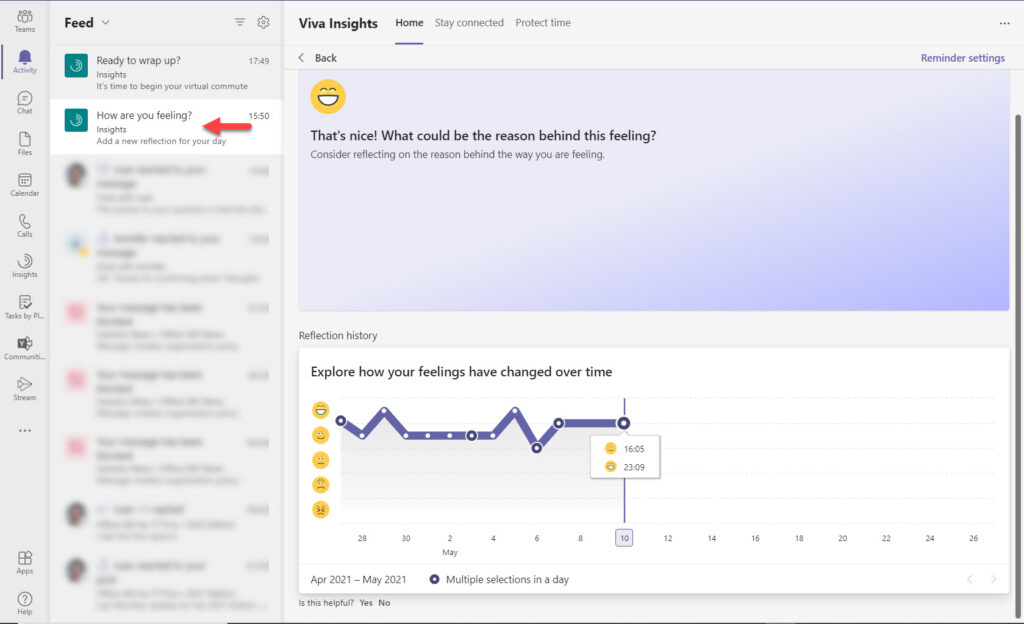 Over time, you build up a history of your feelings, which might then help you to understand why you feel a certain way at specific times. The logical progression is that you can then take remedial action to improve your mood when you might expect to feel bad. Enough said.
Virtual Commute
When working in the office, people often take a few minutes at the end of the day to summarize what's been done during the day and prepare for tomorrow. Virtual commute does something of the same by posting a reminder in your activity feed when it's time to go home. The virtual commute involves:
Noting what tasks (stored in To Do) the user has finished and which tasks scheduled for today remain incomplete (Figure 5). The tasks seem to all come from To Do and Planner tasks assigned to the user are not included, even if due today.
Allow the user to add tasks for tomorrow.
Give the user an overview of tomorrow's diary (Figure 6).
Add a final reflection on your feelings.
Take a one-minute pause before leaving work.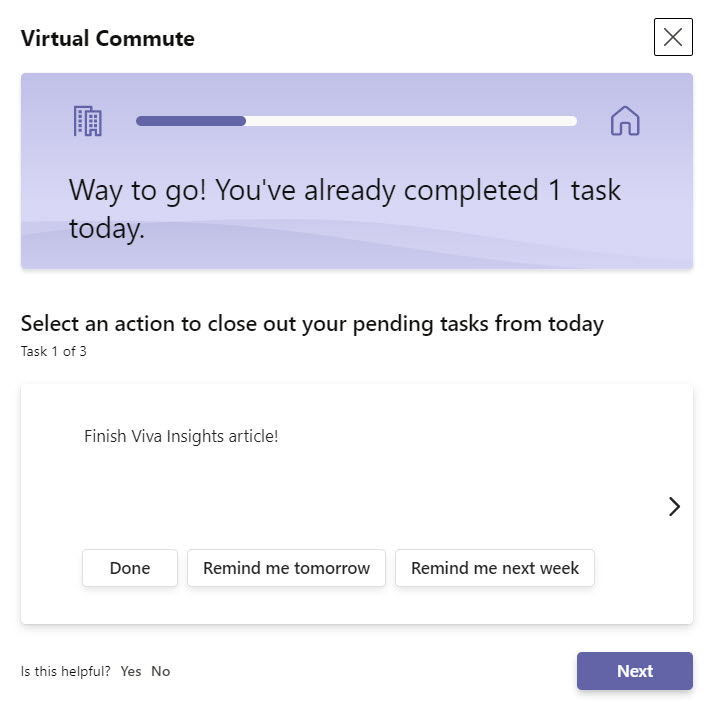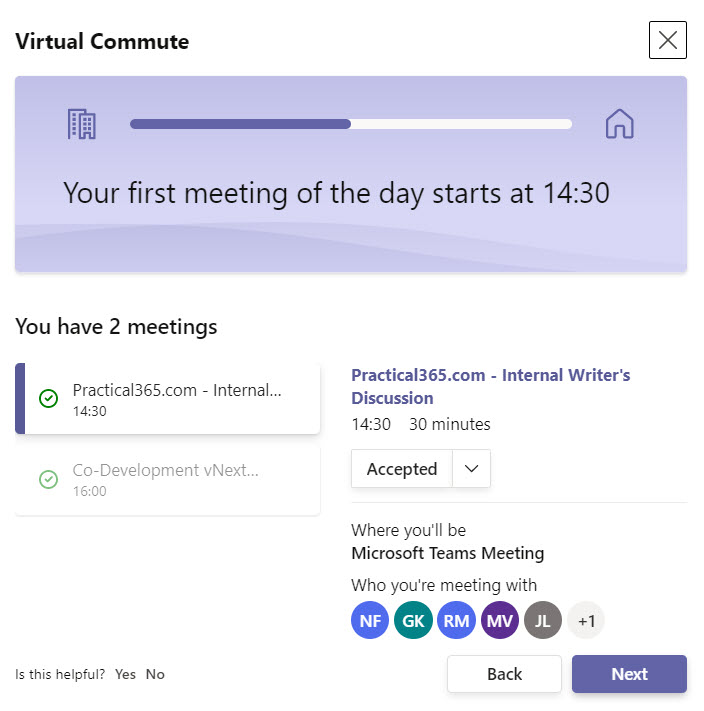 Collectively, this is what Microsoft refers to as mindfully disconnecting from work. Of course, signing off with Insights doesn't stop people from calling, emailing, or contacting you later. For that to stop, you'll have to power off your devices.
Will People Use Insights
I confess to have conflicting feelings about Viva Insights. I like the technology used to calculate the insights but I'm not sure that I will use this app daily. Perhaps it's because I have deep grained habits built up over 40+ years of work which successfully resist change. Maybe it's because I don't like the determined cheerfulness of the app. But I am not the target audience Microsoft designed the app for, so my opinion counts for naught.
Above all, Viva Insights is an intensely personal app. Try it to see if it adds value for you. If it does, great. If not, there is a world of other apps to explore.
There are different ways an admin can help promote a well-being mindset in their organization without platforms like Viva, using existing technology – we walk you through how to implement a timed "Right to Disconnect" disclaimer with Azure automation in this article.