Mentioning Copilot Becomes Compulsory at Ignite 2023

The Microsoft Ignite 2023 conference got going today in Seattle with the normal mixture of hype, marketing blitz, and some product news. The big theme is Copilot, which has replaced AI as the term du jour in Microsoft product announcements with nearly three hundred mentions included in the "Book of News" made available to the press. The range extends from Copilot in Microsoft Fabric to Microsoft Copilot for Azure Integration in Azure Cosmos DB to Microsoft 365 Copilot (and all its variants in Office apps, Teams, etc.). Satya Nadella hailed "the age of Copilot" and said that "Copilot will be the new UI" during his opening keynote. Over 100 announcements of enhancements to products using the Copilot stack (Figure 1) will be made at Ignite 2023.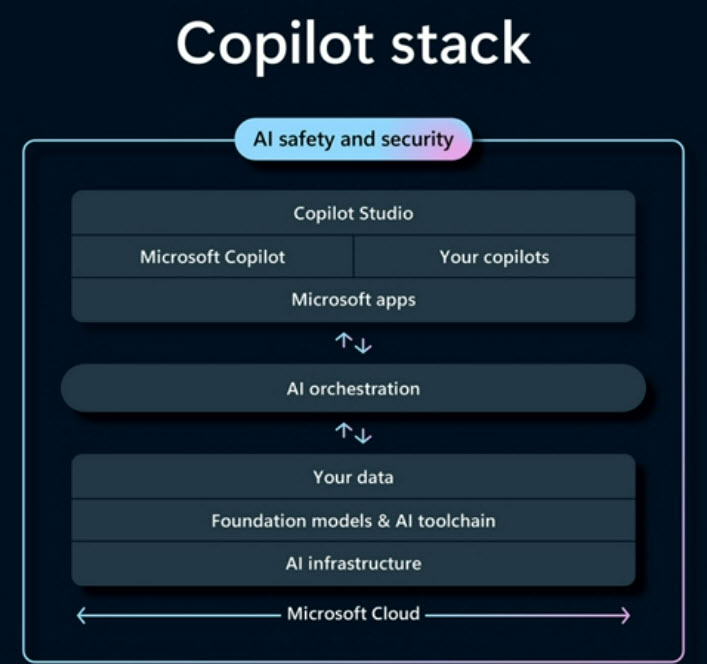 In truth, the barrage of Copilot was expected. Microsoft is investing heavily in datacenters ($10.7 billion in Q4 FY23) to handle the expected load generated by AI-powered transactions. That cost must be recouped through product sales. Where Microsoft Sales encouraged customers to move from Office 365 to Microsoft 365 SKUs, now the pressure is on to upgrade through Copilot licenses.
Microsoft obviously hopes to move a sizeable chunk of the 400 million paid Office 365 seats to Microsoft 365 and Copilot over the coming years and generate an extra $600 or so annually per user ($240 to upgrade to Microsoft 365, $360 for Copilot). If they convince customers to upgrade 10 million seats, Microsoft can generate an additional $6 billion in annual revenue. Microsoft obviously hopes that more customers will move, so you can understand their interest in pushing Copilot at every opportunity.
A Marketing Event
Anyone interested in maximizing their use of today's technology might be disappointed by the Ignite session catalog. Unlike the "old days" of TechEd and early Ignite events, there's relatively poor coverage for IT Pros in terms of achieving a deep understanding of how current technology works. Instead, Ignite is a marketing-driven event designed to paint the future of technology IT Pros might have to manage in a year or so.
There's some value in listening and learning about the messages Microsoft projects to its customers, and it's worthwhile watching some of the recorded Ignite sessions to lay a foundation for technology that's coming, so do take the time to browse the online session catalog to see if you can find any jewels.
Microsoft 365 Product News from Ignite
Ignite covers much more than Microsoft 36. The announcements of the Azure Cobalt 100 chip and hollow core fiber are examples of datacenter technology that power cloud services that are good to know about but possibly not essential knowledge for the average tenant administrator. Here's what I found interesting in the blizzard of Microsoft 365 information released by Microsoft:
Microsoft 365 Copilot depends heavily on the quality of information stored in SharePoint Online and OneDrive for Business. A new offering called SharePoint Premium is coming to help customers "get content ready for Copilot." This seems like a rebranding of Syntex and Microsoft SharePoint advanced management plus services like Microsoft 365 backup and Microsoft 365 archive, but we'll know more as features appear.
The Microsoft Loop app is generally available. This means that license enforcement starts and only those with Microsoft 365 E3/E5 and Business Standard/Premium licenses can create new workspaces. Microsoft says that it will be possible to create a workspace in Teams from the end of 2023.
Microsoft Designer is due to arrive in Microsoft 365 apps like Teams where it will be used to generate images like those used for announcement posts in channels.
Copilot (formerly Bing Chat Enterprise) will be available to users with F3 licenses.
Planner will become the new name for a unification of Microsoft task management apps in 2024. The effort will combine To Do, Planner, and Project, with the first debut in a refreshed Planner app in Teams in early 2024 followed by web "experiences" later.
This is an effort that's not before time. The mix of To Do, Planner, and Project made sense to some who worked with the different applications but confused many. It will be interesting to see how the unification proceeds and what functionality will be available at different levels. For instance, will it be possible to start off with a personal task created in Outlook and "upgrade" it to become a task in a complex multi-phase project plan of the type currently managed through Microsoft Project? We'll see in time.
Some of the features announced for Teams, like forwarding of chats, using Loop components in channel messages, and the new Teams web client for Windows and macOS have been flagged in Microsoft 365 message center notifications. Others like voice isolation in meetings and calls (AI-powered noise suppression) and the ability to give a group chat a profile picture are news. As normal with Teams, wait a day or so and there'll be more new features to discuss. The new Teams client is the vehicle for delivery of all the new features, which is a not-so-subtle prompt to move before Microsoft removes the classic client in March 2024.
Teams Phone gets its own set of enhancements like simplified deployment with shared calling.
Interestingly, Copilot in Teams can work without transcription if the meeting organizer enables the feature. Transcription generates content for Copilot to work with, such as creating a summary of a call. I can see why some meetings might be too sensitive for the participants to want to have a transcription, and when transcription is disabled Copilot is still able to generate some notes and tasks without having the full-blown meeting recap. I assume this is done by connecting a bot to the call to 'listen in' and capture information without transcription.
Security Copilot in Purview
Microsoft says that they will embed Security Copilot into Purview compliance solutions to help administrators deal with high volumes of security and compliance alerts. I think a lot of value can be gained here, especially in dealing with alerts generated by DLP scanning of endpoints (workstations).
They also said that administrators will be able to use Copilot to generate eDiscovery search queries to improve the accuracy of the queries. Sounds good. I shall look forward to testing these capabilities when available.
Entra ID
For Entra ID, Microsoft discussed the managed conditional access policies that are due to roll out soon. One thing they didn't talk about is the replacement of per-user multi-factor authentication (MFA) with conditional access policies. This doesn't sound too bad until you realize that per-user MFA is currently free with Office 365 E3 and above while managing MFA access through conditional access policies requires user accounts to have Entra ID Premium P1 licenses. The support available in the MSOL PowerShell module to configure per-user MFA is going away with the deprecation of the MSOL module (the cmdlets might continue to work, but for how long?) and replacement cmdlets are not in the Microsoft Graph PowerShell SDK. The big hint to customers is to get with the program and embrace conditional access policies.
Also in the MFA arena, Microsoft said that the Authenticator app will support passkeys in early 2024. Passkeys are positioned as phishing-resistant strong credentials like FIDO2 keys. Introducing passkeys is part of Microsoft's initiative to introduce stronger authentication methods for MFA to replace older and more vulnerable methods like SMS messages.
Lots More to Learn
Like any Ignite conference, there's lots more to discover and learn about by parsing the text in the blog posts, attending the breakout sessions and keynotes (available online), browsing the book of news, or listening to opinions voiced on social media. One thing's for sure: treat the information as interesting but unconfirmed until you see the software working in your tenant. That might not happen until the module of 2024 as software delivery schedules can and do slip, even in the AI-powered Microsoft cloud.
TEC Talk: 5 Steps to Embark on Your Zero Trust Journey with Microsoft 365
Join Microsoft's Jeff Bley and Adwoa Boateng-Kwakye's FREE Webinar on Nov. 30th @ 11 AM EST