Microsoft Office Met the Cloud in NYC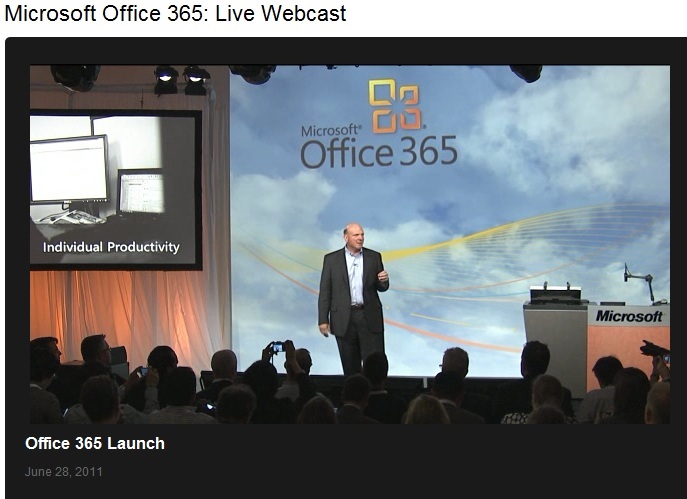 Ten years ago, on June 28, 2011, Microsoft CEO Steve Ballmer launched Office 365 at an event in New York City, saying it was when "Microsoft Office meets the cloud." Microsoft launched Office 365 in 40 countries as a combination of Exchange Online, SharePoint Online, and Lync Communications Server, all wrapped up with some administration software to handle tenant creation, management, and billing. At the time, I called the announcement "moderately interesting." I might just have been wrong.
Building from BPOS
Office 365 wasn't Microsoft's first foray into cloud Office systems. Going back to 2007, the much maligned and unreliable Business Productivity Online Services (BPOS) was the first formal launch of a managed cloud service from Microsoft. BPOS used the 2007-generation servers while Office 365 launched based on the 2010 generation. In the early days, the cloud versions of Exchange and SharePoint were very close to their on-premises counterparts. That changed long ago, and very different software is used today on-premises and in the cloud.
The transformation of mildly-cloudified versions of on-premises servers to cloud services required huge engineering effort to make it possible to run Office 365 workloads at global scale, including multi-geo capabilities for some but not all workloads. Attention to hardware engineering allowed Microsoft to drive down the cost of delivering the service too.
The software engineering was accompanied by a massive investment in datacenters around the world together with the deployment of the Microsoft datacenter network and thousands of local access points to bring user data into the datacenter network.
Cloud Competition
Microsoft had no choice but to get into cloud Office services. Google Apps was taking business from Office and Microsoft had to respond. At the time, it seemed like Microsoft's on-premises heritage was an anchor dragging Office 365 back. Google could innovate as they liked without the need to consider how to bring older systems forward or deal with the complexities of hybrid deployments. As it turns out, Microsoft did an excellent job of transforming their installed base into cloud subscribers to a point where Microsoft now claims almost 300 million paid seats (FY21 Q3 results briefing), including 200 million daily active users of SharePoint Online and 145 million for Teams.
The competitive landscape is very different now. Google Workplace is the current iteration of Google Apps (and then G Suite) and it is successful in some markets, but we don't hear of many organizations moving from Office 365 to Google. Facebook at Work hasn't been successful either. As it turns out, having a big installed base is a really nice foundation for growth and continued success.
Viva the Substrate and Groups
Exchange Online has prospered in the cloud and is the underpinning of the Microsoft 365 substrate. The importance of the substrate to common services like search, compliance, and artificial intelligence continues to grow. It's an unheralded, unappreciated, but critically important unifying force within Office 365. New services like Viva Topics and Microsoft Search couldn't work like they do without the substrate.
Microsoft 365 Groups is another important cross-workload connector. Originally designated as a better form of distribution list, the mission for Groups changed to become an identity and management service for applications like Teams, Planner, and Yammer. Its connection to Azure AD B2B collaboration enables guest access to many Office 365 resources. While successful since its introduction in 2016, guest accounts are not particularly easy to manage in many respects, and the signs from developments like Teams shared channels are that external federation, which don't use guest accounts, might be more important to future inter-tenant collaboration.
The Mailbox Replication Service (MRS) is another unknown critical cloud component. At this point, MRS has moved literally billions of mailboxes from on-premises servers to the cloud and between servers in Exchange Online. Being able to move mailboxes quickly and reliably gave Office 365 momentum that it hasn't looked back on since.
Teams, Teams, and more Teams
Teams is the poster child for Office 365 (or Microsoft 365). The application doesn't exist on-premises and couldn't run (practically) on-premises due to the number of Azure microservices and other dependencies Teams has. Developed by Microsoft after they declined to attempt to buy Slack, Teams is the success that Yammer was hyped to be but never was. The two applications mark the opposite ends of Office 365: Teams succeeded because Microsoft built it from scratch to fully embrace the entire ecosystem; Microsoft bought Yammer for a reasonable $1.2 billion in 2012 but failed to integrate Yammer with the rest of the ecosystem and paid the price in terms of customer acceptance.
Financial Success
Microsoft hasn't increased the prices for its basic Office 365 plans since 2011. What it has done to increase the average revenue per user (ARPU) is focus on upselling to more expensive plans or add-ons to unlock additional functionality. In addition, the successful coupling of Office 365 to Microsoft 365 allowed Microsoft to sell Microsoft 365 plans to replace Office 365. Customers gain through the extra functionality, but they pay for it.
Microsoft's FY11 Q4 results following the launch of Office 365 reported net revenue of $17.37 billion. Their FY21 Q3 results reported revenues of $41.7 billion. In 2011, Microsoft's profit sources were Windows servers, Office 2010, and Windows 7. Now, it's all about the Microsoft cloud with an annualized revenue run rate of over $60 billion. The transformation of Microsoft is complete.
Cloud Ups and Downs
On-premises customers notice that they are now the great unwashed. Few new features arrive for on-premises servers. That trend will worsen. I can't see Microsoft adding any significant new feature to on-premises servers over the next few years. It's just not in their interest anymore.
On the other hand, cloud customers continue to get lots of new features, sometimes too many in too short a time to keep track of and manage. The quality of some updates issued for Office 365 has caused some customers to ask if Microsoft is going too fast. Maybe pausing would allow everyone to breathe in and stabilize, but after ten years of rapid-fire updates perhaps we're now addicted to constant change?
Change in the way we work and our expectations of how software works is above all what Office 365 has delivered over ten years. Here's looking forward to what happens in the next decade.