Exchange Updates
On the show today we talk about the latest Exchange Server updates that are essential for you to begin deployment today, whether you use them as email servers, or for Hybrid management. These patch new vulnerabilities that have been found in addition to March's updates due to the HAFNIUM exploit.
And the FBI have been on a mission to search for and remove webshells deployed to Exchange Servers left unpatched after HAFNIUM – and apparently this includes a significant number of machines. This is based on a US court order, and only includes machines in the USA, and is in effect a search and seizure warrant for collecting evidence of the crimes that have been committed. What is especially worrying is despite the big outreach and publicity to the patches, some organizations clearly have not been listening. The April updates patch the new issues, and the March ones – so get updating.
Microsoft Patches Four More Exchange Server Vulnerabilities as the FBI Moves to Clean Infected Servers
Released: April 2021 Exchange Server Security Updates
Teams Webinars
Teams Webinars may replace Live Events eventually for some or all meetings. This update is rolling out now and allows users to schedule a webinar type meeting that has a custom registration page with email confirmation. Read Tony's article on Teams webinars below or hear about the feature in the podcast.
Teams Meetings Get Webinar Capability
Microsoft Relaunches Teams Pro Service Plan to Office 365 and Microsoft 365 Tenants
The Teams Pro service plan will arrive in tenants soon. We talk about how this will appear and in what licence levels, and it seems this will show within the licence itself as a Service Plan you can enable or disable. Read more in Tony's blog below.
Microsoft Relaunches Teams Pro Service Plan to Office 365 and Microsoft 365 Tenants
Teams Meeting Rooms on Android gets big updates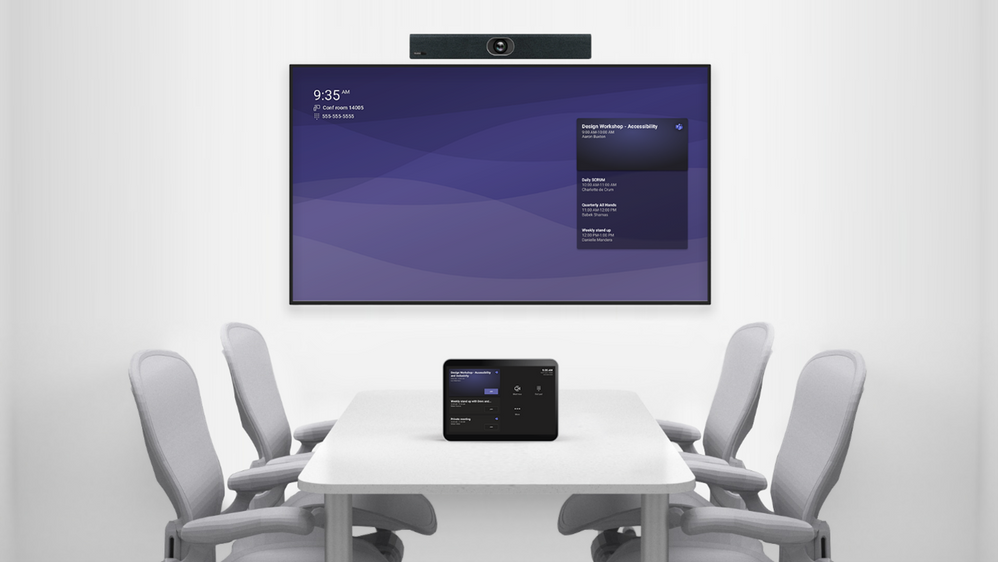 Microsoft Teams Rooms on Windows and Android (the latter being formally known as Collaboration Bars) are getting closer to feature parity. The MTR Android updates includes in-room touch consoles, a better display for upcoming meetings and a personal mode, for those lucky enough to have a Room System in their office or home, so that features like background effects and whiteboards can be used.
Microsoft Teams Rooms on Android Updates for April
OneDrive 64-bit sync client is in Public Preview
You could be mistaken for not knowing that the OneDrive sync client on Windows isn't 64-bit – it is 32-bit. The preview of the 64-bit client has arrived, and when it rolls out into general availability will replace the 32-bit client completely. Use it now if you want to test it's performance in scenarios that it's designed to work better than the 32-bit version in, such as when syncing large files.
OneDrive sync 64-bit for Windows now in public preview
Patrick van Bemmelen joins us to discuss Information Barriers
Patrick joins us on the show this week to talk about Information Barriers. This has been around for a while in Office 365 and Microsoft 365 E5 plans for Teams, and extends now to OneDrive and SharePoint Online. In essence, it allows you to define rules to block internal sharing between different groups of users. We discuss use-cases for it, including where Patrick has rolled it out to his customers, and limitations to be aware of.
On the Roadmap and Rolling Out
Finally, we talk about interesting and important items on the Roadmap and in the Message Center:
Org-wide backgrounds are coming to Teams in preview and launching July. These will require an advanced communications licence and allow you to provide backgrounds that users can choose in the Teams client as part of the background effects feature.
Custom backgrounds are coming to iOS and Android. Launching now (April) for iOS and rolling out by mid-May for Android, you will be able to choose a custom background for your video from your camera roll on device. This will be governed by the same policies as Background Effects on the Teams desktop clientss.
Teams meetings will get a meeting ID code for joining. Much like the conference numbers of old, or Zoom, you can provide a meeting ID to participants who don't have access to a Calendar invite or email to join a Teams meeting.
Microsoft Information Protection's labelling capabilities for Exchange Online get improvements, allowing auto-labelling based on sender, recipient, subject or header matches. This is an improvement on the current functionality that requires scanning for sensitive content, and will be available this month (April).
And finally – both for the podcast this week, and in general, Outlook Mobile gets access to Delegate Mailboxes. Often PAs use delegate access to send on behalf of or access a manager's mailbox; similar in concept to Shared Mailboxes, these will now be available on mobile. This rolls out late April, and should be complete in May.