Moving from Publication to Use
In the first article of this two-part series, I describe the process I went through to use the AI-powered Viva Topics to generate a bunch of suggested topics after scanning over 20,000 documents. I also cover the review and publication process used to take topics through to the point where applications can reveal topics to uses.
After looking at how apps highlight topics, I'll move to considering how valuable Viva Topics might be to your organization. The money question is always left to last. Let's start by figuring out how to expose the knowledge curated so carefully following the exertions of the AI to find and analysis documents.
Searching for Topics
Initially, the only places topics showed up were in SharePoint Online modern pages, news items, and Microsoft 365 Search. Figure 1 shows what happened when I searched for Office 365. Remember, search (and Viva Topics) only ever exposes information to users that they are entitled to see (just like Delve).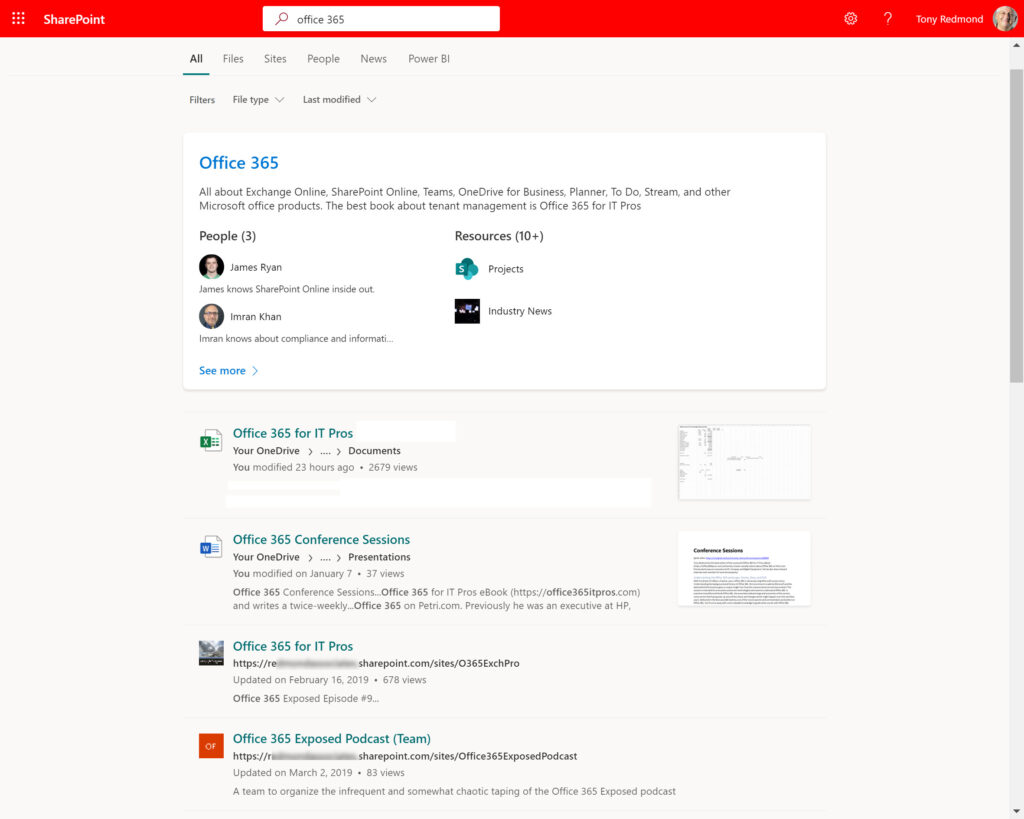 If the AI isn't sure about a resource (like a document where it's found a reference to a topic or a person connected to a topic), Topics prompts people for their opinion whether the link is good. In Figure 2, we see that a search for MRS results in a topic card and the user is asked to confirm if it's reasonable to connect the person listed to the topic. The idea is that the extra input gathered helps to build out the accuracy of the information presented to users over time.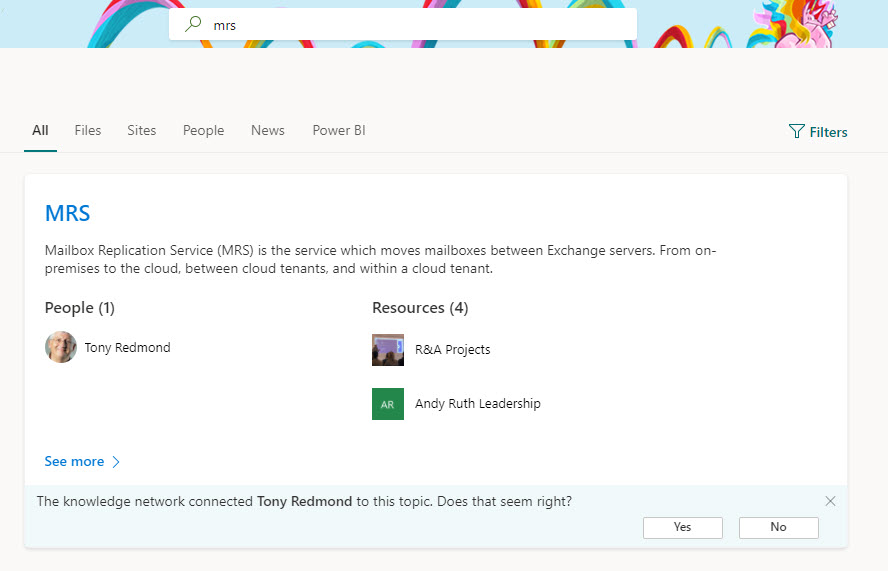 Clicking the See more link opens the topic page. Apart from a list of suggested documents relevant to the topic, the page also includes links to relevant SharePoint sites. Users can also comment on the page with the comments delivered to @ mentioned people via email.
Topics in the News
Topic cards also appear in SharePoint Online news posts. Users can explicitly add topics when composing the text of a news item or leave it to SharePoint to highlight topics when users view the item. To insert an explicit reference, type the hash sign (#) and a couple of characters to see available terms (Figure 3). Select a term and it's inserted into the text.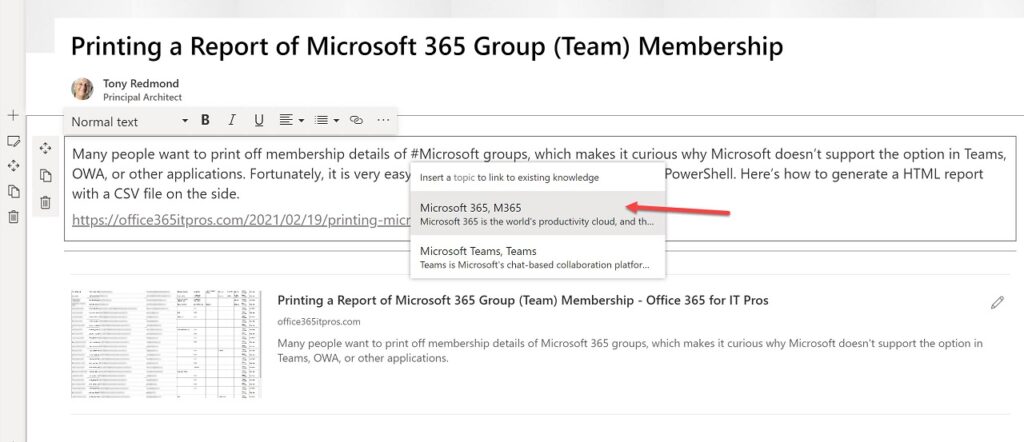 In Figure 4 we see the news item after publication. While we explicitly called out a topic that we wanted to highlight to readers, SharePoint Online analyzed the text and found some additional topics. All the topics are underlined to highlight that some extra information is available and hovering over a topic reveals its card. Ideally, the information shown on the topic card should be enough to satisfy the user's need for an instant definition. If they need more, the View details link brings them to the topic page.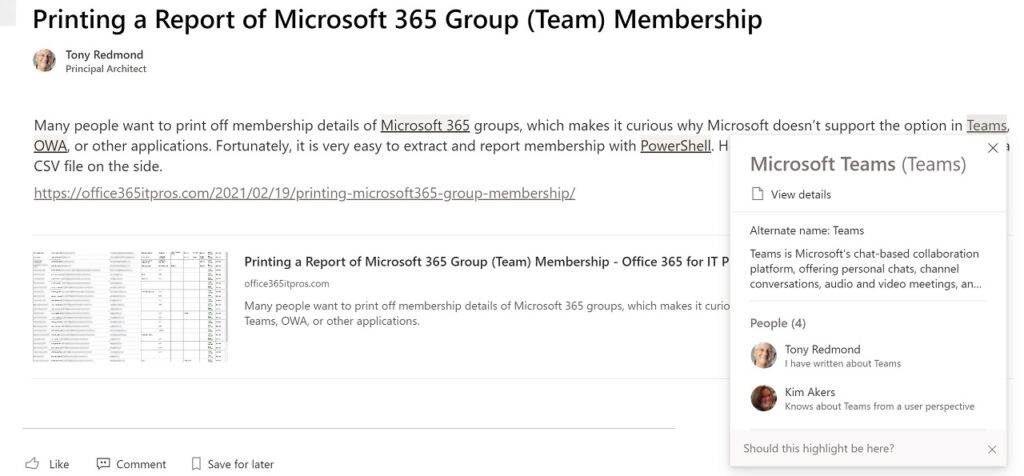 As you can see, the knowledge network also prompts the user if the topic card should be displayed in this context. User responses to these prompts help refine how the knowledge network works and how apps display topics.
Office Does Topics
Word, PowerPoint, and Excel online and desktop (Microsoft 365 apps for enterprise) include topic cards in their search results. Highlight a term, right-click and select search, and you'll see a topic card if one is available. Figure 5 shows how the topic card for SharePoint shows up in Word online.
While many users will never see a SharePoint news post, they are much more likely to use search. Seeing topics in search is helpful; seeing cards show up in Office documents is even more so, especially when you're putting together a complex report. Being able to get a definition when working in a document is very useful, if you know that the facility issues. Like any other technology, users need help to find out how to use Viva Topics effectively in the tools they use daily.
Licensing
Every Viva Topics user needs a license, priced at $5/month (in the U.S.). If a user doesn't have a license, they don't see topics highlighted in applications or search results (Figure 6). In short, if you want to deploy Viva Topics and make real use of the knowledge network, you need to budget $60/year per user. That number gets very big in large organizations.
You could take the approach of licensing Viva Topics for specific user groups. This works, but you create some problems. For instance, an unlicensed user won't see topic cards in search results, but they might see that a topic page exists. Selecting the page results in nothing because the Topics web part only loads data for licensed users. Cue frustration for our unlicensed user.
Hard to Assess Viva Topics For Now
Running a trial of Viva Topics is a very informative if at time wearisome process. It's interesting to see what topic cards are suggested and how these cards are edited, improved, and published. The lack of analytics and feedback are barriers to any assessment, as are the obvious bugs and slow performance. No doubt Microsoft will address these issues over time, but it's surprising that generally available software suffers so many problems.
As I worked through the trial, I concluded:
Preparation and understanding of the source material are essential, along with a good helping of patience.
Organizations shouldn't license Viva Topics until the up-front work to generate, refine, and publish topics is complete, including manual generation of organization-specific topics. This could take several weeks to complete.
Knowledge management is an ongoing process. It's not a project with a completion date.
It's difficult to know how useful Viva Topics will be in a production deployment because the full spectrum of applications scheduled to support topic cards aren't available yet. Although it's great to have topic cards surfaced in Office apps, it will be even better when apps like Teams and Outlook support the cards.
Is Viva Topics Worth the Money?
The key for success for Viva Topics is to become pervasive and available in all the apps where people work. At that point, users won't have to search to find knowledge; it will be revealed to them as a natural part of reading messages and documents. I think that's when the true potential of Microsoft's knowledge network technology will be apparent. The question then is whether the technology is worth $60/user/year. The answer depends on the perceived value to an organization.