On the show this week, we test drive the new Outlook. Is it Outlook for the web, on the desktop or something much bigger? Viva Goals launches for Private Preview – should you sign up? And we're following the biggest announcements from Microsoft Build and discussing the key news that will make a difference
Test driving the new Outlook
Using the Office insider beta build, you can switch to use New Outlook, which is not just new features inside the existing application, but an entirely new Outlook desktop client. The new Outlook uses features from Outlook on the web, but similar to Microsoft Teams, combines web-delivered features and interface components with local functionality.
We've been testing it for the last week and found it's better than you might expect for an early beta product: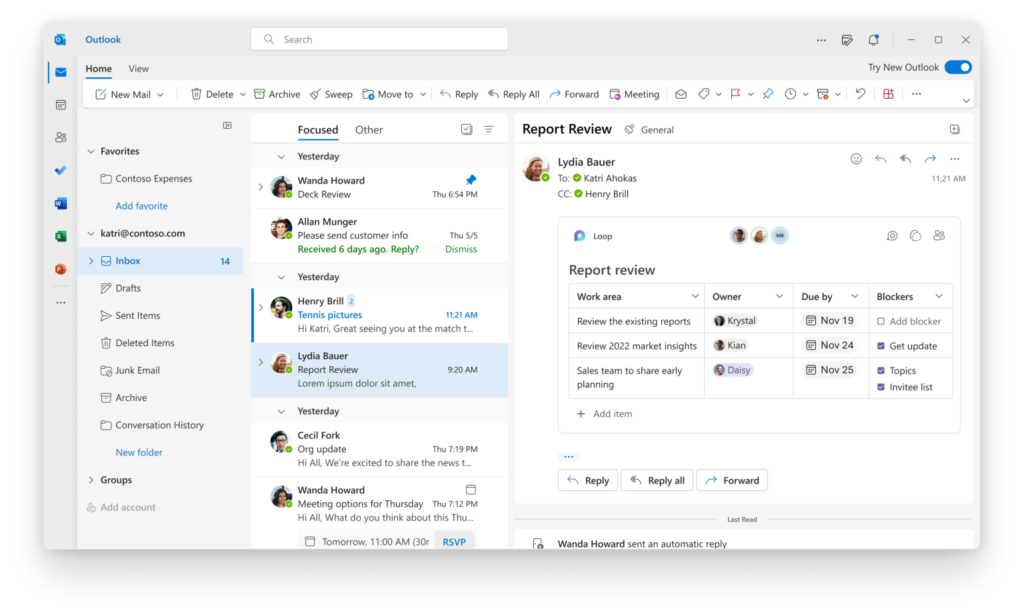 On the show, we discuss what works well and what (depending on how you use Outlook) might mean it isn't for you yet. You can read Microsoft's list of what features are available here.
Read more about the new Outlook here.
Viva Goals launches into Private Preview
Microsoft purchased Ally.io, an objectives and key results product. OKR products are used to go beyond personal development reviews and allow employees to have their goals aligned to the organization's wider goal. In Viva, Ally.io becomes Goals and you can sign up for the private preview for your company today.
We chat about what key elements you need for success. Much like Yammer, you need the right conditions to be there first before you implement the product. For Viva Goals, it is important for the organization to have a vision and strategy that employees can get behind – otherwise, the goals will be somewhat meaningless. So, we consider whether success with Viva Goals will rely upon having the right ingredients in the business first.
Microsoft Build 2022 has some nuggets for IT pros
We chat about some key Microsoft Build announcements this week and recommend taking a look through the Build sessions if you want to learn more about something outside of your comfort zone.
We recommend reading Tony Redmond's overview of the key, hard-to-find news relevant to IT pros along with some analysis, here.
Roadmap Highlights
Finally, just a few highlights from the Microsoft 365 Roadmap that we think you'll appreciate:
Outlook: FindTime add-in is moving to a native feature called Meeting Polls
"The FindTime add-in will now be a native feature called Meeting Polls. Meeting Polls will be enabled by default for all Outlook users. People can use Meeting Polls to choose specific time slots and share those with people inside and outside their organization so they can schedule a time with them."
GA date: August CY2022
Microsoft 365 Defender: Enterprise IoT Support (VoIP devices, printers, cameras, smart TVs, digital assistants, etc.)
"Microsoft Defender for IoT will be adding capabilities to discover and perform security monitoring for enterprise IoT devices (e.g., VoIP devices, printers, cameras, smart TVs, digital assistants, etc.). Additionally, Microsoft Defender for IoT will be updated to be part of the Microsoft SIEM and XDR offering enabling Defenders to easily secure IoT devices using the tools they already know."
GA date: July CY2022